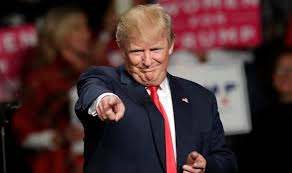 From Barack Obama's 'Say no to Bangalore, but yes to Buffalo' comments to Donald Trump's rhetoric –'Buy American-hire American' speech, the Indian IT industry always find themselves dodging the bullet with any developments taking place in the US, pushing the industry to ponder and act.
The reason is obvious the USD 150-billion Indian IT industry drives about 60% of its revenues from the US market, and its bread and butter remains majorly with the outsourcing projects. Thanks to H-1B visas that help them to reduce labour cost between 30-50 per cent, however, this is one of the reasons which do not go down well with Americans. Many a times, Americans complain of losing jobs because of H-1B visas.
However, in US President Donald Trump's regime they are hopeful, but at the same time his speech could be derived as a pain in the neck for the Indian IT firms. And this is not for the first time that the Indian IT industry will feel the chills.
The threats were already there, but this time the threat is pretty strong with Donald Trump all set to make it difficult for the Indian IT to have a smooth passage to the US. This comes close on the heels when the IT industry is already struggling with sagging growth, changing technological landscape such as automation and artificial intelligence and Brexit.
Indian companies largely outsource IT products and have no manufacturing capabilities of any software products. Though we have talent in coding, but have scarce knowledge on software products. At some point in time, the IT industry has failed to catch up with the changing times, with their complacent approach to newer technologies.
In an interview to a TV Channel, Infosys' Vishal Sikka also mentioned that the need of the hour is to look at innovation to survive in the future. "…With automation, with the need for innovation that businesses around the world have, we really need to step it up and accelerate the rate at which we can bring new ideas to life for our customers, and bring automation to improve the efficiency of the work that we do," he said.
Besides, looking into coding and programming in a very big, the IT industry needs to make strides in cloud computing, mobile computing, Artificial Intelligence, among others.
In fact, the Donald Trump regime could be a blessing in disguise for the Indian IT companies as they try to explore more and bring out the best to survive in the future.