Gurugram: Well, it might be a mere coincidence or the locational advantage of Hyderabad that would take Apple Chief Executive Officer Tim Cook to the city to inaugurate the company's first R&D centre in India, CMR-MXpresso Mobilytiks insights also suggest that Andhra Pradesh should be in its priority list for selling iPhones in the country.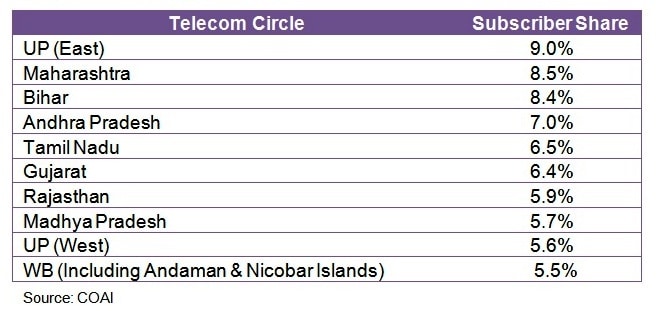 Among the top 10 telecom circles by subscriber base, Maharashtra (excluding Mumbai), Andhra Pradesh and Gujarat have significant user base where the socio-economic profile of the population is favorable for a premium segment Smartphone like iPhone.
A glance at Maharashtra (excluding Mumbai) and Gujarat circles say that they already contribute more than 15% each to iPhone sales in India, mainly fueled by cities such as Pune, Nagpur, Ahmedabad, Surat and Vadodara.
Rest of the circles in the top 10; contribute between 1-5% to iPhone sales, while Andhra Pradesh touches close to 10%, which is catalyzed by the tech-savvy IT workforce that has close affinity to a phone like iPhone.
Andhra Pradesh has sufficiently large subscriber base, representing 7% of the total 774 million GSM subscriber base, as per COAI March 31, 2016, data. The state is already contributing nearly 10% to the iPhone sales and has the requisite socio-economic profile for further growth of the iphone market.
About Mobilytiks Program
Mobilytiks is the first prescriptive analytics based insights program pioneered by CMR and MXpresso serving the next levels of decision making for the industry.  The program gives detailed micro-level analysis of the telecom devices and services that is becoming the fundamental block of the connected society and world.
While the program will facilitate the industry in understanding and sensing the competitive landscape in a deeply engaged mode, it will also help in identifying the new markets and opportunities for the value chain.
Further, the program has much to offer to satisfy the inquisitiveness of the knowledge driven society where learning and knowing is the key to success.
About CMR & MXpresso
MXpresso
Founded by industry experts and veterans, MXpresso is a technology-focused mobile first company committed to deliver cutting-edge solutions that enable highly accurate targeting and segmentations for brands and advertisers. MXpresso is part of 6d Technologies, a tech enterprise catering to the telecom sector since 2002. An ISO 9001:2008 certified organization with operations in 45+ countries across five continents, the fast-growing company of more than 450 team members is headquartered in Bangalore. For more information, visit www.mXpresso.com.
CMR
A part of CyberMedia, South Asia's largest specialty media and media services group, CyberMedia Research (CMR) has been a front runner in market research, consulting and advisory services since 1986.
CMR offers research-based insights and consulting services – market intelligence, market sizing, stakeholder satisfaction, growth opportunity identification, incubation advisory and go-to-market services – covering the Information Technology, Semiconductors, Electronics & Smart Infrastructure, Government, Energy & Utilities and LifeSciences sectors, as well as the large enterprise, SMB and consumer user segments.
Cyber Media Research & Services Ltd. is an institutional member of the Market Research Society of India (www.mrsi.in).
CMR's core value proposition encompasses a rich portfolio of syndicated reports and custom research capabilities across multiple industries, markets and geographies. CMR's forthcoming studies include stakeholder satisfaction surveys, mega spender assessments and market mapping studies for these domains.
---
For Media Inquiries, please contact
Krishna Mukherjee
+91-9871072319
releases@cmrindia.com
For Industry Inquiries, please contact
Faisal Kawoosa
General Manager – Research & Consulting
Industry Intelligence Group
fkawoosa@cmrindia.com