Samsung, Apple, Lenovo top three players in CY 2016 with 33%, 8% and 7% market shares respectively, in terms of revenues.
Among domestic players, Micromax, Intex, LYF and Lava made it to top 10 list, with 6.23%, 4.26%, 3.67%, and 3.38% markets shares, respectively.
INR 5K-10K price band to be exciting this year as there will be push for Onboarding new Smartphone users rather than upgrades and replacements only.`
Handset market grew around 5% over CY 2015; 6% over Q4 of 2016 by volume shipments.
Samsung is the largest ODM in the country.
Gurgaon – Tuesday, 28 February, 2017: According to CMR's India Annual Mobile Handset Market Review, the market recorded a 22% rise in revenues at INR 1,359,975 million in CY 2016 as against INR 1,117,571 million in CY 2015.
Samsung garnered 33% market share during the year with its revenues standing at INR 453,713 million, followed by Apple (8%) and Lenovo (7%) with INR 112,975 million and INR 99,806 million revenues, respectively.
The 4G revenues of the industry increased by over 100% to INR 992,74 million in CY 2016, while 3G declined by about 60% to INR 165,978 million.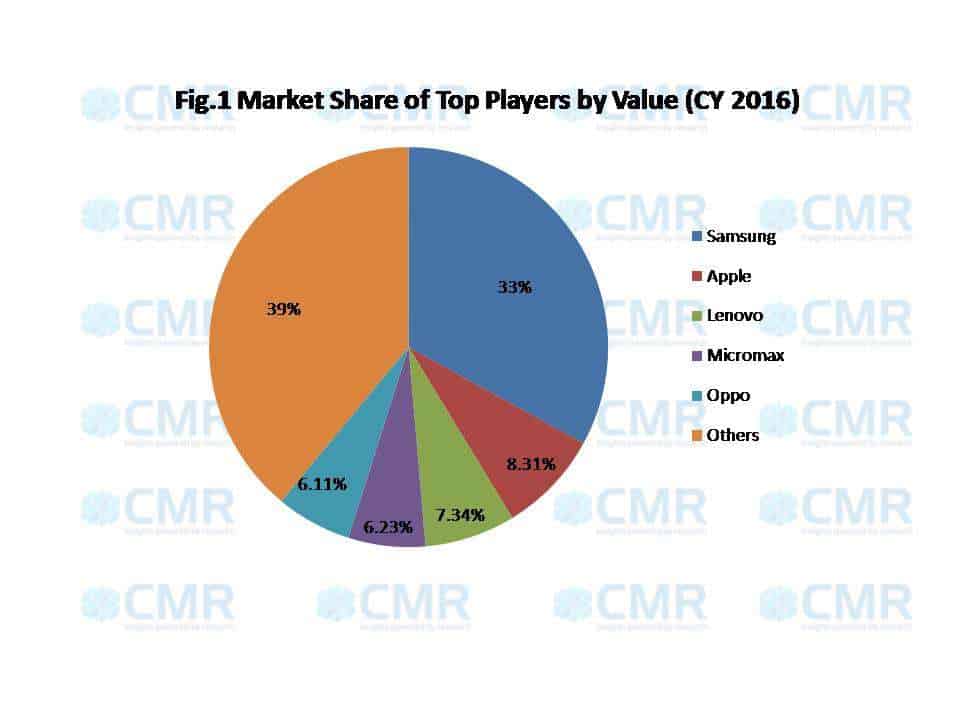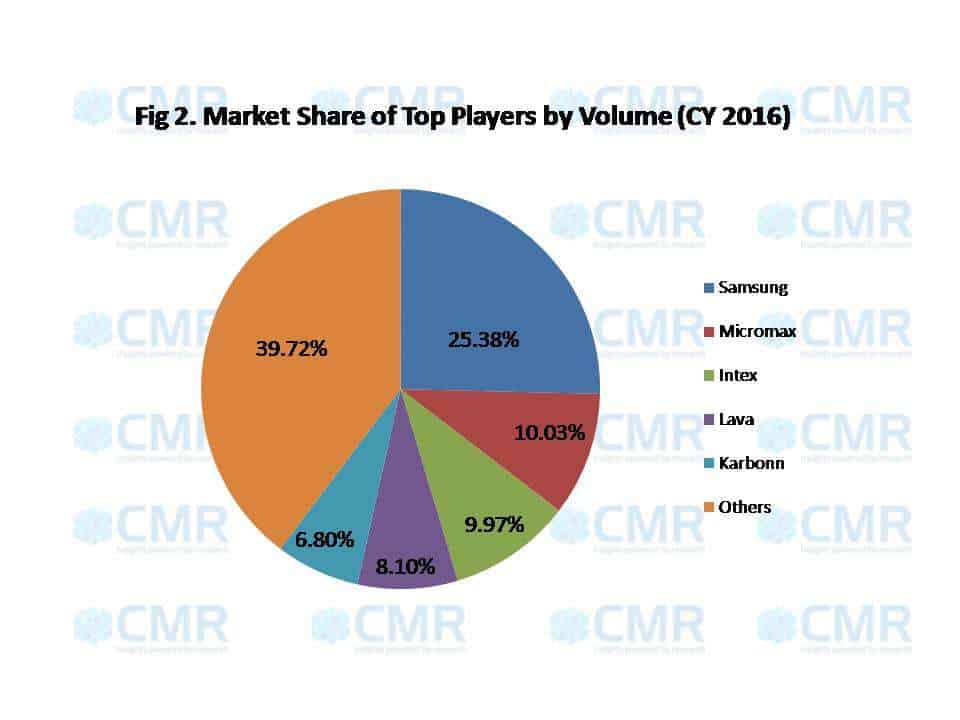 Scope of Feature Phones: CMR predicts that this year, the buzz would be around making the feature phones smarter with upgraded cameras and introduction of new features. The 4G-capable feature phone is, however, going to cannibalize the below INR 5K Smartphone market.
Although, the revenues from feature phones constitute a very small chunk of around 14%, in terms of volume they hold about 57% of the market. Overall, there's a scope to play around feature phones and brands like itel, Zen and Ziox would get aggressive in this space.
Technology: In terms of technology, 4G is going to be synonyms to smartphones. Feature phones would be here to support the voice-centric market. In CY 2016, 4G constituted about 69% of total smartphone shipments, while 3G was 29%. In CY 2017, 4G is all set to cover near 100% of Smartphones.
China vs India Vendors: The war between MILK (Micromax, Intex, Lava, Karbonn) and LOVE (Lenovo, Oppo, Vivo and Xiaomi) brands is going to be aggressive.
In CY 2016, in terms of volume the total market share of MILK brands stood at 35%, while for LOVE it was at 10%. However, in terms of value, LOVE brands managed to beat MILK, with the combined revenue of former standing at 22% as against 17% of latter.
Indian brands need to brace themselves up for a terrific war against the Chinese players.
Price Bands: The Indian players would look forward to INR 6K-INR 10K Smartphone market, where they will primarily fight it out with  Xiaomi and Lenovo, having wide portfolio in this segment as well.
The INR 5K-10K market is going to see some new specs and upgrades.
In the premium segment, new models of Samsung, Apple and OnePlus would be worth to watch.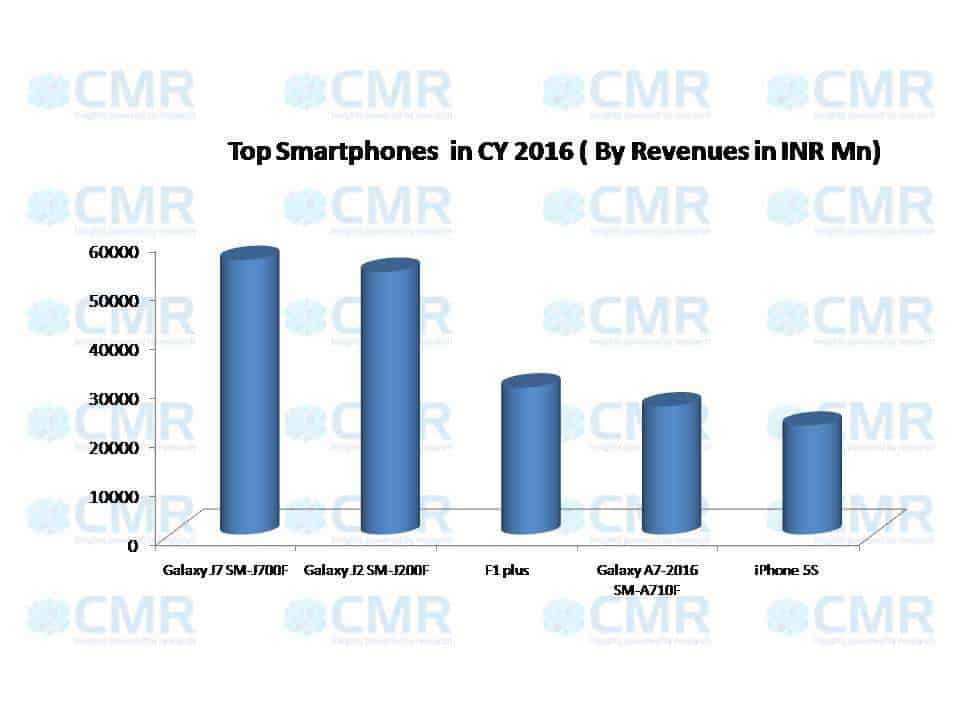 Domestic vs Imports: 'Make in India' has provided the right impetus to the mobile manufacturing in the country. Today, about 66% of the total shipments are domestic manufacturing, in 2017, the share would touch 90%. 
Conclusion: CMR believes, in 2017, there would be major knock offs and the industry will see consolidation. 2017 is going to be a disruptive year as vendors come out with their unique propositions such as more RAM, higher battery capacities, among others. The re-entry of Nokia in Smartphones and exits of smaller players will be some of the important factors driving the Indian Mobile Handset Market.
In a nutshell, 2017 is going to be a 'Do or Die' year for many of the brands.
About CMR
CMR offers industry intelligence, consulting and marketing services, including but not limited to market tracking, market sizing, stakeholder satisfaction, analytics and opportunity assessment studies. Its bouquet of consulting services includes incubation advisory, go-to-market services, market mapping and scenario assessment services.
The services offered by CMR encompass industry verticals of Information Technology, Telecommunications, Electronics, Semiconductors, Life Sciences, and other emerging and overlapping technologies shaping our lives in offices as well as at homes. CMR is servicing domestic as well as international clientele in India and few global destinations. The clientele serviced represents SMBs, Large Enterprises, Associations and Government.
CMR's core value proposition encompasses a rich portfolio of syndicated reports and custom research capabilities across multiple industries, markets and geographies. CMR's forthcoming studies include stakeholder satisfaction surveys, mega spender assessments and market mapping studies for these domains.
A part of CyberMedia, South Asia's largest specialty media and media services group, CyberMedia Research (CMR) has been a front-runner in market research, consulting and advisory services since 1986. CMR is an institutional member of Market Research Society of India (MRSI).
For more details, please visit https://www.cmrindia.com or http://cybermediaresearch.co.in
For more details, please contact
Krishna Mukherjee
+91-9871072319
releases@cmrindia.com