Since its entry in India four years ago, Xiaomi has grown tremendously competing and challenging Samsung's long-held dominance of the India Smartphone Market. In a synergistic relationship with its online partner, Flipkart, Xiaomi has been able to power its growth story.
Xiaomi's power to the top was fueled by its relentless and single pursuit of the youth, especially the GenY and the GenZ, with a wide array of Smartphones, offering choice and the latest specs to them, at a budget. Xiaomi took a bet on the then untapped potential of online ecommerce platforms, while its peers were still harping on the offline mantra. Alongside, Xiaomi started building and cultivating the Mi communities, bringing the youth together behind its brand, and interacting with them actively over social networks.
According to the CMR India Mobile Handset Market Review Report, the Redmi and Redmi Note 5 were the most shipped by Xiaomi in 2Q 2018, and accounting for Xiaomi's continued dominance in the smartphone market.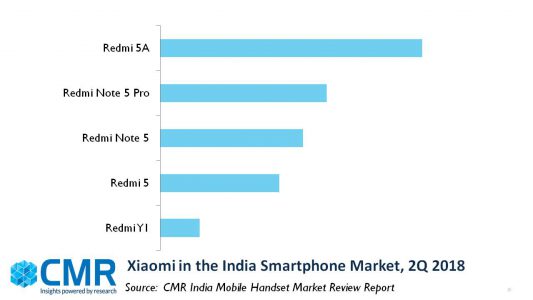 The Road to the Top
As per insights garnered from CMR Mobilytiks for 2Q 2018, when one looks at the installed smartphone base in 2Q 2018, Xiaomi is placed second in twelve states, and in third or fourth position in the rest of India. It has seen exceptional growth in Western India and pockets of South India, and primed for growth across Central and Eastern India.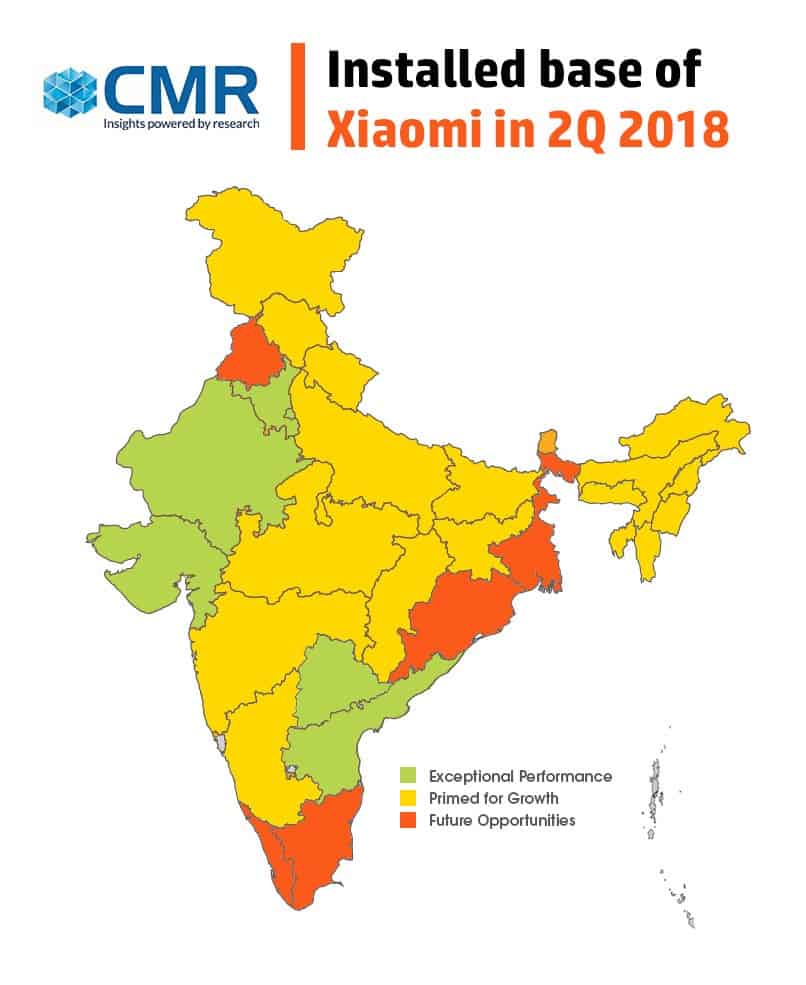 Xiaomi's focus on ramping-up its brick and mortar presence through Mi preferred partner outlets is a step in the right direction to power its next phase of growth across India. The growth over the past four years was powered by online platforms, and with the offline focus, Xiaomi would be better positioned to compete with Samsung.
The final frontier for Xiaomi is to dethrone Samsung and be the No.1 Smartphone Brand in terms of installed smartphone base. To achieve that, they would need to win in their pockets of dominance, in states such as Gujarat, Rajasthan, Haryana and Andhra Pradesh, among others, and follow it up a decisive strategy in states primed for growth, including Maharashtra, Uttar Pradesh and the rest of India.
As Head – Industry Intelligence Group at CMR, Prabhu Ram advises industry participants on the dynamic technology market in India and other Asian geographies through proprietary and custom technology research, cutting across technology domains. Prabhu oversees an analyst team that tracks smartphones, data cards, tablets, storage, display, wearables and smart homes.