You can't miss it! Newpapers, banners or even metro trains indicate the lavish budget the Chinese brands are pouring in to invade the Indian handset market. Overall, today they hold 20% market share of the entire handsets market and their overall shipments jumped a whopping 98% in 2015 when compared to 2014.
The ineluctable fact is—their share is bound to rise or they are going to give a run for money to the Indians or other global brands in the days to come. But what are the factors that are moving in favor of the Chinese brands? Of course, their strong marketing strategy is one, but in addition to that what are helping them the most are their out-of-box innovative features to woo the Indian consumers.
For example, Xiaomi introduced its flash sales concept, Oppo its selfie expert and now LeEco's content networking strategy has become another differentiator. According to LeEco, to engage users through the Six Screens approach, which is mobile, TV, desktop, tablet, cinema and electric car, the company has applied the concept of an open close-loop ecosystem in numerous vertical areas and has seven sub-ecosystems – Internet and clouding technology, Content, Big screen, Mobile, Automobile, Sports and Internet Finance.
These sub-ecosystems are synergistically connected with each other to transform people's Internet lifestyle and to provide the best-in-class experience and services for the users. The company has a content-based ecosystem, including local movies, TV shows, entertainment, sports, and it believes that the LeEco devices connected by Le Ecosystem are the company's biggest differentiator which will be a game-changer for the industry.
On the other hand, Xiaomi is riding high on the success of its flash sale concept. Its two smartphones –the Redmi Note 3 or the Mi 5, got sold out in seconds of starting off the flash sale this year and as we know all, the Redmi Note 3 was a hit with its strong built and battery back up. Oppo this year introduced some of its selfie experts phones, F1 Plus smartphone at Rs 26,990, and the company claims that the selfie expert concept is going down well with the Indian consumers.
Top 5 Chinese Brands shipments CY2015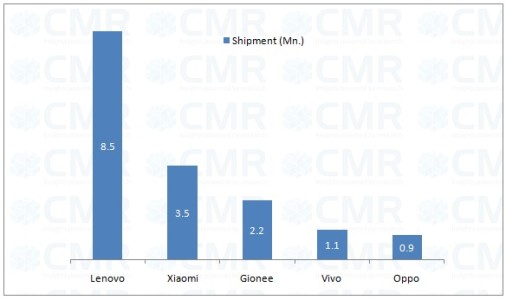 A look at the data shows a 98% jump in the shipments of Chinese brands and Lenovo grabbed the number 1 position with 8.5 million shipments, followed by Xiaomi and Gionee, 3.5 million and 2.2 million, respectively, in 2015.
While Vivo and Oppo held the number fourth and fifth positions, with 1.1 million and 0.9 million shipments, respectively. In fact, not following the normal trend of online sales, companies such as Vivo are entirely depending upon the offline model. The company has huge plans to channelize its sales through mom-and-pop stores. The Chinese brands are upping their ante offline too and not leaving a stone unturned  to strengthen their physical form.
In a nutshell, what's keeping these Chinese brands ahead is their out-of-box strategies and innovative ways to reach out to the customers. Hope the Indian brands are listening!
Analyst Bio