SAP is acquiring Qualtrics for US$8 Billion in cash, pre-empting a planned IPO by Qualtrics this week. For SAP, the Qualtrics deal sits right at the core of its service business, helping it expand its service offerings. For Qualtrics, the acquisition is a monumental acknowledgment of their strategy to define a new category – "Experience Management" or "XM", and own it. While Qualtrics' competitor in the survey market has a market capitalization of just over a billion, Qualtrics just got acquired for eight billion!
In a Consumer- First era, where consumer is powerful, the competition is intensely heightened, disruption is imminent, and 'information silos' of the past can be damning for the enterprise, experience management at the individual's level is critical. The tectonic shifts wrought by the Consumer-first Era, present an opportunity, and that's why SAP acquired Qualtrics.
The SAP-Qualtrics Deal is in-line with the trends we have seen through 2018. This was the year of the blockbuster deals. Deals where legacy technology companies reinvented themselves to stay relevant, in a hypercompetitive market, by acquiring niche cloud and software companies. A few weeks ago, IBM acquired RedHat for $34 Billion. Rewind a couple of months back. Microsoft acquired GitHub for $7.5 Billion, and earlier on, Salesforce acquired Mulesoft for $6.5 Billion.
A few years ago, Qualtrics made a pivot from being just a maker of survey software tools, to one focusing on "experience management" or XM. In a Customer-first era, where social media empowers every customer, experience management platform helps analyze every aspect of the CX- whether it be from call centres, or retail stores, or online ecommerce platforms, to drive greater customer loyalty and customer referrals. In other words, using platforms such as Qualtrics, a company is able to overcome the information silos, and analyze the overall experience delivered by it across platforms, mapping deficits or problem points, and eradicating them.
By acquiring Qualtrics, SAP now has a comprehensive Experience Management/XM platform that includes customer, brand, employee and product experience solutions. SAP is behind CRM, ERP and HR – the operational data platforms for most enterprises. By building on this platform with XM solutions, helps SAP to position its "intelligence enterprise platform" for the next phase of growth, while also getting a leg-up against Salesforce.
SAP got attracted to Qualtrics on the back of its forecasted >40% forward growth rate, and expected revenue of >$400 Million by 2018 end. Qualtrics acquisition is likely to complement SAP's anticipated TAM >$350 Billion.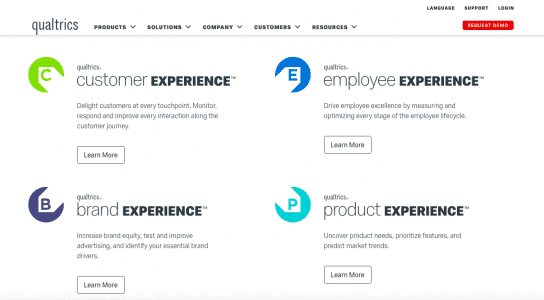 Here are the quick key takeaways from the SAP-Qualtrics deal:
SAP can help boost Qualtrics growth by leveraging its existing salesforce of 15,000 executives to sell Qualtrics XM portfolio and market research collection and analysis tools.
Qualtrics has a formidable customer base, comprising of > 9,000 customers, including BlackRock, Kellogg, Microsoft, Mastercard and Under Armour. For SAP, this is another positive.
For Qualtrics, access to SAP's large channel ecosystem, combined with its go-to-market capabilities, helps it to expand its market, and, simultaneously, compete more aggressively against its traditional competitors, including SurveyMonkey and others.
For large legacy technology companies, the key takeaway from this deal would be of embracing the Internet and looking at its myriad potential opportunities, as opportunities to renew, reaffirm and refocus their business models to stay relevant.
For startups out there, the key takeaway from the SAP-Qualtrics deal would be of focusing on metrics that give them a unique proposition in a sea of sameness. For those startups that define, create and own a new category, success would not be afar. Qualtrics transition from a mere survey tools provider to becoming a leader in experience management meant an acquisition of US$ 8 Billion, and to borrow Bill McDermott's words "reaffirms experience management as the groundbreaking new frontier for the technology industry."
As with any large deal of such ticket sizes, the challenge remains of cultural assimilation of two different work cultures. It remains to be seen on how the integration goes through, while Ryan Smith, makes a transition from his role as CEO of Qualtrics to becoming another SAP employee.