On January 24,2019, Western Digital Corp. announced its Q2 FY2019 ending December 2018 financial results. The revenue reported was $4.2 billion as compared to $5.3 billion last year Q2. Revenue witnessed 21% decline YoY. Operating income also dropped down from $955 million in Q2 previous year to $176 million this year.
Eliminating certain non-GAAP adjustments, the company reported non-GAAP operating income of $589 million and non-GAAP net income of $424 million. Non-GAAP operating income in the year-ago quarter was $1.4 billion and non-GAAP net income was $1.2 billion.
Key Highlights:
Results generally within WD Corp. guidance ranges
Demand trends exhibited a negative bias as quarter progressed
Geopolitical and macroeconomic conditions contributed to customers having a more cautious outlook
Flash industry dynamics remain challenging
Client Devices: Comprises of notebook and desktop HDD, consumer electronics HDD, client SSD, embedded, wafer sales and licensing and royalties. The revenue for this category witnessed 16% decline YoY. Strong growth in cSSD revenue, weak demand for mobility and embedded applications and flash pricing pressure were the key reasons for this decline.
Client Solutions: Comprises of branded HDD, branded flash, removables and licensing and royalties. Aggressive pricing environment for both flash and HDD products, strong y/y increase in average capacities in flash and HDD resulted in 25% revenue decline YoY of this category.
Data Center Devices & Solutions: Comprises of enterprise HDD, enterprise SSD, data center software, data center solutions and licensing and royalties. Temporary slowdown in cloud spending has impacted the revenue which also declined 25% YoY. However, NVMe eSSDs ramp and a recovery in capacity enterprise HDD is expected in 2H CY2019.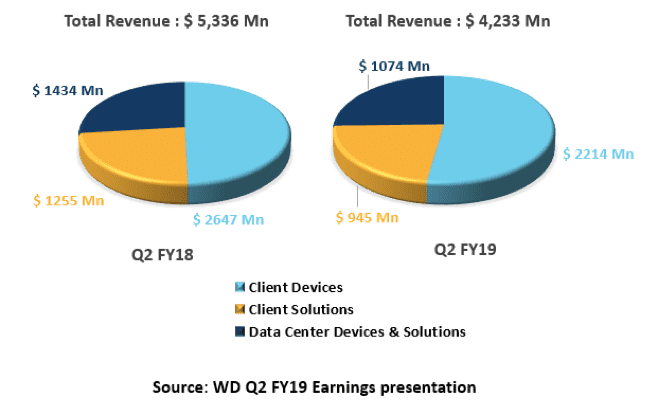 Future Growth Measures
Strongest Product Portfolio
Flash: Leading the industry's transition to 96-layer technology, bit supply cross over of 96-layer technology in calendar Q4 2019.
HDD: Capacity Enterprise-continue to lead in areal density and capacity points, successful ramp of 14TB Helium platform, introduced 15TB helium with solid roadmap for higher capacities.
Continue to forecast strong long-term storage demand: Capacity enterprise exabyte growth at ~40% CAGR, NAND demand bit growth in the 36% – 38% range.
Taking actions to lower costs in the current environment: Reducing quarterly non-GAAP cost of goods sold by $100 million and non-GAAP operating expenses by $100 million. Total of $800 million in non-GAAP annualized reduction.
It will be interesting to see how the data storage giant capitalizes on data growth opportunities by leading the industry transition towards 96-layer technology, lowering the non-GAAP costs etc in this new CY2019.