Bringing Predictive Analytics & Business Intelligence together: The next charter
Predictive analytics has become a buzzword today, and there isn't an organization that isn't thinking about it, or hasn't implemented their definition of it. The key is to not debate whether predictive analytics is right for your organization, but how to implement it, and how to define the evolution process for the organization embracing the change.
Although it's still fairly early going, organizations are beginning to embrace predictive analytics; the forward-looking data-mining discipline that combines algorithmic models with historical data to answer questions such as how likely a given customer will go for a re-purchase. Armed with such data, organizations can prepare to take action.
Successful business outcomes with a high RoI are being attributed to predictive models that are integrated with business models. Many industries are looking at the possibility of improving their effectiveness in the market by employing predictive analytics.
It is a known fact that Indian enterprises do realize the importance of Business Intelligence (BI), and that it directly relates to profitability of business. However, in-spite being high on the wish list of CIOs, it is yet to reach the level of traction that was expected. But fortunately the awareness and adoption of BI among Indian enterprises is on the rise. Moreover, in the context of an economic downturn, BI becomes a sensible option for enterprises. According to CMR, the India Business Analytics market is slated to grow at a CAGR of 23 percent from 2011-2014. High growth sectors such as Telecom and BFSI have started taking keen interest on such solutions, and this trend is expected to be replicated by other key verticals.
In a volatile market, it is becoming increasingly important to have efficiencies around real time reporting and forecasting. As a result the emphasis on information delivery is more than ever before. In such a scenario Predictive Analytics & BI provide businesses with advanced data analysis. This not only provides business real time information but also enables them to understand marketing and business trends, within and across departments and helps in doing ever-so-elusive but strategically important market forecasting.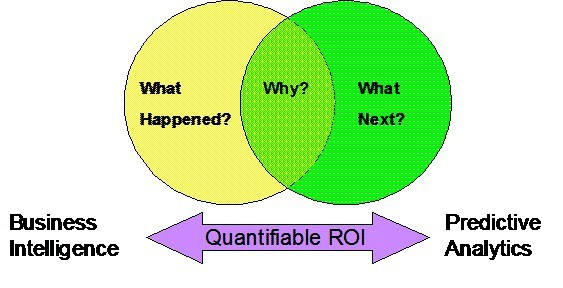 What will be interesting to note is how Business Analytics gets adopted by various functional teams across organizations and across industries. Some of the broad benefits are:
• Identifying and developing pipeline of new products to be introduced in the market
• Customer retention, greater market penetration, and improved customer acquisition
• Marketing and pricing strategies (determining discount rates, promotions, etc.)
• Overall sales, revenue, operation profit margin, year-on-year comparison of these measures
• Reducing overall cost (operational, marketing, sourcing, etc.)
• Improved collaboration with suppliers and distributors for operational efficiency
• Reduced spend rates—effective budget planning
• Optimal inventory—effective supply chain processes
Finally, in today's marketplace, good analytics are the key differentiators for smarter decision making and gaining competitive advantage. An organization's ability to harness and leverage the wealth of available organizational data is a key factor in effective, strategic and tactical planning.
CMR-IBM Analytics Forum 2013 is a comprehensive learning and networking opportunity designed specifically for business professionals from different functional backgrounds.