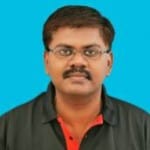 Sudarshan Sivaperumal
Field Systems Engineering, India and SAARC, F5 Networks
Based in Bangalore, India, Sudarshan Sivaperumal is the Field Systems Engineering for India and SAARC region. With vast experience in the Information Security space, Sudarshan is responsible for driving customer adoption of F5's Security portfolio.
Sudarshan has more than 13 years of experience in the Information Technology arena, the last 10 years he focused on Information Security across Banking and Financial Services, Technology and Enterprise sectors.
Sudarshan holds a Bachelor degree in Science and a Post Graduate Diploma in Software Technology. He is also a CISA and CISSP.

Apalak Ghosh
Lead Consultant, Emerging Technologies Research, InfoTech Practice, CMR
Apalak is a lead analyst with CMR's software and IT services research practice, based out of Gurgaon (near New Delhi). In this role, Apalak is responsible for overseeing development of reports, carrying out in-depth market assessments and forecasts on new and emerging technologies like Cloud Computing, Virtualization, Green IT, DataCenter adoption amongst others. Apalak has led new research initiatives to study adoption of Cloud Computing and Virtualization amongst Indian enterprises. He is frequently quoted in the media on the subject of Cloud Computing and DataCenters on popular TV channels such as NDTV and in leading business publications such as The Economic Times and The Hindu Businessline. He also writes a blog on the theme of Green IT/Virtualization/Cloud Computing. In this capacity he carries forward his rich experience as Manager, Software and Services Research and Consulting Practice, IDC India. Prior to his current role, Apalak has worked with TNS India as a research analyst for two years, before which he was with TransAsia Solution Seekers, Indonesia as a consultant for a year. His experience spans across key research areas such as brand tracking, product / concept testing, quantitative and qualitative research, and consulting. He has a rich exposure to research techniques such as face-to-face and telephonic interviews, profiling and discussions with stakeholders across diverse industry verticals such as IT and Telecom, Consumer Packaged Goods and Automotive. Apalak completed his Master's program in Business Administration from the ICFAIBusinessSchool, Bangalore, specialising in Marketing. Apalak also holds a Bachelor's degree in Computer Engineering from the Birla Institute of Technology (BIT), Ranchi capital of the eastern Indian state of Jharkhand