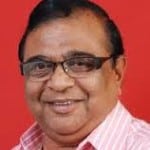 SHRI GOVINDBHAI PATEL
Hon'ble Minister of State,
Energy and Petrochemicals,Science and Technology
Government of Gujarat
Mr.Govindbhai Patel was appointed as the Minister of State for Energy & Petrochemicals and Science and Technology in November 2014.Prior to this Shri Patel was Minister of State for Agriculture,Water Supply and Science and Technology.He is a senior leader of the Bharatya Janata Party in Gujarat.He has been a Member of Gujarat Legislative Assembly since 2007. Currently,he is Member of Legislative Assembly representing Rajkot South
constituency in the 13th Gujarat Legislative Assembly.
Shri Govindbhai Patel had a long experience in public service.He was the Chairman of Education Committee of Rajkot Municipal Corporation between 1981 to 1987,and Deputy Mayor of Rajkot City during 1991-93.The chronic water shortage faced by Rajkot City was managed so effectively under his leadership that he was called "Paniwala Neta".He had also worked as the Chairman of the Gujarat Rural Development Corporation in 1998.
Shri Govindbhai Patel is a Farmer,and has been playing important roles in development of the Farm Sector in the State.