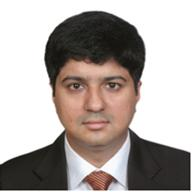 Sourajit Ghosh
Senior Manager – Cloud Advisory Group
SAP Cloud Business, SAP Indian Sub-continent
Sourajit is Member of the Cloud Advisory Group, Cloud Business team of SAP India. He has diversified experience in Marketing, Sales & Distribution, Services Operations Management & Consulting in varied industries. He has done his BTech from Calcutta University and MBA from IIM Indore.
Apalak Ghosh
Manager, Research and Consulting, Emerging Technologies, Software & IT Services Research
CMR Infotech Practice
Apalak is a lead analyst with CMR's software and IT services research practice, based out of Gurgaon (near New Delhi). In this role, Apalak is responsible for overseeing development of reports, carrying out in-depth market assessments and forecasts on new and emerging technologies like Cloud Computing, Virtualization, Green IT, Data Center adoption amongst others. Apalak has led new research initiatives to study adoption of Cloud Computing and Virtualization amongst Indian enterprises. He is frequently quoted in the media on the subject of Cloud Computing and Data Centers on popular TV channels such as NDTV and in leading business publications such as The Economic Times and The Hindu Businessline. He also writes a blog on the theme of Green IT/Virtualization/Cloud Computing. In this capacity he carries forward his rich experience as Manager, Software and Services Research and Consulting Practice, IDC India.
Prior to his current role, Apalak has worked with TNS India as a research analyst for two years, before which he was with TransAsia Solution Seekers, Indonesia as a consultant for a year. His experience spans across key research areas such as brand tracking, product / concept testing, quantitative and qualitative research, and consulting. He has a rich exposure to research techniques such as face-to-face and telephonic interviews, profiling and discussions with stakeholders across diverse industry verticals such as IT and Telecom, Consumer Packaged Goods and Automotive.
Apalak completed his Master's program in Business Administration from the ICFAI Business School, Bangalore, specialising in Marketing. Apalak also holds a Bachelor's degree in Computer Engineering from the Birla Institute of Technology (BIT), Ranchi capital of the eastern Indian state of Jharkhand.

Rohit Madhur
Head – SAP Cloud Business
Rohit Madhur Heads the SAP Cloud business and has been driving the Cloud Initiative of SAP for the last 5 yrs.
An Engineer – MBA, he has nearly 21 yrs of experience in diverse domains like the Govt, Consumer goods, FMCG and IT Hardware & Software. He has managed different businesses across the various geographies in Indian sub-continent and had a rich understanding of different markets and the drivers of business in the consumer and technology domain.
He has been an avid speaker and panelist at various forums on cloud computing over the last few years.