As a black swan event, COVID-19 has disrupted how businesses and supply chains operate. It will contribute to realignments as businesses seek to de-risk themselves from future events.
In Q2 2020, the India Consumer Storage market comprising of Micro SD, SD card and Pen Drive witnessed significant 86% YoY decline. The market recorded the lowest ever shipments in last five years.
The strong reliance on China disrupted the overall supply chain starting from mid of march extending till April. Similarly, the national lockdown in India obstructed the logistics and notable drop in supply was observed. Anti-China sentiments also acted as a catalyst to the overall decline. Scrutiny of imports at the customs further delayed the product supply.
Smartphones have become an integral part of our daily lives. Increase in usage and adoption of smartphones has encouraged brands to come up with new models almost every month. With rise in usage comes the need of more storage space. This extra storage requirement is already taken care by the smartphone brands offering huge inbuilt capacity at a reasonable price. Hence, Micro SD market has seen a continuous decline in last few quarters. This decline was further aggravated by COVID19.
COVID19 caused a massive supply scarcity for a major part of Q2. All the three product categories witnessed sharp decline in shipments.The inability to fulfil the pent-up demand led to the rise in ASP by almost 10%. Amidst all this,a significant shift towards higher capacities, especially 64GB and 128GB, has been observed in the overall market largely due to less price gap.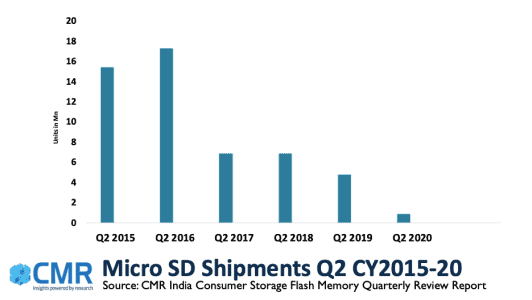 Talking about Consumer external HDD,the 2.5" and 3.5" drives market declined by 71% YoY. Alternatively,External SSD still being a niche market with very few players recorded 11%YoY growth.
While the other storage products witnessed a notable decline of >50%,Internal SSD(SATA & PCIe) market saw a 35% YoY decline in Q2. Internal SSDs have great potential as they are tough competition to the traditional hard drives available in the market largely because of their smoother and faster operation.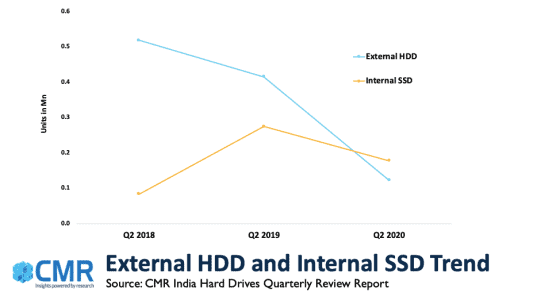 Things are slowly getting back to normal after the unlock phase and the overall consumer storage, external HDD and internal SSD market is expected to pick up in Q3 2020.
Online sales will have the major contribution to this growth. All the major ecommerce sites have already kick started their flagship sales early. A 30-40% rise in the overall consumer storage market (Micro SD,SD card and Pen drive) is expected in Q3. Similarly,External HDD market will also grow easily by 25-30% or even more as the supply disruptions is being lifted up slowly.
Extended work from home (WFH) in the new normal requires super fast operation and consumers will definitely look to upgrade their laptop or desktop storage. Thus,Internal SSD market will also see an upward trend in Q3.