When one of the bigwigs from the Silicon Valley landed in India last week, the media fraternity glued to his every movement, wondering–alike China some announcements of investment numbers are in store for India too and will do wonders in creating some big news piece.
But Apple CEO Tim Cook hardly disclosed any numbers or any concrete manufacturing plans for India. In fact, his announcements confined to apps development center in Bengaluru and a map development center in Hyderabad.
Even though he was seen hobnobbing with the Prime Minister, but the issue of refurnished iPhones was hardly touched upon. However, in an interview to a publication, he stressed upon the fact that "the certified pre-owned iPhone was something that the company does in many other countries, including the US".
Cook was, in fact, also seen at Siddhivinayak, IPL match and Shahrukh Khan's residence 'Mannat', indicating that in his maiden visit to India, he was testing the Indian waters, getting acquainted with the rich Indian culture and sensing business as well.
His visit came at a time, when Apple's revenues had taken a hit, its stocks were plummeting and in China market too, the Smartphone shipments plunged, a reason to worry for the world's biggest phone maker.
At the same time, in India, Apple's total handsets shipments zoomed up by 112% in Q1 CY 2016, with total shipments at 0.81 million as against 0.38 million in the same quarter last year. In the premium segment too, the war with Samsung is also going neck-and-neck, in the first quarter of this year, Samsung held 52.65% of the market, while Apple grabbed 37.69%. In the same quarter a year ago, Apple was at number 1 position with 47% market share followed by Samsung at 44%.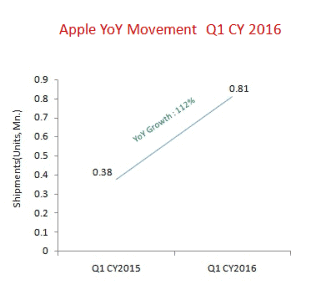 All these developments indicate that Apple is looking at India in a big way and Cook's visit to India will come in the form of some important announcements few months down the line. With 4G era ushering in India and Cook's meeting with Reliance Jio, Vodafone and Bharti Airtel denote that besides strengthening its distribution channel in India, Cook has got something else in mind.
The meeting with Shahrukh Khan and also the kind of Bollywood might do some wonders in the near future. Not to forget, Apple Music gets huge subscribers from Shahrukh Khan's fans base and at the same time, Cook may also look at Bollywood from a technological point of view too and may offer some innovative technological advancements for movie creation.
So, reading between the lines, Cook has hit all the right notes during his maiden India trip.