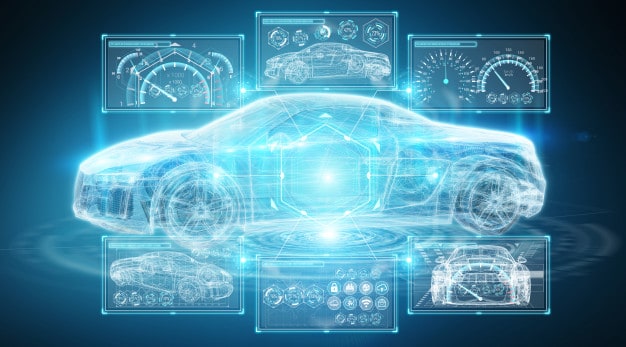 With chatter of Apple entering the connected car market, there has been much discussion around connected cars, not just in the automobile industry, but the overall technology world.
So, what is the connected car all about? This article is a primer focused on the technology and the market trends around connected cars.
A connected car is a car that can communicate with other vehicles on the road, through Local Area Networks (LAN), allowing that car to share internet access and data, with them. Sometimes, in the interest of safety, dedicated short-range communications (DSRC) radios, with set frequencies, instead of LAN are used for communications in connected cars.
Modern connected cars can enable wi-fi hotspots, enabling those in and around the car to use its 4G/5G internet access. This improves the entertainment for passengers. Also, the connected cars can contact the emergency services in their vicinity, using GPS data to exactly pinpoint their location, in case of an accident.
Connected cars connect with other vehicles on the road, as well as with other infrastructure around them like hospitals, emergency centers, restaurants, supermarkets and places of leisure and entertainment, providing the related data to the occupying passengers of connected cars, so that the passengers can utilize these services, whenever they are needed. Connected cars also share the data regarding road and traffic conditions, local weather, visibility on the road, nearby places of interest, number of pedestrians and cyclists on the road, as well as local traffic rules, with each other and the passengers riding in them, as and when needed. All the data collected by a connected car, is stored in a cloud computing environment and analyzed by a business intelligence system, to be presented before the end user, in easily readable format.
Connected cars work on the following technologies:
V2I "Vehicle to Infrastructure": This technology captures data generated by the vehicle and provides information about the infrastructure to the driver. The V2I technology communicates information about safety, mobility or environment-related conditions.
V2V "Vehicle to Vehicle": This technology communicates information about speed and position of surrounding vehicles through a wireless exchange of information. The goal is to avoid accidents, ease traffic congestions and have a positive impact on the environment.
V2C "Vehicle to Cloud": This technology exchanges information about and for applications of the vehicle with a cloud system, allowing the vehicle to use information from each other, through the cloud connected industries like energy, transportation and smart homes and make use of IoT.
V2P "Vehicle to Pedestrian": This technology senses information about its environment and communicates it to other vehicles, infrastructure and personal mobile devices. This enables the vehicle to communicate with pedestrians and is intended to improve safety and mobility on the road.
V2X "Vehicle to Everything": This technology interconnects all types of vehicles and infrastructure systems with another. This connectivity includes cars, highways, ships, trains and airplanes allowing everything to share data with everything, for the purposes of safety, convenience, mobility and environment related conditions.
Major players in connected car market
Connected car market is divided into following segments:
Connected car manufacturers
Connected car component manufacturers
Connected car software providers
Major connected car manufacturers are Tesla (USA), Hyundai Kia (South Korea), BMW (Germany), Mercedes Benz (Germany), Toyota (Japan), Honda (Japan), Renault Nissan Mitsubishi Alliance (France/Japan), Volkswagen (Germany), Zhejiang Geely/ Volvo Cars (China/Sweden) and Shanghai Automobile Industries Corp (China). Recently, there have been rumors about Apple also potentially entering the connected car segment.
Key connected car components vendors include Intel (USA), Continental (Germany), Robert Bosch (Germany), Delphi (USA), Samsung Electronics through their acquisition of Harman Industries (USA/South Korea), TomTom International (Netherlands), LG Electronics (South Korea) and Visteon (USA).
As far as connected car software is concerned, major players are Microsoft (USA), Alphabet Inc. (USA), Apple Inc. (USA), SAP (Germany), Thales (France), Airbiquity (USA), CloudMade (UK), Intellias (Germany/Ukraine), GlobalLogic (USA/Ukraine), Kaa (USA), Nordsys (Germany), Ignite (Israel/Ukraine) and Connexion (Australia).
Our early estimates point that the global connected car market will grow at a CAGR of 24% from 2020 to 2025. In 2020, North America, Europe and Asia Pacific were the top three markets for connected cars.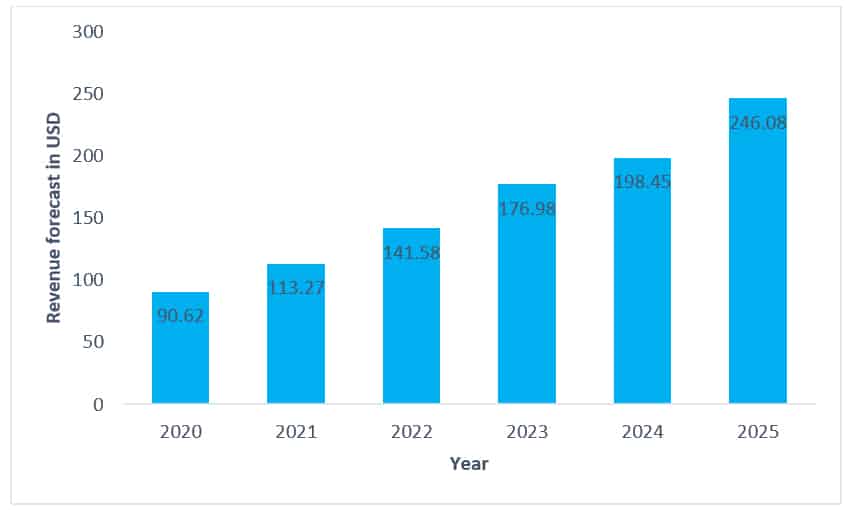 Average growth forecasts for connected car market from 2020 to 2025.
All the figures are in USD billions

Growth in Connected Cars Market
Source: CMR Estimates
Major challenges to connected car market growth:
Development times for connected cars are very long compared to the normal cars, thus tying up the valuable capital, technology, time, production capacity and human resources of the car manufacturers for a longer time, leading to increased costs, making connected cars, a hard sell, to the prospective car owners.
Lot of additional components like cameras, radars, ultrasonic sensors, infotainment systems, telematics and embedded software go into the making of a connected car, compared to a normal car, requiring special modifications to the manufacturing process, hence the production costs get increased. This directly raises the price of connected cars, thus limiting their potential sales.
The regulatory framework, and the laws governing connected car technology are different for different markets. This necessitates expensive customizations of connected cars for different markets, making connected cars costly, leading to limited sales.
The lack of enabling IoT infrastructure and reliable, fast internet connectivity in emerging markets like India, China, Indonesia and Latin America is a major stumbling block for growing connected car sales in these markets.
Cyber Attacks and threat of cybercrimes decrease the perceived advantages of connected cars in the minds of potential car buyers. Hackers can easily hack the sensors, navigation systems, telematics and software of a connected car, causing exponential data losses to connected car owners. Secure internet connectivity and cybersecurity software is needed to protect the connected cars from hacking, thus increasing the acquisition cost for connected cars, relative to the normal cars.
Conclusion:
Connected cars, along with the electric powertrains and autonomous cars, are going to be most influential technology, to impact the automotive industry in the future. Connectivity features have already become one of the most important criteria, in purchasing a car, in the mind of an average car buyer, in the developed markets and rapidly becoming so, in the emerging markets, also.  Today almost all the car manufacturers, barring some very specialised low volume car manufacturers, have introduced connected cars, to cater to this most rapidly growing segment of the global automobile industry.
Even in emerging markets like India, many manufacturers like Ford, Honda, Volkswagen, Tata Motors, Mahindra and Mahindra, Hyundai, Kia, Toyota, Maruti Suzuki, Renault Nissan and Morris Garages are incorporating latest infotainment systems, connectivity features like Android Auto and Apple CarPlay and telematics in their models, gaining many young tech savvy people as their customers. Kia and Morris Garages particularly have experienced rapid gains in their market shares, on the back of newly launched connected models, despite being new entrants in Indian automobile market.  Success of recently introduced new vehicles like Nissan Magnite, has further established the attractiveness of competitively priced connected cars to the average Indian car buyer and helped to turnaround the fortunes of once fledgling manufacturers like Nissan, in India.  Hence, in India also, connectivity features have been established as one of the most important parameters to consider, while buying a car, in the minds of the common car buyers.
Thus, from the above discussion it is clearly seen that connected cars would be crucial to deliver the superior automobile usage experience to the car owners and will redefine the automobile industry, in the near future.