– From Hemant Sahal, CEO & Co-founder, CollPoll
With over 51000 institutions and almost 40 million students, India has the world's third-largest higher education system. Even though the country's education system has grown impressively over the years thanks to the combined efforts of private and public players, significant reforms are required to open doors for institutions to become more flexible, multidisciplinary, holistic, and aligned to the needs of the twenty-first century. Therefore, National Education Policy 2020 was a welcome step to instill a culture of skill and technology, bridge the gap between multiple streams, and build a more progressive education system. With the education sector plagued by rote learning, slow skill development, and a lack of employability, NEP 2020 introduced opportunities for growth in all areas.
New Education Policy
NEP 2020 is a much-needed major policy upgrade after nearly three decades since 1986 when the Rajiv Gandhi government announced a comprehensive education policy. The NEP established a comprehensive framework to guide the development of the education system and implement transformational reforms in the country's institutions.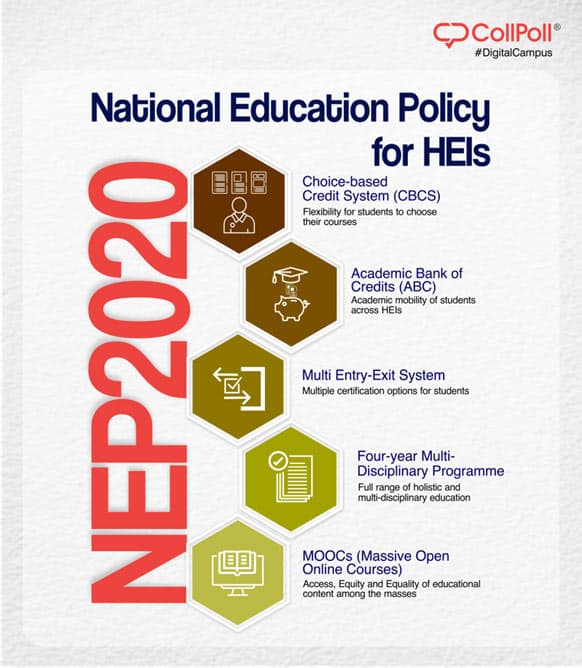 This includes the Choice-based Credit System (CBCS), which gives students the flexibility to choose their courses, leading to crafting their own customized degree. This enables students to combine their passion with their profession. Further, the creation of the Academic Bank of Credits (ABC) shall facilitate the banking of credits by students, which they could acquire across various institutions and digital platforms. These steps could lead to academic mobility of students across HEIs in the country through an appropriate "credit transfer" mechanism; and the Multi Entry-Exit System, which provides students with multiple certification options, allowing them to choose their learning trajectory.

(Image Source: UGC)
Another aspect of this policy is the creation of four-year Multidisciplinary Undergraduate Programs to expose students to the full range of holistic and multidisciplinary education and to embed MOOCs (Massive Open Online Courses) to increase access, equity, and equality of educational content among the masses. The goal is to improve the institutions' national and global rankings by achieving multidisciplinary learning outcomes, knowledge co-creation, student enrollment, employability growth, and student enrollment and employability growth.
With rapid changes occurring in the higher education landscape, institutions must begin planning and implementing new methods, such as technology adoption, to reap various benefits of this policy. With technology infiltrating every aspect of our lives, education cannot afford to fall behind, especially regarding the timely and effective implementation of the National Education Policy 2020.
Leveraging Technology for NEP Implementation
Introducing the New Education Policy has catapulted the Indian education system into a new era. However, the real test is in the implementation, which necessitates orchestrating a series of complex activities that cannot be accomplished simply by adding resources. Therefore, adopting Digital transformation on campus is important for attaining the outcomes of NEP. The following are the six best outcomes of leveraging technology to accelerate NEP implementation:
Significant Reduction in Managing Academic Complexity
By deploying appropriate and effective technology, Institutions can seamlessly plan, manage, and track their key academic activities, allowing them to focus on what matters most – teaching and research. With the help of technology, they can easily redesign academic structures, offer inter/multidisciplinary courses, manage choice-based course registration, and track academic progress with far less human intervention. For example, implementing a student information system can help institutions manage academic complexity.
High Degree of Transparency in Academic Matters
The traditional educational model does not provide access to real-time reports and analytics. Digital platforms, on the other hand, can provide macro to micro-level transparency into all academic matters and opportunities to bridge gaps and enhance the academic experience. You can gain deeper insights into students' performance, engagement, and achievements by implementing advanced technological tools, randomly checking detailed reports on the classroom, examination, attendance, and so on, and managing various compliance and accreditations processes seamlessly.
Technology can also help institutions maintain the academic process's integrity by ensuring the fairness of the course allocation process on a first-come, first-served basis, with no bias of any kind.
Enable Students to Craft Their Degrees Digitally
It comes as no surprise that today's Gen Z students and the upcoming Gen-alpha children are digital natives and far more technically savvy than any previous generation, and they expect a similar experience in their academic journey. Thus, using technology can assist institutions in ensuring that credit transfers, multiple entry-exit processes, and digital teaching learning match their expectations. Such digital platforms enable students to pick and choose courses within the CBCS framework to craft degrees that fulfill their needs and ambitions.
Boost in Academic and Administrative Efficiency
Key academic and administrative activities can be time-consuming to manage, especially if they are completed on paper. Furthermore, dealing with them has not been the responsibility of a single person. The process involves many stakeholders. Technology improves collaboration among various stakeholders and assists institutions in identifying gaps and opportunities for growth.
Email and Mobile Notifications, Issuing academic certificates, and managing No dues are some of the various elements of workflow automation which can help reduce paperwork and increase academic and administrative efficiency. As the NEP aims to increase the gross enrollment ratio (GER) from 27% to 50% by 2035, the technology can help institutions easily scale up.
Ease of Student and Faculty Collaborative Activities
With digital learning becoming the norm, it will be surprising to see an institution still operating in pen-and-paper mode. Furthermore, the long-term viability of "jugaad technology" is highly questionable. Therefore, a comprehensive digital platform ensures two-way communication and collaboration between students and faculty. Adopting good LMS with collaborative features can help increase collaboration between faculty and students. The comprehensive digital platform will facilitate international collaboration by offering and hosting all content and activities online.
Implementation of a Fully Flexible Learning System
To create a fully flexible educational system, an institution must investigate flexibility across five dimensions: time, content, access requirements, instructional design, and delivery. Institutions must adopt technology and incorporate complete flexibility along these dimensions, which would otherwise necessitate a significant investment in man-hours and human intervention from time to time. This will help the students to have full flexibility in their work-life balance and give them enough time to pursue other interests in life.
Summing Up!
The higher education sector is still in the early stages of remote learning, and the ongoing pandemic and NEP requirements will accelerate this technology-enabled education delivery. Institutions frequently avoid/delay technology adoption by focusing solely on short-term costs and ignoring the long-term benefits. It is high time for educational institutions to adopt technology-enabled methodologies and accelerate NEP adoption. The true success of NEP is found in its implementation.