HP WERISE Pune
CyberMedia Research had recently concluded 'We Rise' – a dedicated platform created by HP recently had their inaugural gathering at Pune.
We Rise – is to help small & mid-sized companies of fast-growing industry verticals across the country to be future-ready with innovative use of technology for business growth. This is the inaugural gathering of We Rise, and this event is meant for Pune's Auto Parts Manufacturing Sector. In the gathering, experts from the automobile industry shared their inputs on how auto parts manufacturers can benefit from digitizing manufacturing & how to use them to gain a competitive advantage.

Anil Chopra, VP Research & Consulting CMR & Research Editor, CyberMedia Group of publication – on his welcome address said, "the automobile sector saw 38% of growth in the first half of this fiscal. The figures are remarkable. Given the kind of challenges the sector has faced, like semiconductor shortages, container shortages for logistics, and the rising cost of raw materials, the sector has been growing, which is remarkable. New market changes like Electric Vehicles recession in US & Europe are coming, and we have to be ready for it; Digital Manufacturing is the major solution.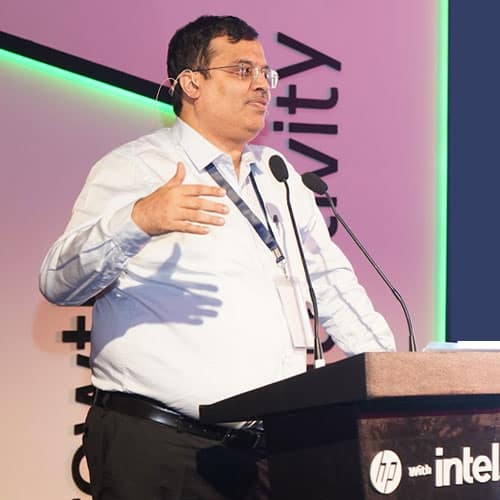 Prashanth Nayak, MD, Yesaki India – a subsidiary of Yesaki Japan in his speech said, "BANI" is a psychological interpretation of how you should survive in an Ooka world. BANI stands for Brittle, Anxious, Non-linear and Incomprehensible. The world is increasingly becoming more challenging to handle, and traditional methods of responding to it. Projecting what will happen is probably not as relevant or effective. If we can use technology to make our day-to-day issues easier to handle, we will be more equipped to handle some of the uncertainties coming in.
The world is already too volatile. We are in a sweet spot as far as some automobile industry sectors. If our customers do well – do the sector. In the passenger vehicle sector, due to the unavailability of semiconductors, the age of the vehicles most of us are using is beyond the historical time when replacement starts. 5-years is average when most of us would look into a replacement for a new car, which means that we have a strong replacement cycle that will enhance new people coming in by car. The number of Taxis has reduced post covid dramatically, meaning most of us have graduated to have our own car.
The next 2 years should see growth for passenger vehicles. On commercial vehicles, we have a similar build-up. The truck's upcycle has lasted for the last 4 years. We continue to have a strang-E – Way of bill generation, which is potentially determining how demand patterns are & we continue to have very strong registration of trucks. There will be potentially double-digit growth for the CV Sector, and we need to build the ability to think about how to digitize the information". He also shared about 30 case studies.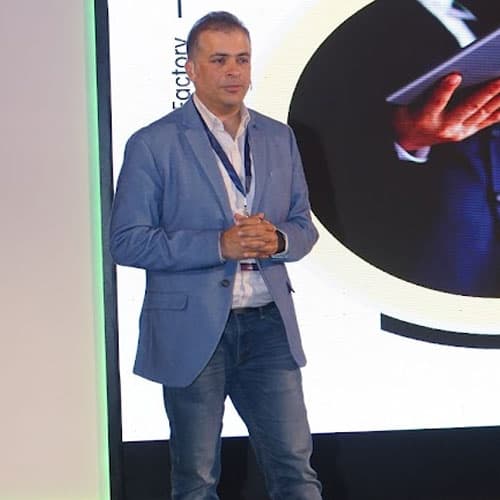 Zubin Jagthyani, CEO & Co-Founder of "Think 7" shared something inspirational. He said "Think 7 is a leading industry for digital manufacturing solution providers catering to primarily the discrete manufacturing industries. Auto & Auto components form a major chunk of their clients. Today we are in 170 factories across India & have digitized more than 7,000 machines."
Talking about "Cycling Tourism " compared with his entrepreneurial journey, he shared quite interesting thoughts. He said "fixing a Goal which is very definitive, non-negotiable, inflexible – is very important to ensure you reach the successful endpoint. Consistency is the next vital step, increasing your efforts on improving day by day. While that is very important, now you need to bring in a different way to think about it. So, Paradigm Shift in thinking is needed. After analyzing the data collected, you need to make small changes into each of those metrics like when, what, & how much etc., You need to Trust this process, which includes Self, The equipment, Stakeholders, to support no matter what challenges come up fully.
Let the unknown be there. Let those challenges & obstacles be there – but we will cross it. Every organization must figure out how they consume the data for better decision-making. Ultimately, change in thinking is the need of the hour & it typically has to start at the Top. Consistency in looking at the numbers, consistency in pushing through the effort of digitization, consistency in decision-making, and delegation is all very important in ensuring the entire digital transformation becomes a successful project that delivers real value to the bottom line of every organization.
Fixing realistic, achievable goals, aligning the organization, and driving everyone consistently in the right direction can deliver results." He also shared 2 case studies of clients who have implemented digital manufacturing system IOT-based solutions – identified gaps because of the data & took very simple steps to fix it and realize the gains to the bottom line.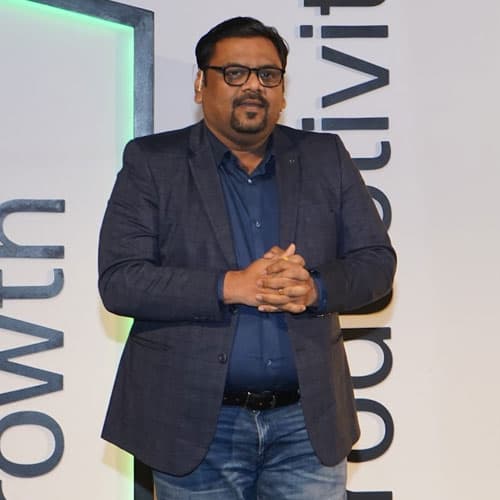 Ashish Agarwal, Country Manager, Commercial Channel, HP Inc., talked about how HP is driving innovation in the manufacturing segment. He said, "there are many technologies to empower the automobile industry today. There is a lot of emphasis from the Government of India on adopting Electric & Hybrid vehicles. With the use of IOT & big data, Indian manufacturers are focusing on reducing the cost & improving the overall efficiency in the automation process.
With the help of Artificial Intelligence, people are absolutely focused on predictive maintenance. The 3D Design and the 3D Manufacturing Device can help the automobile industry look at the manufacturers of some of the complex parts to reduce the cost & improve the fast turnaround time. These are only a few of the technologies we are talking about, which is relative and impacting the whole automobile industry.
After 2022, the IT industry saw a massive acceleration on the overall market size & there was a natural expansion. The IT industry is going to be about 112 Billion dollars in 2023. We have constantly been hearing that most Indian businesses have realized that going digital is no more an option – no more a choice – & it is a matter of survival. You need to really thrive for forward-looking growth. You have to go for digital adoption.
The research data says that 50% of the Industry 4.0 spend will likely happen on foundational technology like the cloud. As per the data, 35% to 40% of the customers today & the company are already at a POC stage right now & will need a rapid POC to Productive Transition. In the next 18 to 24 months, the companies plan to wrap their investments in emerging networking technologies like big data, analytics, and central & remote control monitoring in the automation system. The IT industry has done about 90 Billion Dollars in business in India, which includes the PC component, PC devices, Computer Software, Communication Services & the data center. This market will look like about 112 Billion dollars in 2023.
Digital transformation needs high budgets & organizations normally tend to put the best people on those projects. Unless we re-skill people, unless we give confidence to the person – the amount of conflict that comes when attempting to digitize something is pretty high.