In a very surprising move, Apple and Qualcomm settled a patent royalty dispute, dropping all worldwide legal action, in the midst of multiple, complex legal battles worldwide over the past two years. What do these developments portend, and what are its ramifications for Qualcomm, Apple, Intel and other Android brands?
At the core of it all, it was commercial pragmatism that ruled, and persuaded all parties to make a push to settle, instead of getting badly hurt, due to the ongoing patent battles. Both Apple and Qualcomm needed each other, and prolonging the battle would not have boded well for either of them.
As part of the settlement, Apple will pay Qualcomm an undisclosed amount. It also includes a six-year licensing agreement that likely involves recurring payments to Qualcomm. In short, Apple will buy Qualcomm chips again.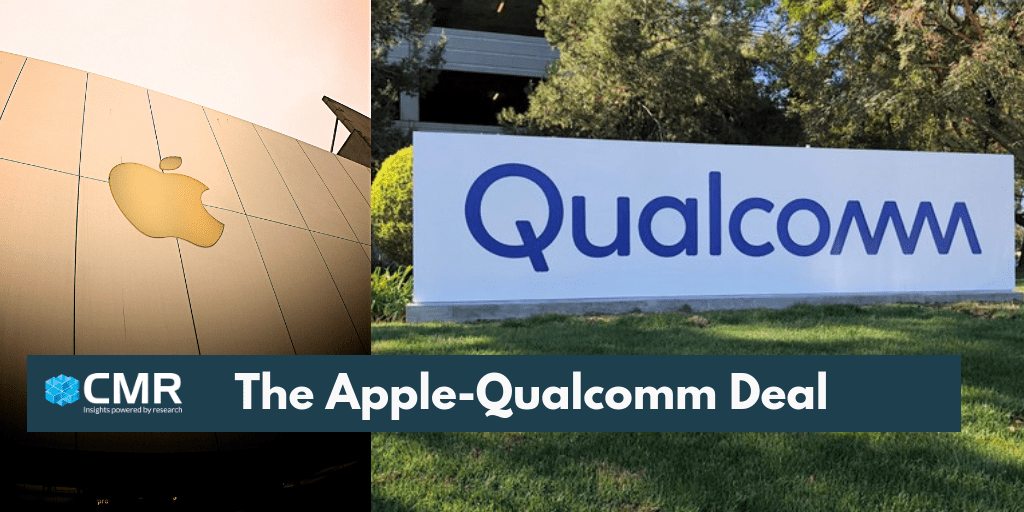 On the heels of the announcement, Intel bowed out of the 5G Smartphone modem business.
Here is an early read in on the developing market situation, and what it means for various stakeholders:
Qualcomm
For Qualcomm, the settlement clears the cloud of uncertainty surrounding it, and vindicates its patent licensing business model. It reaffirms Qualcomm's patent portfolio value and strength. Major smartphone brands were closely watching the Apple-Qualcomm case, and the outcomes could have had significant ramifications. As a result of the settlement, Qualcomm is now again potentially on the path to revenue expansion, and potentially, the supremacy it enjoyed in the transition to 4G.
Apple
While Apple could have fought its battles forever, commercial pragmatism was again at the core of its surprising, and abrupt decision yesterday.  Given its rather difficult situation in its smartphone business, the window for Apple was closing fast. It had to move fast with its 5G ambitions at the earliest.
Apple probably gauged that Intel's 5G Mobile Modem was far from ready, or was behind schedule, pushing possibilities for a 5G iPhone to as late as 2021.
By closing all the patent disputes, Apple can now look at a swifter 5G schedule, benefiting from Qualcomm's 5G modem prowess. Apple will most likely go with a customized modem based on Qualcomm's second-generation X55, that can work well in global 4G as well as 5G networks. Apple may look at introducing a next-gen 5G-capable iPhone in time, potentially as early as late-2019 (via a special launch) or more likely in 2020. Again, everything depends on the preparedness of Apple's supply chain ecosystem.
Intel
It is important to not read Intel's exit from 5G smartphone business, as a direct consequence of the settlement between Apple and Qualcomm. Rather, commercial pragmatism was high on Intel's consideration. Making 5G Mobile Modems is tough and Intel lacked behind Qualcomm in terms of 5G preparedness. For instance, in comparison to Qualcomm, Intel's 5G mobile modem lacks behind in pure performance. While Qualcomm's X55 promises speeds of upto 7Gbps, Intel's 5G modem is capable of only upto 6Gbps download speeds. Plus, Intel knew that, sooner or later, Apple would be building its own modem. In such a context, this is a very positive move by Intel.
Android Smartphone Manufacturers
Lastly, Apple making up with Qualcomm affects Android smartphone brands. It is true that Android smartphone manufacturers have made significant progress in preparing for 5G smartphones. Yet, the fact that Apple is back on track with 5G affects the marketing competitiveness of Android brands. While they would still be first-to-the market, they would have to contend with Apple's likely 5G push in 2020.
In Conclusion
This is a big moment for the wireless industry, and there are no losers in this battle. The road ahead is one where companies can focus on the positives, putting uncertainties behind. They would be in a position to invest in, and contribute to furthering the technological progress.