The second edition of the three-day India Mobile Congress, #IMC2018, began at Aerocity, New Delhi, bringing together over 300 companies from across 20 countries to deliberate upon the theme of "New Digital Horizons: Connect, Create, Innovate". A key focus of the IMC will be on BIMSTEC and ASEAN region telecom sector.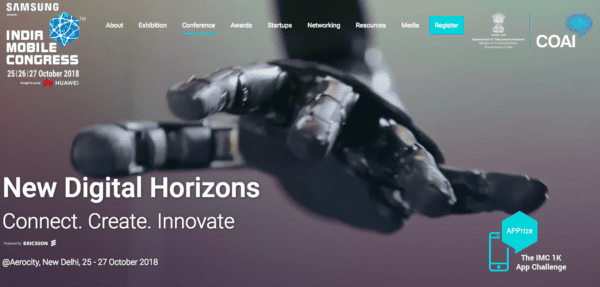 Here are the key highlights from Day 1 of the IMC:
India's 5G Future
The clear overarching and omnipresent theme for this year's IMC is 5G.
From a Government perspective, clear policy emphasis is on ensuring India's early adoption of 5G. Towards this goal, three ministries, Department of Telecommunications (DoT), Ministry of Electronics and IT (MeITY) and Department of Science and Technology (DST) are working together to forge a common strategy around 5G. DoT is focused on enabling homegrown technologies for large-scale field trials to enable the development and the scaling up of the products and services.
From an industry perspective, companies, including Reliance Jio, Airtel, Samsung Electronics, Huawei, Nokia, and Qualcomm illustrated 5G use cases, and its implementation. Whether it be connected cars, or 5G drones, with applications in public safety and surveillance, disaster management, remote surveillance, medicine, among others.
Airtel unveiled its 'Airtel 3.0' vision as part of which it aims to build digital networks and services to connect Indians everywhere. Airtel displayed 5G network experience and several exciting use cases for homes and enterprises. Airtel put together the Airtel Connected Home, Airtel Connected Car, futuristic AR based Holographic Communication for 5G in partnership with Huawei, VR based360 degree content like under sea experience in a 5G live environment in partnership with Nokia, and the Beyond Visual Line of Sight (BVLOS) autonomous drones for "next generation e-delivery" services over 5G networks, in partnership with Ericsson.

Samsung announced its plan for India's first large-scale 5G trials scheduled to take place in the first quarter of 2019 in collaboration with the Department of Telecommunications (DoT).

Huawei showcased innovative use cases around 5G, Smart Cities, Smart Campus, IoT, Home broadband and consumer device segments.
Nokia announced of its manufacturing unit in Chennai, which will start large scale making of 5G new radio enabling made in India for the world.
Bharat Wi-Fi
Bharat Wi-Fi, a country-wide common inter-operable platform of one million Wi-Fi hotspots, owned and operated by telecom service providers, Internet service providers and virtual network operators (VNOs) will be rolled out across the country by December 2019. Under the Bharat Wi-Fi initiative, consumers can access Wi-Fi hotspots of any of the partnering operators – BSNL, Jio, Airtel, and Vodafone-Idea.
National Frequency Allocation Plan 2018 (NFAP)
With intent to further facilitate ease of doing business, the National Frequency Allocation Plan 2018 (NFAP) was announced at the IMC. The NFAP released a quantum of 605 MHz license exempt spectrum in 5GHz band for Wireless Access Services and Radio Local Area Networks in outdoor, to meet the ever-growing data needs. 30 license exempt bands for Short Range Devices (SRDs), Ultra-Wideband Devices (UWDs) and additional spectrum for M2M services are offered under the NFAP.
Impetus for SME Entrepreneurship
The Department of Telecom (DoT), in a major policy thrust, has decided to deduct payments for resources taken by VNOs from telecom service providers, thereby reducing levies payable by VNOs. This new policy initiative is likely to prevent double taxation.