Roundtable on Challenges facing the Indian Healthcare System: The promise of Healthcare-IT
In India, 73% of the population is rural and without quality access to quality healthcare in rural and remote areas. With the majority of the population in India living in villages and most health care facilities located in metropolitan cities, it is difficult for patients to seek advice from medical specialists. Catering to such a vast population requires planning and coordination between the Government and other stakeholders such as the private sector, local and regional bodies, NGOs and self-help groups.  There is a need for strategies that are customized to the challenges, needs and are in alignment with the financial resource availability in India. India faces a shortage of doctors, nurses and paramedical staff, as pointed out by a recent Planning Commission Report.
In this context, Information Technology (IT) deployed optimally can result in immense improvements in the way we diagnose and treat medical conditions. For instance, by using remote specialists to provide continuous remote health-monitoring systems, helps in increasing healthcare quality, reducing costs and creating revenue opportunities for healthcare providers.
Through the deployment of Healthcare-IT and telemedicine tools, healthcare can be made more responsive, accessible and affordable.  By moving points of care into the community and providing constant monitoring by expert health professionals, it is possible to identify high risk patients quickly and provide them with evidenced –based information they need to quickly resolve their condition.  Constant monitoring and advice helps in identifying a potential risk early on, and providing for quicker intervention before a critical situation arises.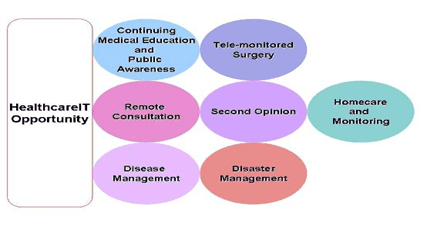 Why Healthcare-IT?
A severe shortage of physicians, specialists, lab technicians and radiographers at the Community Health Centers (CHCs) in rural areas;
Very high patient volumes without access to quality healthcare
Widespread availability of mobile networks and adoption of mobile phones
Rapid growth in the availability of low-power, hand-held medical monitoring devices
The shift away from the proprietary, local area network-based medical image archiving and communications systems to a networked tele-enabled system.
Status of ICT in the Education Sector:
Importance of education in almost all spheres of life has increased with the support of information and communication technologies (ICT). In the last two decades, the use of ICT has fundamentally changed the working of education. In the current scenario, the importance of education and acceptability of ICT as a social necessity has been increasing. Education as a qualitative development is not confined within the classroom structure. The modern tools of ICT such as eLearning and online practice of learning and getting information are much sought after by the students as well as by the institutions.
ICT in education sector consists of the implementation of various IT tools / applications which help facilitate imparting of better and efficient educational services. Educational institutions in India are presently focused on deploying IT systems that enable them to improve the educational process for their students, and to stay ahead of the competition. A large number of institutions are opting for networking solutions, storage and ERP implementations to support their business, upgrade operations and streamline budgets.
Encouraging government initiatives and need for better and high quality educational services is boosting the ICT usage in education. The government is spending a lot of money on ICT. In the higher education sector, the National Mission on Education is emphasizing on the role of ICT in increasing the enrolment ratio in higher education. School education in India has a problem of high dropout rate which needs to be checked. Similarly, in the field of higher education, there is a need to increase the number of students. Therefore, by making learning more engaging with the use of ICT, it can completely change how our education system works.
Education policymakers and planners must be clear on which are the educational outcomes that need to be focused. These broad goals should guide the choice of technologies to be used and their modalities of use.
Key Topics of Discussion at the event 
What are the key healthcare & education challenges and key stakeholder priorities?
How do we integrate each stakeholder's relative value for the Education & Healthcare-IT?
How will Healthcare-IT help healthcare providers to produce better healthcare outcomes?
How will Education-IT help providers to produce better education outcomes?
What are the key Education & Healthcare-IT opportunities and key applications which are of greatest value to the various stakeholders in the ecosystem?
How can healthcare providers better position themselves to integrate Healthcare-IT applications into their current workflow and make use of technology?
A must attend for :
Key Policymakers at the MoHFW, MoHRD, NIC, DieTY and Planning Commission
Decision makers in-charge of advocating IT solutions 
Hospitals and Health Delivery Systems and Providers including:
Chief Information Officer (CIO)
Medical Directors

 
Education Delivery Systems and Providers including:
Large Institution Deans, Directors etc.