Reliance Retail has been on the MiFi devices launching spree since quite a long time. Starting from the year 2016 till date, Reliance Retail has introduced around 9 different MiFi models to cater to the superfast internet hungry customers in India. When compared to CY2016, Reliance retail data card shipments witnessed a gigantic growth of 456% in CY2017.
Reliance Retail launched the two very popular MiFi models M2 Router (JioFi 2) and JMR540 (JioFi 3) in the second half of CY2016. After a yearlong gap JMR1140 (JioFi 4) was launched in second half of CY2017.The latest addition to the JioFi family are JMR 814(JioFi 5) and JMR815 (JioFi 6) launched in 1Q of CY2018.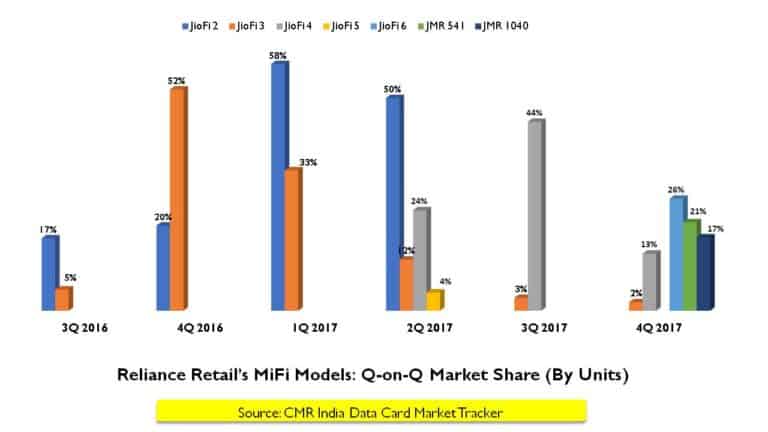 Models and Sub Models
Talking about the various MiFi models, Reliance has named them as JioFi 2, JioFi 3, JioFi 4, JioFi 5 and the latest being JioFi 6. Interestingly all the models have different OEMs (Original Equipment Manufacturer) based out of China, Malaysia and Vietnam and most of them operate on different Qualcomm chipset models. The common features for all the above mentioned JioFi models are listed below:
Wireless 4G portable data and voice device
Download speed 150Mbps
Micro USB port to charge the device JMR541 and JMR1040There is not much buzz around JMR541 in the market. It is available for sale online exclusively on flipkart at Rs. 1999.Most of the stores are not aware about this particular model. The shape, look and most of the specifications are exactly same as JioFi 3. The only difference is its micro SD slot is expandable up to 64GB and weighs 80 grams.Talking about JMR1040, no information is available offline or online about this particular product. However, shipments of this model have been seen to be imported. We can believe that this product will be a newer version with much better features than its predecessors and will be launched soon in India.Future OutlookReliance Retail's aggressive strategy to rule and fulfil the growing need of superfast and uninterrupted internet has created a tough competition for the other leading telecom service providers. Reliance Jio has been incessantly pushing for getting new users onboard.In CY2018, we believe Reliance Retail is all set to capture around 95% market share, capitalizing on the hunger for data consumption amongst aspirational masses in Tier-II, Tier-III cities, towns and beyond. Alongside, the India market will witness a shift in the strategy for Reliance Retail. From the keen focus on new user acquisition until now, Reliance Retail will now increasingly focus on monetization.The only foreseeable challenger for Reliance Retail in the India data cards market is the Shenzhen-based firm Huawei. If Huawei were to focus more on the India market, introduce new 4G data cards, and back it up with extraordinary marketing, there could be a shift in the market landscape.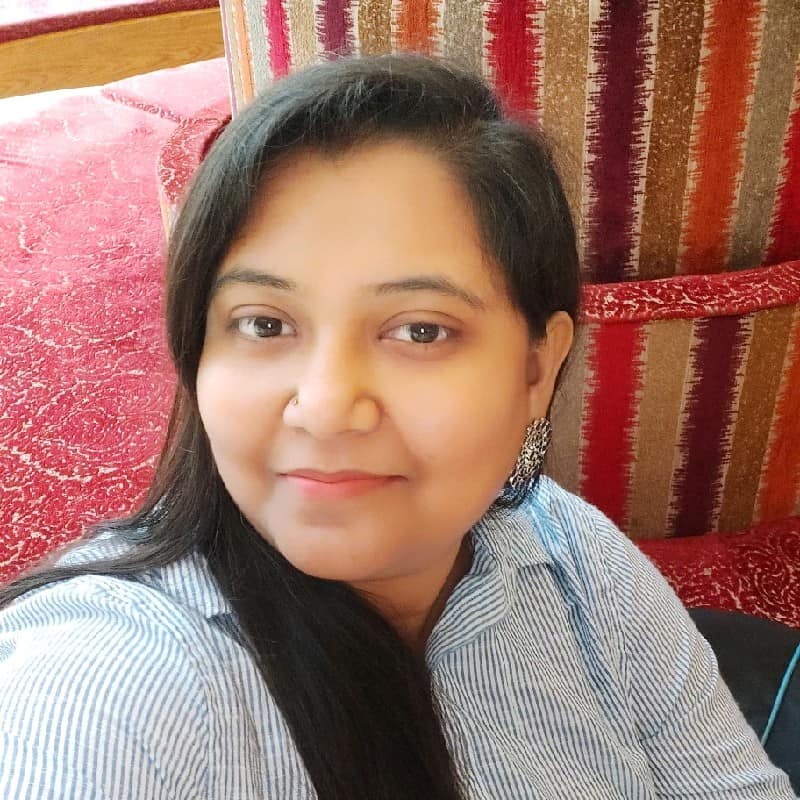 Experienced Research Manager with a demonstrated history of working in the market research industry. Skilled in Analytical Skills, Oncology, Biotechnology, Market Research, and Proposal Writing. Strong consulting professional with a Post Graduate; CREMA focused in Clinical Research from Clinical Research in Education and Management Academy.