Smartphones have redefined the way we communicate, work, entertain, play and explore the world around us. In fact, smartphones are now the primary device for consumers to get connected digitally 'on the go'. The GenZ consumers, for instance, are spending more time on games such as PUBG and Fortnite, listening to music on apps, such as Gaana, Spotify, Youtube Music, and streaming videos on Amazon Prime, Netflix and other OTT platforms. As users spend more time every day on their smartphones, it is no wonder that batteries have come to the spotlight.
With the increase in affordability, availability and accessibility, more consumers are latching on to smartphones, and spending more time online. As recent data from the CMR Mobile Industry Consumer Insights (MICI) Survey shows, 87% of the smartphone buyers in India 'factor-in' the battery life and battery capacity as a key spec, while purchasing their next smartphone.
Interestingly, smartphone brands are responding to this consumer demand with increasing battery capacities as a differentiating factor in a hyper-competitive market. Whether it be more mAh, or new technologies, such as fast charging or wireless charging, the smartphone battery is going a phase of innovation. Also, technological advances have helped battery become more light weight and compact as well as a feature-rich enabling a longer battery life.
Smartphone brands, including market leaders, such as Xiaomi, Samsung, Vivo, Realme, Oppo, OnePlus and Asus have been focused on bringing smartphones with battery  capacities of 4000 mAh and above.
As per data from CMR India Mobile Handset Review Report, smartphones with battery capacity of 4000 mAh and more saw an increase of 23% in Q1 2019 when compared to Q1 2018.
Similar to the battery adoption trends seen in smartphones with 3000 mAh batteries, the 4000 mAh battery initially featured in flagship smartphones. By the end of 2018 and early 2019, the adoption of 4000 mAh battery capacity in smartphones increased significantly in the  value for money price bands. With the launch of recent Samsung galaxy M series and Xiaomi Redmi Note 7 series, the trend towards higher battery capacities is intensifying further.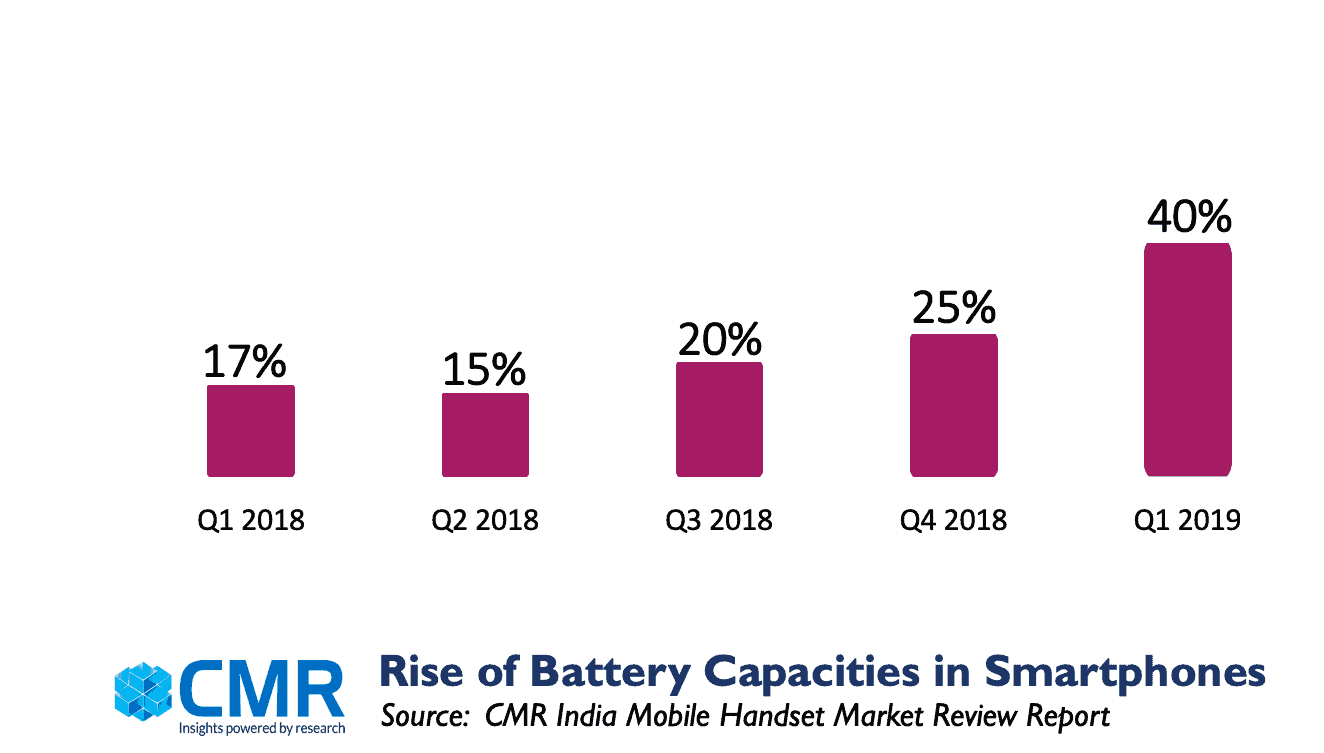 As live video streaming and extreme gaming experience takes further roots, smartphone brands are looking at bringing smartphones with significantly higher capacities, going beyond 5000 mAh, and 6000mAh. A case in point, ASUS ROG Phone 2 from Asus that promise to enhance gaming further.
CMR estimates point to a staggering 50-55% smartphones shipping with 4000 mAh and higher capacities by end-2019. Our initial estimates also point to this trend intensifying further, with 70-75% of the smartphones shipped in 2020 to sport battery capacities of 4000 mAh and higher.
In addition to higher battery capacities, smartphone brands are also looking at introducing innovations in battery charging. Whether it be dash charging or Quick Charge, VOOC or SuperVOOC, the focus is on ensuring swiftly revitalizing the battery juice, in as short a time as possible. For smartphone flagships, such battery charging technologies act as differentiators to attract consumers.
Smartphones, boasting of any one form of fast charging capabilities, increased by 16% in Q1 2019 when compared to Q1 2018, as per data from CMR.
In Conclusion
It is clear that smartphone battery capacities are increasing, and new innovations are enabling such batteries to fit into smartphones that are slimmer. In addition, large batteries are no longer confined to niche smartphone flagships.
While there is a clear trend in battery capacities, there are various other factors, such as evolving smartphone form factors and the smartphone sizes that consumers can hold comfortably, and the prices of lithium required for such battery production.
As processors become more powerful, and screen displays become dazzling, smartphone efficiencies will depend on a combination of factors, beyond just battery, to ensure more gets done while conserving juice.