MWC Barcelona has been one of the biggest platforms for the entire business community around the globe to showcase new age technologies. The theme of MWC this year was Intelligent Connectivity. It showcased the latest in smartphone innovation,  the promise of Augmented Reality, and heralded the advent of 5G. In the midst of all the hype, and all the analysis, one key trend was overlooked, or rather underreported. How are storage trends changing? In a world where consumer demands exceptional performance, what do storage companies promise?
As per data from recent CMR Mobile Industry Consumer Insights (MICI) Surveys, smartphones are the primary device for consumers. Yet, they have not translated into being the primary choice for productivity in an always-on workplace. Interestingly, smartphones are getting more and more powerful. They can now hold as much data as that of a laptop, thanks to new product innovations with capacities of 1TB storage, from SanDisk and Micron. Of course, they come at a premium price! For the consumers, the 1TB microSD card translates into ample storage for 4K videos, pictures and games on their smartphones and other electronic devices.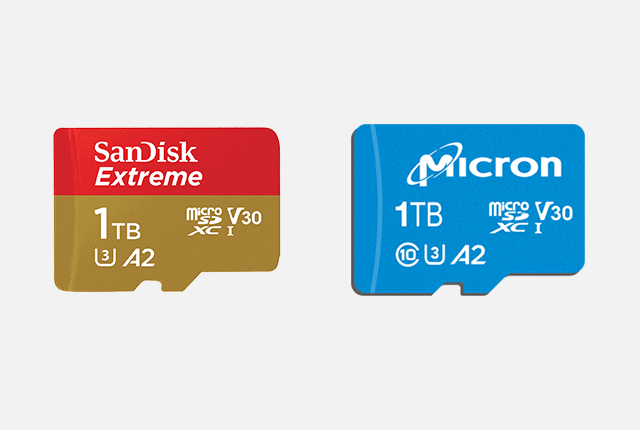 SanDisk Extreme UHS-1 microSDXC
SanDisk Extreme UHS-1 microSDXC features high speed with capacity to capture massive number of high-resolution videos, pictures etc, fulfilling the need of world's enormous storage requirement. It uses 96-layer quad-level cell (QLC) 3D NAND flash and conforms with Application Performance Class 1 (A2), Speed Class 3 (U3) and Video Speed Class 30 (V30). Other exciting features are its waterproof, shockproof, temperature proof, and X-ray proof.
File transfer can be done within seconds with reading speed at 160 MB/s and writing at 90 MB/s.
The 1TB SanDisk Extreme UHS-1 microSDXC card will be available for selected retailers from April 2019 costing USD 449.99. 512GB capacity was also showcased which is priced at USD 199.99.
With this launch, SanDisk has further strengthened its grip on being the most favourable storage brand that continues to deliver the most advanced solutions to ensure consumers can reliably capture and share moments at blazing speed for personal or professional use.
Micron c200 microSDXC UHS-I card
Alongside SanDisk, Micron also unveiled its c200 microSDXC UHS-I card the world's first 1TB microSD card. With this huge capacity card Micron will provide cost-effective storage for 4K videos, high-resolution pictures and games for users on their mobile and electronic devices. This card uses the advanced 96-layer 3D quad-level cell (QLC) NAND technology giving users freedom to capture, share, store more content.
Micron claims the card to meet A2 App Performance Class specification which enables smoother and faster access to the applications installed. With 100MB per second read and 95MB per second write performance this card also meets the UHS-I Speed Class 3 and Video Speed Class 30 specification standards.
Micron's 1TB c200 microSDXC UHS-I card will be widely available from Q2 2019.Micron kept mum about the pricing of its 1TB microSD.
Micro Express Format by SD Association
The new microSD Express format announced, employs PCIe 3.1 and NVMe 1.3 interfaces commonly used on modern SSDs. This format is aimed to enable speeds of up to 985 Mb/s on cards that exercise it.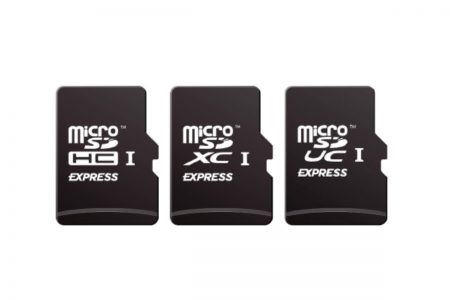 NVMe 1.3 protocol will enable advanced memory access mechanism and PCIe 3.1 will ensure less power consumption. Bus Mastering, Multi-Queue and Host Memory Buffer like key features are also enabled with this format. MicroSD express cards will hold high potential in gaming systems, multi-channel IoT devices, higher resolution 4k mobile videos, action cameras, and virtual reality as well.
This 985 Mb/s blazing speed can only be accessed if the camera or phone actually supports microSD Express. However, the new microSD Express cards will ensure legacy connectivity by enabling backwards compatibility with the older devices at a comparatively slower speed.
The format will be available as microSDHC Express, microSDXC Express and microSDUC Express with microSDUC Express offering a huge 128 TB capacity.
In Conclusion
As we step forward into the 5G era, characterized by speed and scale, and with advanced AI on devices, consumer demand for increased storage on mobile phones will continue to rise. The new solutions from SanDisk, Micron and SD Association pave the way for consumer's hunger for more storage for their precious memories.
All things said, the pricing of the new storage devices, and its uptake will have to be monitored closely.