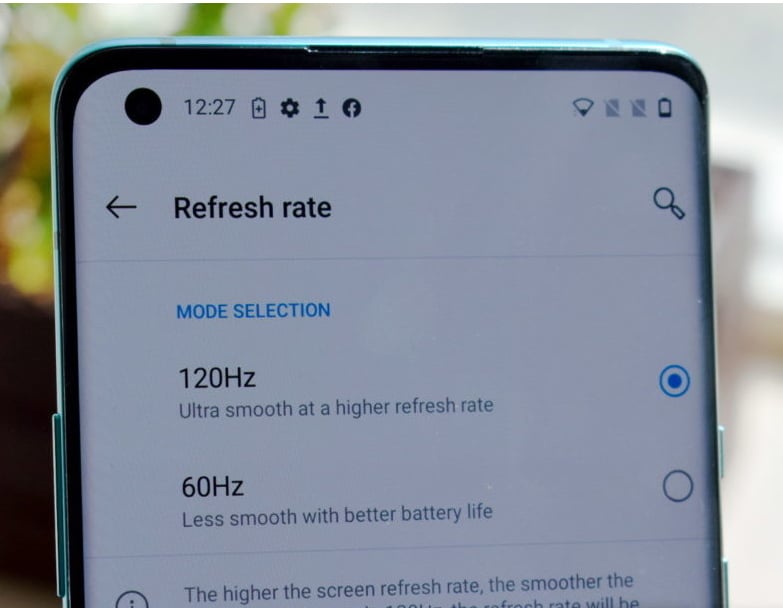 For last so many years, display refresh rate term has always been used while referring to PC monitors. With respect to smartphones, the term is still in budding stage. While smartphone makers are slowly moving towards higher refresh rate, they are also highlighting this feature for the product marketing. Refresh rate became a hot topic only after the launch of One Plus 7 Pro last year. Now that everyone is talking about smoother and faster displays, it has become one of the crucial features while choosing a new smartphone.
Some time back, very few smartphones had a screen with a refresh rate more than 60Hz. Currently, higher refresh rate displays have become prominent in most of the models. With the rise in gaming-driven smartphones and graphic-intensive games, higher refresh rate displays have become popular among smartphone manufacturers encouraging them to move towards 90Hz, 120Hz or even 144Hz.
The refresh rate calculates how quickly the phone's display updates and is measured in Hertz (Hz). A 60Hz display refreshes 60 times each second, 90Hz is 90 times per second, and 120Hz is 120 times each second. It improves the consumer experience by improving the picture quality and allowing smooth access to applications, gaming etc. A higher refresh rate allows multiple pictures to appear at the same time, thus movement between each frame becomes smoother causing less eye strain.
The nature of the displays relies upon the innovation behind it and many other factors like technology, software, hardware etc. One of the disadvantages of higher refresh rate is more battery consumption. However, manufacturers are still focussed towards enabling 90Hz refresh rate feature due to its much smoother and faster operation capability.
As per the recent CMR India Mobile Handset Report for 2Q CY2020,
Apple iPhones currently run at 60Hz.
68% of Xiaomi smartphones are 60Hz enabled whereas 31% run on 90Hz and 1% are 75Hz enabled.
100% of POCO smartphones are enabled with 120Hz.
All of IQOO smartphones are 120Hz enabled.
Around 99% of Samsung smartphones are enabled with a 60Hz rate.
Recently announced, Samsung Galaxy Note 20 and Galaxy Note 20+ have a refresh rate of 120Hz. Apple is also considering to introduce a variable 120Hz screen with its 2020 iPhone 12-series. The Asus ROG Phone 2 was one of the first smartphones with customize option to change the screen refresh rate to 60Hz/90Hz/120Hz, it is one of the best budget flagship smartphones.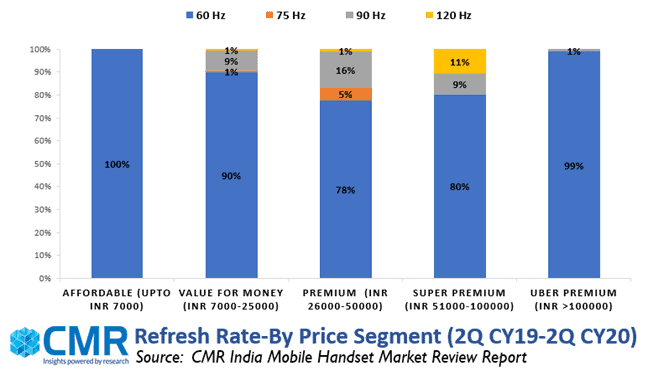 In Affordable (<INR 7000) segment, all the smartphones were 60Hz enabled with major contribution by brands like Lava, Lenovo, Micromax, Apple and Samsung.
In Value for Money (INR 7000 – 25000) segment, 90% of smartphones were enabled with 60Hz, followed by 9% with 90Hz.Both 75Hz and 120Hz enabled smartphones captured 1% share.
With respect to the Premium (INR 26000-50000) segment, 60Hz enabled smartphones captured 78% share whereas 16% were 90Hz enabled smartphones, 5% were 75Hz and 1% were 120Hz enabled.
80% of Super Premium (INR 51000 – 100000) segment smartphones were 60Hz enabled followed by 120Hz at 11% and 90 Hz at 9% respectively.
99% of Uber Premium (INR >100000) category smartphones were 60Hz enabled and just 1% had 90Hz Lenovo.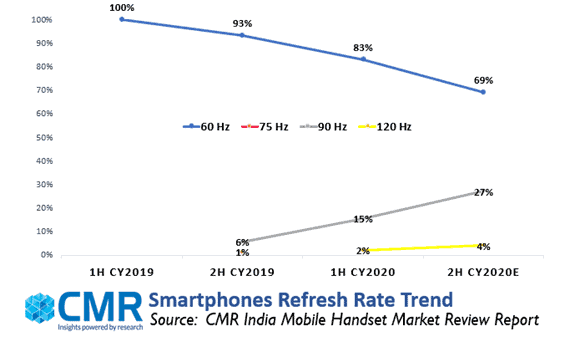 60Hz displays have been dominating the market since quite some time. However, the 60Hz enabled smartphone shipments has dropped down from 35.5Mn in 2Q CY2019 to 15.5Mn in 2Q CY2020.Contribution from smartphones with 75Hz refresh rate was only seen in the 4Q CY2019.
In terms of unit shipments,90Hz enabled smartphones captured 13% share in 2Q CY2020 and grew significantly by 2774% YoY during the same period. There was an equal contribution of around 2% by the smartphones having 120Hz refresh rate in 1Q CY2020 and 2Q CY2020.
Way Forward
The market is slowly adopting the high refresh rate displays and many brands are considering this as one of the prime specifications to attract customers. Smartphones with higher refresh rate are said to have supreme display quality accompanied with a smooth user experience and faster upgrade for gamers. With the introduction of 120Hz in 1H CY2020, OEMs will have to concentrate in strengthening the smartphones battery life.120Hz refresh rate innovation will continue to grow and is expected to become affordable for even mid-range smartphones.
As per insights gleaned from CMR India Mobile Handset Review Report, while 60Hz enabled smartphones will be the growth driver with 69% market share, smartphones with 90 Hz refresh rates are anticipated to capture 27% and 120Hz to capture 4% share in 2H CY2020.Introduction of new version of Android or iOS will further lead to increased demand for higher refresh rates in smartphones.