The Indian ecommerce sector is bracing itself for a summer launch by Jio. Jio has plans to launch the world's largest Online-to-Offline (O2O) e-commerce platform. Alongside, it is also investing its energies in creating a 'Super App', imagine a  broad digital ecosystem that will provide over 100 services at one go. Previously, many companies, including Flipkart and Paytm, have aspired to create a super app in India, but have been unable to breakthrough.
The Pioneering Super App: WeChat
The genesis of the 'Super App' can be traced to China's successful WeChat, that counts over a billion active users globally. Known in China as Weixin, the local WeChat version enables one to send and receive money, shop online, order food, pay utility bills, or even, check-in on flights.  Broadly speaking, WeChat can be bucketized into social media, information via blogs, ecommerce and utility payments, and 'mini programs' that  offer games, access to offline events, discounts and much more.
In essence, WeChat is a one-stop ecosystem that offers all the functionalities that the likes of Whatsapp, Facebook, Amazon, Uber, Apple Pay and others offer on their individual apps.
Why is WeChat successful? Launched in 2011, WeChat quickly captured a market of mobile-first, digital explorers, by offering a bouquet of services. And, over a period of time, WeChat has evolved itself, and dominating the landscape.
Jio and the Indian Super App
Just like China, India is a mobile-first nation. Many Indians have found true independence via their mobiles. Whether it be economic progress or education, access to healthcare, or consuming entertainment, the mobiles have played a key role in shaping new realities for Indians everywhere.
Interestingly, 4G devices shipments grew to 215 million at end-2018, from a mere 75 million two years ago. This growth can be traced to the entry of Reliance Jio in the telecom sector.
The ubiquitousness  of Jio devices has given Reliance Jio a broad platform to segway into ecommerce. Reliance Jio can tap into, and connect its vast ecosystem of its users via a multi-layered fabric. Such a fabric can offer a rich array of services, in an online-to-offline ecommerce model, and facilitated through a one-stop, super app. Such a self-contained network that offers convenience will find favour with Jio's consumer base.
Jio's 'Super App' Tech Stack
Over the past many months, Jio has been actively pursuing a proactive strategy of tech acquisitions and investments.
As a result, the tech stack at Reliance Jio now includes a Conversational AI layer, a vernacular layer, a logistics layer, a content  layer, as well as a AI-based education layer. All of these layers, on top of the Jio devices network potentially puts Reliance in a pole position to create India's WeChat, where others failed.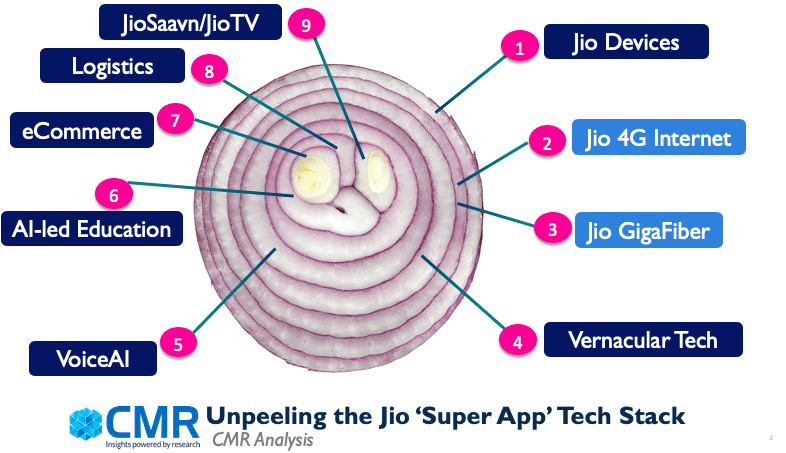 A String of Acquisitions
Almost a year ago, Reliance Jio kicked-off its aggressive strategy. It integrated JioMusic, and Audio OTT platform, Saavn. JioSaavn, the combined entity, competes against the likes of Amazon Music, Apple Music, and Gaana. A month later, Reliance invested in Embibe, an AI-based education platform.  Jio followed-up by picking-up a majority stake in Den Networks and Hathway Cable and Datacom. Its most recent acquisition, Reverie Language Technologies builds language technologies to offer a language-as-a-service model. Reliance also acquired the acquisition of logistics services platform Grab-a-Grub. In March 2019, Reliance announced the acquisition of ConversationalAI company, Haptik. In the coming months, Jio is also readying to launch Jio GigaFiber and GigaTV services.
In Conclusion
Over the coming months, Reliance Jio will step-up on their aggressive acquisition strategy.
Jio's O2O ecosystem will encompass a vast network of 12 million kirana stores nationwide. In addition, Reliance Retail plans to convert >5000 Jio point of sales stores, across 5000 cities and towns, into delivery and collection points.
Jio's user base in rural India posits a vast unexplored, and untapped ecommerce market opportunity. If Reliance ensures that the last-mile delivery is seamless, it will have the tailwinds to carve out a niche for itself in India's ecommerce sector.
Imagine such a vast user base, using the Jio App, conversing in their local language, consuming content, communicating, and most importantly, transacting online using just VoiceAI.