Technology shifts periodically occur that change the rules of the game. Today, IT teams face a transformation that is propelled by Social, Mobile, Analytics and Cloud (SMAC) technologies. Yesterday's IT service architectures are becoming increasingly ineffective as business IT becomes ever more virtualized, globalised and impacted by a steep demographic tilt toward millennial employees and customers.Businesses must move quickly to embrace the change enabled by SMAC because competitive advantage, market leadership, and profitable growth are at stake. The good news: SMAC technologies offer great opportunities to effect meaningful change as businesses become increasingly technology-dependent. Making sense of the vast amounts of data generated by IT management systems is critical to supporting the business and delivering differentiated sources of value from new products and services.

While each of the SMAC trends by themselves offers high potential, the emergence of the integrated zone has completely changed how businesses are looking at enabling business gain through technology.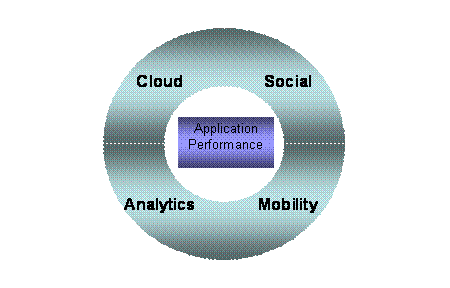 In today's world most businesses are increasingly connected. A lot of enterprises are rapidly moving to SMAC related solutions to meet storage, infrastructure, security, software application, and collaborative communication needs. The diversifying role of LAN and WAN's, including receiving hosted services, transferring secure data over the internet, and maintaining mobile/multi-site connectivity, has led to a rapidly increasing bandwidth demand and costs. 
Bandwidth for many organizations can be expensive and complex to manage. Many organizations have been prevented from adopting critical business-enabling cloud technologies as a result of the high Internet bandwidth requirements & the associated costs. This is a problem where Application Performance Management and Acceleration technology can help.
Application Performance encompasses a range of IT products and services, which enable companies to monitor and accelerate the performance of their critical business applications in both their own private IT environment and also across the public internet.
Organizations looking to tap into the diverse world of SMAC based solutions will no longer have to be intimidated by a complex and costly network upgrade. Application Performance Management, WAN Optimization and Application Delivery technologies today offer flexible, cost-effective solutions to boost application reliability and performance, while lowering costs.
Organizations today must improve the reliability and performance of their critical business applications in any environment if they wish to reap the benefit of the SMAC global megatrends.
This is a "must-attend" webinar for enterprise Technology and Business decision makers across all industry verticals.