With the rise of smartphones as primary life drivers, it is tough to imagine spending a day without them. As human lives continue to revolve around the smartphone, recording key life moments as well as communicating with peers and loved ones, the amount of data available on the device is huge, and pose a real security threat.
Without having the necessary precautions, our own records or our own digital identities stored on these devices can be at immense risk. In our common lives, we are conditioned to embrace the process of positively verifying the identities of users, devices, or other entities, as a must to allowing access to resources on smartphones. How do we strike a balance between security and usability?
In the olden days, passwords used to suffice. However, weak, forgotten and rehashed passwords have become easy to hack. Same is the case with PINs and graphical patterns. Once considered secure and convenient, they are now susceptible to abuse by anyone who is able to enter the correct credentials. And this is why Smartphone OEMs are focusing on the need for authentication mechanisms that do not pose a burden to users, and yet, are able to efficiently reduce smartphone vulnerability.
Enter Biometrics.
Biometric-based techniques are trusted as it is assumed that human body traits cannot be shared, copied, lost or stolen. So, what are the various types of Bio metric -based authentication? And, what benefits do they bring in making the secure authentication possible?
Fingerprint Biometrics
The effectiveness of fingerprint bio-metrics is very dependent on the quality of the scanning hardware and the app behind it. Basically, three types of fingerprint scanners.
Optical sensors use a light source to capture a high-resolution photograph of the finger and uses algorithm to identify unique patterns.
Capacitive sensors make use of capacitor circuits (its core component) to collect fingerprint data.
Ultrasonic sensors, uses a transmitter to send ultrasonic pulse against your finger to create 3D details of your prints.
Iris Recognition
Iris Scanning is more accurate unlike fingerprint. Scanner flashes near-infrared (NIR) light into one or both of human eyes to recognize iris(es) and unlocks the smartphone. The NIR light emitted by the iris sensor is safe and poses no risk.
Facial Recognition
Face Recognition, on the other hand, usually uses the front-facing camera and dedicated software to record an image and properties of human face, and create a depth map, and measures distance traveled by each beam before they hit the human face.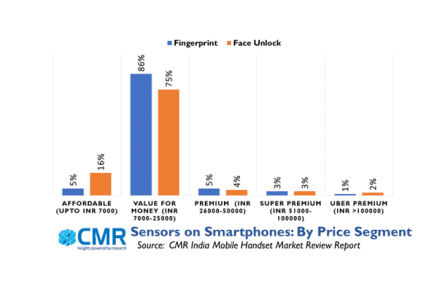 In the Affordable smartphones (<INR 7000) segment,face unlock is present in 16% of the devices. Smartphone brands, including Xiaomi Redmi 6A and Realme C2 are some of the dominant smartphones operating in this segment.
The Value for Money smartphones (INR 7000 -INR 25000) segment has quickly become the sweet spot for the sensors enabled smartphones. 86% of the smartphones in this segment include fingerprint sensor, while 75% include 'Face Unlock' in 1H 2019.Some popular fingerprint-enabled smartphone models include Xiaomi Redmi Note 7 Pro, Samsung Galaxy A series and Realme 3. Smartphones with face unlock capabilities include the Samsung Galaxy A series, Xiaomi Redmi note 7 pro, Realme3 and VivoY91i.
On the other hand, in the Premium smartphones(INR 26000-INR 50000) segment, Samsung Galaxy A70, One Plus 6T and Vivo V15 Pro are some common sensors enabled Smartphones which are fastest growing under this segment.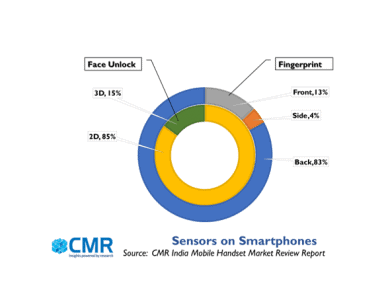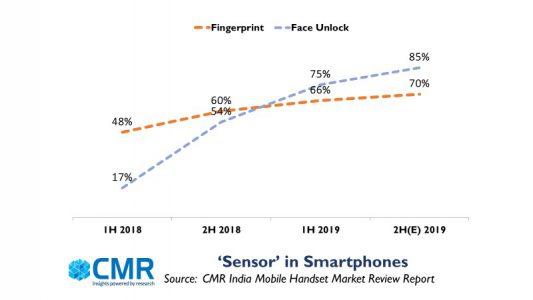 In a consumer-first era, convenience reigns supreme over all other aspects. Face Unlock is on the rise, as smartphone OEMs respond to changing consumer aspirations. Fingerprint is currently considered as the most secure type of authentication method in providing protection for data on smartphones. On the other hand, as per CMR estimates face unlock is set to grow by 31% in 2H 2019, while fingerprint sensor will grow by 10%.
On top of improving existing biometrics features, the future for technology is bright, with many new innovations that could spring forth, including voice biometrics, among others, that could lead to consumers enjoying a truly password-free experience.