While the timeline to the launch of 5G services in India is yet to be clear, it is interesting to see a strong supply and demand-side dynamics at play in the hyper-competitive smartphone market in 2020.
As per our recent global consumer survey that included India as well, there is strong consumer interest and optimism in 5G phones. Amongst premium smartphone (> ₹25,000) buyers in India, 5G-readiness is already one of the top three smartphone purchase considerations.
Amongst millennials, 5G readiness is a key consideration, primarily driven by the need to future-proof themselves. In addition, they believe that 5G's introduction will give a fillip to how they create, upload, share and stream high-quality short-form videos.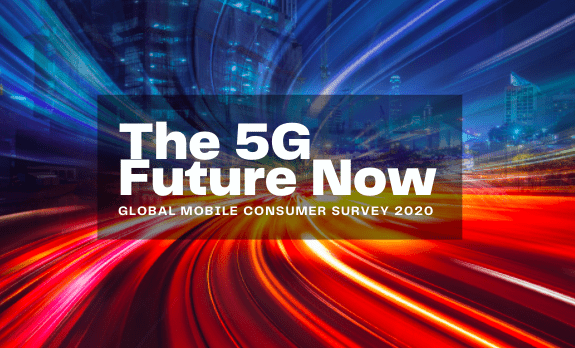 This strong consumer demand for 5G phones is being met by smartphone brands seeking to gain a leadership mantle in the hyper-competitive India smartphone market. A majority of the leading smartphone brands in India are either global or from China. Amongst Chinese smartphone brands, the intent is to get a first-mover advantage by leveraging supply chain dynamics and bring 5G across premium and affordable premium segments.
Since the early introduction of the first 5G phones in India by realme, followed by IQOO, in Q1 2020, we have seen a significant traction in new launches of 5G-enabled smartphones, with 5G being a key differentiator.
In Q2 2020, even amidst the pandemic, we saw competitive 5G smartphone offerings from OnePlus, Xiaomi, Motorola and OPPO. These were all met favorably.
As we moved ahead, in Q3 2020, we saw new 5G smartphone launches by the likes of Samsung, ASUS and Apple, among others. By Q3 2020, three fourths of all 5G smartphones shipped were from OnePlus.
In the Value for Money smartphone segment (INR 7000- INR 25000), the OnePlus Nord series constituted almost half of 5G shipments in the segment.
In the Premium Smartphones (INR 26000-INR 50000) segment, OnePlus accounts for 8 out of 10 5G smartphones shipped, followed by Vivo. Premium Smartphones constituted of half of 5G smartphone shipments in 2020.
In the Super Premium (INR 51000 – INR 100000) segment, Apple garnered 54% market share on the back of its iPhone 12 Series, followed by OnePlus and Oppo. Apple came to the party late in Q4 2020 but due to its loyal iPhone users holding on for most of the year for the 5G variant, it was able to overtake OnePlus in this segment. In the Uber Premium (>INR 100000) segment, Samsung dominated with its Galaxy Note 20 Ultra shipments accounting for two-thirds of the shipments followed by Apple. We anticipate Apple to have a strong showing in Q4 2020 in the super-premium and uber-premium smartphone segments.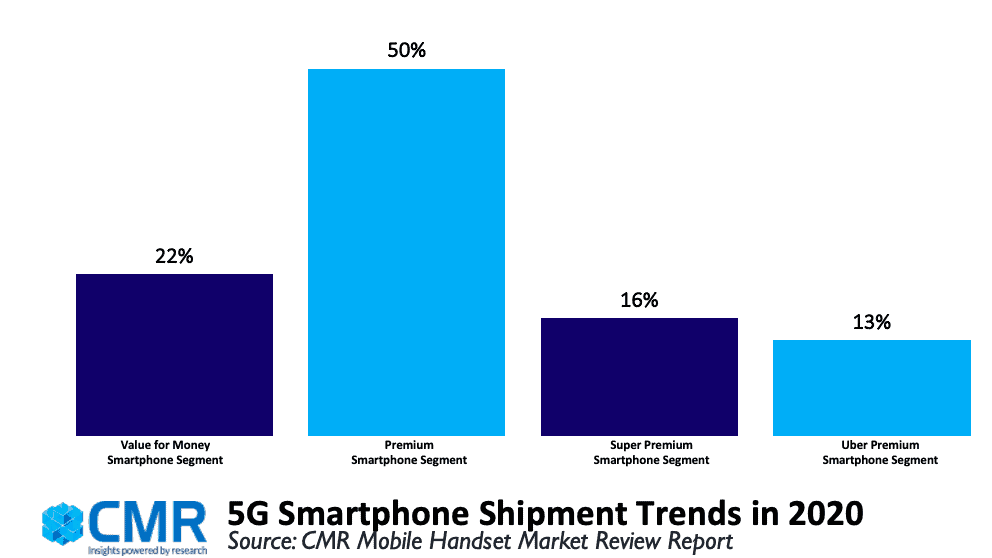 The only smartphone in India that supports mmWave band and Sub-6 GHz is the Motorola Edge Plus. Buoyed by strong consumer demand during the festive season sales, we anticipate 2.2 to 2.5Mn 5G smartphones to be shipped in India in 2020.
Our early estimates for 5G smartphone shipments indicate that atleast 11Mn 5G phones will be shipped in 2021.
In Conclusion
The accelerated availability and consumer adoption of 5G-capable smartphones in the first year bodes well for 5G in India. Unlike 4G, 5G will see a rapid adoption and uptake when 5G services are finally launched in the market with Jio, airtel and Vi planning to start 5G trials in various parts of the country.