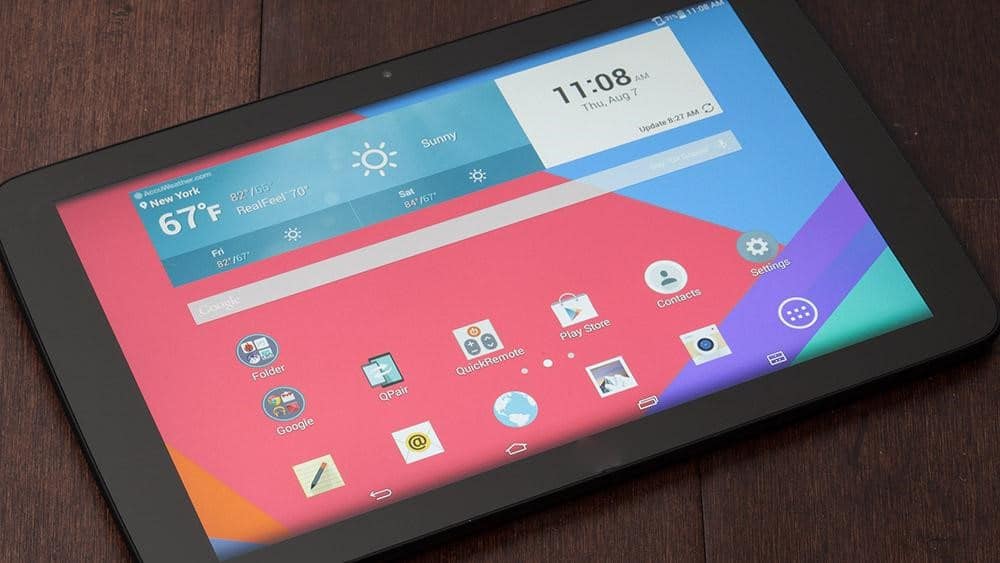 In the wake of the COVID-19 pandemic and the ensuing strict nationwide lockdown, Indians scrambled to adjust to their new life realities. Staying indoors, they confronted new challenges- whether it be working from home or learning from home. Children, for instance, took to online classrooms, while adults confronted the work pressures, and the need to stay connected with loved ones. All this led to interruptions in work and learning routines. More than ever before, the lack of adequate devices at home to meet all user needs, came to the fore.
Prior to the pandemic, the Tablet was losing favor to affordable smartphones that came with an array of interesting features. In the new life realities, consumers preferred buying a Tablet instead of a laptop for another kid when it comes to learn from home necessities. The Tablet is handy, with good screen size ensuring readability and comprehension, and therefore gets equal preference as a phone by users. Online classrooms gave a boost to Tablets, with increased demand being witnessed from both teachers and students alike. When compared with a laptop, Tablet is less expensive and more affordable for middle-income group families.
Beyond work from home and learning from home, the Tablet became an attractive proposition to fulfill consumer demands for entertainment, content consumption, video chats and casual gaming. In a family with three-four members, the battle for the TV screen became more pronounced during lockdown. Thus, a secondary device like Tablet really proved the right medium to fulfill user needs.
It is no wonder then that shipments of Tablets with Wi-Fi capabilities grew a whopping 98% QoQ in Q3 2020, primarily driven by homebound conditions.
Samsung and Acer, for instance, have increased their shipments boosting the overall Tablet market in Q3 2020. Amidst continuing lockdown, Samsung and Acer have launched new Tablet models – Samsung Galaxy Tab A7 and Acer One 10 respectively. Going forward, they are slated to launch more Tablet models in the run-up to the festive season, to ride on the renewed consumer interest and demand.
The prevailing anti-China sentiment in India benefited Samsung to increase its market dominance. Samsung benefited from a good supply chain dynamic and resilient manufacturing to gain ground during the pandemic. On the other hand, some Chinese brands have suffered local production hiccups and product delays in the early part of the lockdown.
With the launch of Apple iPad 7, Apple registered strong growth in H1 2020 and had the largest share in the premium segment (> INR 30,000). As the aspirational brand of choice for Indians, Apple continues to benefit. Apple launched a new model Apple iPad Pro 2020 version with a keypad, suitable for e-learning and content creation. The drawing feature of iPad Pro 2020 is potentially suited to meet e-learning demands. It would be interesting to see how the iPad Pro 2020 contributes to Apple's growth in the H2 2020.
Tablet vendors Lenovo, Samsung & Acer saw double-digit YoY growth, a clear indication of the overwhelming response for the Tablet market in the year 2020.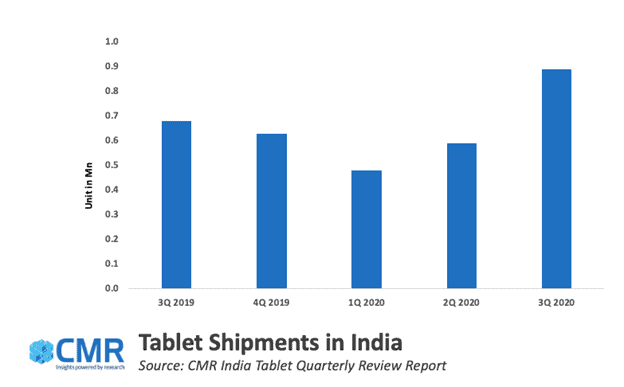 Looking Ahead
The prospects for the Tablet Market continue to remain favorable, with the Tablet market anticipated to grow 15-20% in H2 2020. The resurgence in the Tablet market will be driven by continued pandemic conditions, and the need to adapt to the new normal. The online sale will have a major contribution to Tablet market growth for a while. The demand for SIM-enabled devices will continue to grow a while, WiFi-enabled devices will continue to see demand from the student community.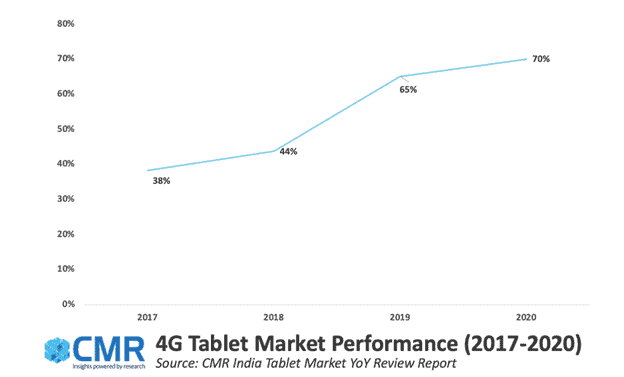 The 4G Tablet market is projected to grow 5-10% in H2 2020. Indian Tablet market is largely controlled by 4G Tablets, however, the 5G market will see a boost in the coming quarter nonetheless current market for 5G Tablets remains grim.