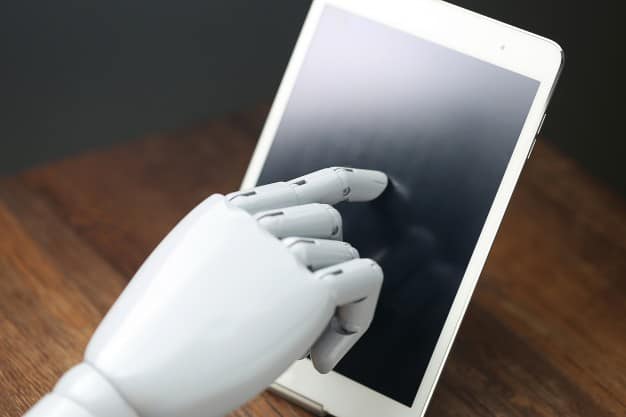 The constant demand of blazing fast internet with increased content creation due to apps, videos, games and music in our laptops and phones urged the requirement of higher bandwidth. Hence, Wi-Fi 6 technology standard made its debut in the year 2019.
The term "WiFi 6" was coined by the WiFi Alliance as an industry designation in the year 2018.It is the next generation standard in WiFi technology after Wi-Fi 5 also known as AX WiFi or 802.11ax WiFi.
The IEEE High Efficiency WLAN Study Group (HEW SG) launched the first IEEE 802.11ax standard in 2014 with a purpose to increase spectrum efficiency, enhance performance in high network densities and to find means to support multiple high-demands devices at one go. The WiFi Alliance began certifications in late 2019.
The Alliance certifies networks and devices such as routers, smartphones, household appliances, and video game consoles as Wi-Fi CERTIFIED 6, ensuring that they meet the specifications of the IEEE 802.11ax standards and the ones set by the alliance.
Benefits:
Wi-Fi 6 operates between the 2.4 GHz and 5 GHz frequencies. It is designed to reduce obstruction in heavy bandwidth, provide better experience for wireless networks and is capable of providing a completely new mobile experience by offering faster speeds and IoT capacity for various places with large number of people.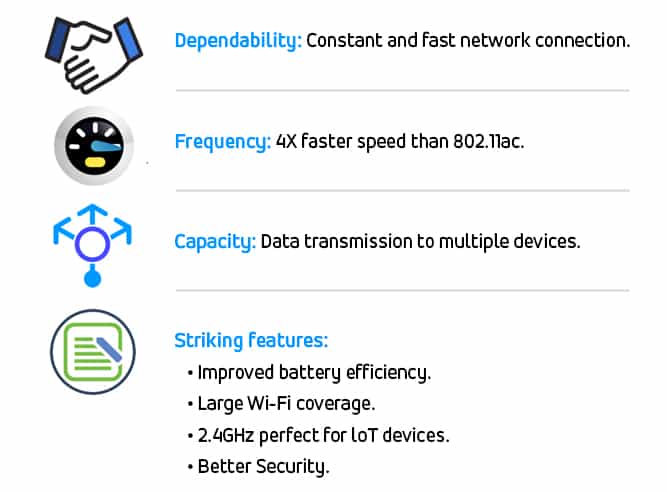 Prime Features enabling WiFi 6's capabilities:
Orthogonal frequency division multiple access (OFDMA) based scheduling reduces overhead and latency and enables single transmission of data delivery to multiple devices.
Multi-user multiple input, multiple output (MU-MIMO) As the name suggests, it allows to support multiple devices on a single network with great connection quality thereby increasing the capacity.
160 MHz channel provides higher speeds and improved connectivity, thus increasing the overall bandwidth.
Target wake time (TWT) enables better scheduling, improved battery life and network efficiency.
1024 quadrature amplitude modulation mode (1024-QAM) enables more than 35% faster encoding rates.
Transmit beamforming expands the Wi-Fi's range by targeting concentrated signals at a specific area.
Strong signalling for superior operation at an extremely lower Received Signal Strength Indication (RSSI).
Wi-Fi 6E: Wi-Fi6 and Beyond
The next level of Wi-Fi 6 standard is Wi-Fi 6E. Wi-Fi 6E represents support to the new 6 GHz frequencies capable of providing more bandwidth, capacity, throughputs, and lower latency.
Initially in 2020, The FCC approved the Wi-Fi range extension to a new radio spectrum in the 6 GHz band in the US meaning, the new Wi-Fi 6E standard can access 1.2 GHz of radio spectrum between 5.9 GHz to 7.1 GHz. Addition of 6GHz will help solve the spectrum poverty and provide enhanced Wi-Fi speed with less interruption.
Once implemented, Wi-Fi 6E connection speeds will be much faster than what 5G can offer. The use of Wi-Fi 6E will be more useful in highly populated areas. Multiple devices can be covered at a high processing rate.
Product and News Update:
In 2019, Netgear introduced its first consumer router, the Nighthawk AX-8 (RAX80) with Wi-Fi 6 technology in India. Also, Aruba networks (Subsidiary of HPE) introduced the Wi-Fi 6 access points for service providers to create Wi-Fi hotspots in public places. The International Institute of Information Technology Bangalore is fully covered by this Aruba's Wi-Fi network.
Recently, Netgear launched Nighthawk Mesh with Wi-Fi 6 in India, Juniper introduced its AI-Driven Wi-Fi 6 products, Asus and Lenovo unveiled their gaming laptops with Wi-Fi 6 networking, Asus 7 series smartphones slated to release in August 2020 will also have Wi-Fi 6.
The chipset giant, Qualcomm has more than 70 Wi-Fi 6 devices, more than 200 AP and gateway design. In terms of mobile connectivity Qualcomm recently introduced FastConnect 6900,6800 and 6700. Additionally, it has QCA6696 chipset supporting Wi-Fi 6 for automotive sector.
In terms of Smartphones, Samsung's Galaxy S10 is one of the first smartphone supporting Wi-Fi 6. Samsung's Galaxy S10e, S10 Plus, S20, S20 Plus, Note 10 and Note 10 Plus are also Wi-Fi 6 compatible. Similarly, iPhone 11, iPhone 11 Pro and iPhone 11 Max all have Wi-Fi 6 compatibility.
With respect to 5G Smartphones, Samsung's Galaxy Note 10 Plus,S10,S20 Ultra, Galaxy Fold, Note 20 and Note 20 Ultra, Xiaomi's Mi 10,Mi 10 Pro, One Plus 8 and 8 Pro, ZTE Red Magic, Sony Xperia 1 II,LG V60 ThinQ, Motorola Edge Plus, Vivo iQOO 3 and Realme X50 Pro all come with Wi-Fi 6 compatibility.
Way Forward:
While more and more Indians are shifting towards Wi-Fi enabled devices for better connection and enhanced speed, the effect of Wi-Fi 6 does not look impressive when talking about Indian networks. The current average download speed for fixed broadband connections is extremely less when compared to the highest speed offered by Wi-Fi 6 routers. This means Wi-Fi 6 will be forced to function at a subpar level when implemented in India. Also, users in India will have to wait for their hardware ISPs upgradation in order to utilize the benefits offered by a Wi-Fi 6.
Wi-Fi 6 will play a crucial role in uplifting the quality of our life. It is progressing towards transforming our way of connecting and interacting with people by improving the performance of multiple smart devices used in current households driven by the superfast speed and consistent data transmission. Multiple device usage during Covid-19 has impacted the connectivity and hence Wi-Fi 6 will be a saviour for such future emergencies. It will also shape the future of IoT by equally distributing the spectrum to several devices. Wi-Fi 6 will drive the growth of wireless technology. At the end, Wi-Fi 6 is the ultimate solution to our connected future.