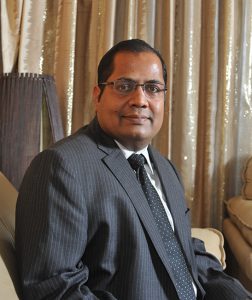 As we all know the Healthcare Industry are trying their best to provide medicines all over the world, here comes SastaSundar, an e-Pharma Company supplies cheap and best medicines in and around India. Speaking about their supply chain, B. L. Mittal, Founder & Executive chairman Of SastaSundar "We at SastaSundar have established the most efficient supply chain and connectivity by using a digital platform wherein we connect local trust and services with global resources in the most efficient way. The entire supply chain from procurement to inventory management to last-mile delivery is controlled by AI. Our inventory is centralised and synchronised leading to 100% fulfilment of orders. At our centralised Area Logistics Centres, each product is stamped with a unique barcode to arrest counterfeiting. Our network of physical counselling and service centres, Healthbuddies are connected with this centralised inventory and resources via SastaSundar digital connectivity. We procure stocks from complaint sources like pharmaceutical companies, C&F points and pharmaceutical company referred distributors."
Speaking of ties with SMEs, he said "SastaSundar salutes the spirit of 'Atmanirbhar Bharat' ( Self-reliant India). Our online-offline model is supported by a network of physical counselling and service centres of local small chemists. By walking every step of the way with them, our platform encourages local entrepreneurship." At present, SastaSundar nurtures 400+ local chemists across the states of West Bengal, Delhi-Haryana, Western Uttar Pradesh, Jharkhand, Bihar, Odisha, Uttarakhand and Mumbai.
"With the help of our B2B offering 'RetailerShakti', we provide solutions to the major problems of retail pharmacies like product availability, genuineness, finance, fulfilment and inventory management by connecting them with our organised inventory, technology and finance." They also deliver OTC products from multiple brands across various categories to facilitate the purchase from favourite brands.
On their Product Uniqueness, he said "India is the third largest producer of medicine in the world, but still, 649 million Indians do not have access to quality nutrition and healthcare. By leveraging our technological disruption and Healthbuddy network, we are endeavouring to make healthcare, local and personalised, and reach from tier1, tier 2 cities to up to the last village of the country."
Their YANA Diet Clinic is an online diet clinic which has personalised diet plans to help one lose weight and reduce medicine intake. The unique code of DNAVITA can tell users about their nutritional deficiencies and recommend a customised health supplement likewise and NABL accredited diagnostic laboratory Genu Path Labs provides accurate diagnostic services at an affordable cost.
They have also launched a range of immunity-boosting herbal products like Immunity Kadha, Golden Milk Mixture, Giloy Powder and Steam Inhaler etc.
Speaking about going PAN India, he added "We are building our business block by block, and we are already fully operational in the Indian states of West Bengal, Delhi-Haryana, Western Uttar Pradesh, Jharkhand, Bihar, Odisha and Uttarakhand. We have started our 3rd Area Logistics Centre and Healthbuddy network in Maharashtra." At present, where they are not having network right now, are being serviced via courier providing doorstep delivery to customers almost across PAN India.
Finally, about the expectation from the government, he said "The ecosystem is all about leveraging technology and innovation to make affordable, high-quality products and services reach the last mile. However, some e-pharmacies burn cash and provide deep discounts to reach the unserved markets. Again since the domain of healthcare is highly regulated, adverse regulations often affect growth. Reforms and laws in place to check these developments are much needed."
"In the past, the Government's initiative of 'Digital India', 'Digital Health' and Goods and Service Tax gave us a favourable environment. In the current context of the viral pandemic, the only way to bring the economy back on track is to reform the system so as to bring in transparency and do away with red-tapism & corruption. India has one-third of the world's working force; reforms to provide opportunities to its youth can make India a global economic superpower. Trends are showing that manufacturing companies are moving out of China but, unfortunately, they are not relocating to India. In 1992, when the economy collapsed, the economic reforms only saved the country. COVID-19 is an unprecedented challenge for India, but we must remember, such challenges bring unprecedented opportunities too. For SMEs, need-specific economic reforms are much coveted for growth."