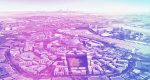 District 2020 is a futuristic city, covering an area of 438 hectares or 1,083 acres for sustainable human living, which was unveiled during the World Expo 2020. In its six-month run, the expo welcomed 24 million visitors to District 2020, which has been built near the city of Jebel Ali, situated between Dubai and Abu Dhabi.
The World Expo was expected to be organized in 2020 but was postponed due to the pandemic, while the name was retained for branding and marketing purposes.
Though the Expo 2020, hosted by Dubai in the United Arab Emirates, was held from October 1, 2021, till March 31, 2022, nearly 80% of the virtual and physical infrastructure will be retained for future generations.
What does District 2020 hold?
The physical structures retained from Expo 2020 include the central plaza – Al Wasl, a massive dome, and the three theme-based districts – Sustainability, Mobility, and Opportunity.
The central plaza, Wal Asl, spreads across 130 meters and reaches a height of 67.5 meters, making it the world's most enormous structure. The translucent material that covers the dome can be used for 360-degree projections, which can be viewed from inside and outside.
More than 2,60,000 sq ft floor space of these structures, which have the gold and platinum LEED certification, will be transitioned into residential, commercial, and cultural neighborhoods in phases.
The Green Aspect
The structures have been designed for environmental, economic, and inclusive aspects, said Sanjive Khosla, senior vice-president of District 2020. While most traditional cities focus on building and maintaining infrastructure, he said this futuristic city is all about being human-centric.
In order to make it sustainable, all the buildings have solar panels on top of them, generating 20% of the electricity required. These structures are also built in such a way that they consume nearly 50% less water than traditional buildings. Most of the structures are LEED-certified, the most widely accepted green building norm in the world, while eight projects also have CEEQUAL certification, vouching for their green-based theme.
The city has been built on a 15-minute concept where all required facilities, be it the workspace, restaurant, entertainment centers, or parks, are available within 10 or 15 minutes by walk or bicycle. Khosla said there is also a lot of greenery thrown around for people to please their eyes.
The concepts developed here will be utilized for Dubai's current and future development. The handing over of repurposed properties for the occupants will start from Q4 of 2022.
What can we learn from this futuristic endeavor?
Technology is clearly being innovated at a pace that was hitherto undreamed of. But, as the production and consumption of tech grow at a rapid scale, there are many dangers it poses to the environment.
Environmental aspects are something that the tech industry needs to focus on, especially now with the climate crisis on our heels. One of the main takeaways from Dubai's 'District 2020' is that it integrates the latest tech and keeps a strong lookout for environmental factors.
Futuristic or smart cities will become more prevalent in coming times, and being mindful of resource usage and waste management needs to be considered to ensure sustainability.