Market recorded 1.8 Mn unit shipments
4G Tablet shipments recorded 51% sequential growth. 
Entry level tablets (<5K) clocked 35% decline
 New Delhi/Gurugram: According to CMR's India Tablet PC Market Review  market witnessed 28% sequential growth in 2H CY2017, recorded 1.8 Mn unit shipments.  Lenovo replaced Datawind as market leader with 21% market share. Samsung was at number two spot followed by Datawind.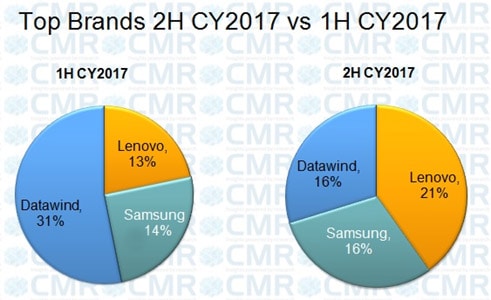 Rise of Lenovo is attributed to strong B2B sales in second half of 2017. Lenovo witnessed 114% sequential growth in its shipments in 2H CY2017. Shipments of Samsung witnessed 39% sequential growth in 2H CY2017 where as Datawind's shipments declined sequentially by 35%.Major Indian brands Datawind, iBall and Forstar shipped one out of three tables in 2H CY2017.
"2H CY2017 witnessed surge in B2B sales where Government was key buyer. In terms of vertical, Education remained leading contributor. This half year witnessed growth of tablet adoption in financial services sector" stated Narinder Kumar, Lead Analyst, CyberMedia Research.
According to Narinder, "Restaurants and fast food sector emerged as a key area for tablet consumption, mainly driven by online food ordering. This sector will witness further traction in coming quarters".
Lenovo's Tab 3 7 shared honor to be the fast moving model with 163% sequential growth in its shipments in 2H CY2017. Acer forayed into top vendors with its deal with Gujarat government for education segment.  Its model One 7 M77GHG was another major contributor for tablet market.
Technology Trends
4G became leading technology, while 3G and 2G tablets witnessed decline in their respective market shares. Shipments of 4G tablets improved by 51% in 2H CY2017. Lenovo shipped almost half of 4G tablets in 2H CY2017.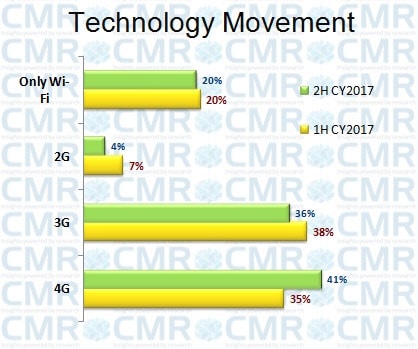 Price Band Analysis
In 2H CY2017 tablets in price range of 5K-10K became major contributor with 47% market share with 118% sequential growth accredited to B2B business of Lenovo and Acer. Entry level tablets (<5K) witnessed 35% decline in 2H CY2017 when compared to previous half year. Shipments of 20K-30K grew doubled fold on its small base due to improved sales of Apple.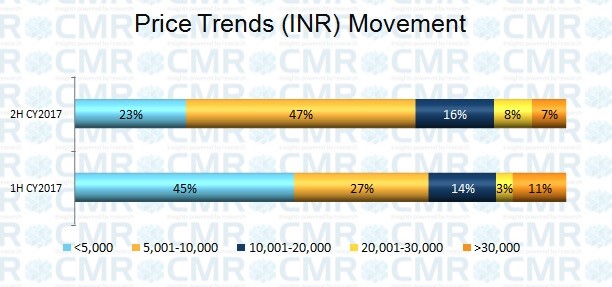 Major Specification Trends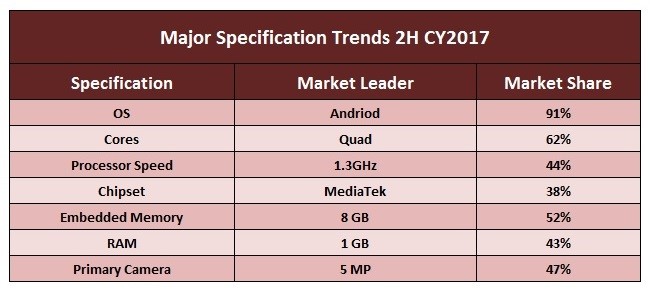 Future Outlook
Menka Kumari, Lead Analyst, Cyber Media Research, said. "Digital transformation and initiatives from government and industry alongwith aggressive 4G data plans have contributed to reduction in total cost of ownership of tablets. Alongside, a blend of customized software/apps  and services are contributing to uptake of 4G tablets for education, BFSI  and other key service segments."
 Notes for Editors
This release is based on the CyberMedia Research (CMR) India Quarterly Tablet PC Market Review published at the conclusion of every calendar quarter.
The figures captured are of both enterprise and consumer shipments.
CyberMedia Research (CMR) uses the term 'shipments' to describe the number of Tablets leaving the factory premises for OEM sales or stocking by distributors and retailers. For the convenience of media, the term 'shipments' is sometimes replaced or used interchangeably with "sales" in the press release, but this reflects the market size in terms of units of Tablets and not their absolute value. In the case of Tablets imported into the country it represents the number leaving the first warehouse to OEMs, distributors and retailers. CyberMedia Research does not track the number of Tablets brought on their person by individual passengers landing on Indian soil from overseas destinations or 'grey' market Tablets (if any).
About CyberMedia Research and Services Ltd
CMR offers industry intelligence, consulting and marketing services, including but not limited to market tracking, market sizing, stakeholder satisfaction, analytics and opportunity assessment studies.
Its bouquet of consulting services includes incubation advisory, go-to-market services, market mapping and scenario assessment services. CMR is servicing domestic as well as international clientele in India and few global destinations. The clientele serviced represents SMBs, Large Enterprises, Associations and Government. CMR's core value proposition encompasses a rich portfolio of syndicated reports and custom research capabilities across multiple industries, markets and geographies.
A part of CyberMedia, South Asia's largest specialty media and media services group, CyberMedia Research (CMR) has been a front-runner in market research, consulting and advisory services since 1986. CMR is an institutional member of Market Research Society of India (MRSI). For more information, please visit CMR's website, Twitter and LinkedIn pages.
For queries, and more information on CMR's Tablet Report, please contact Amit Sharma at +919650453646 or asharma@cmrindia.com