One of the brands that has disappointed the market in terms of penetration in the Smartphone market is Panasonic.  Despite being so well established in the consumer as well as enterprise electronics/communications space, it has not been able to earn the same recognition in the Smartphone arena.
From a products point of view, Panasonic had some rugged Smartphones at very attractive price points.  But, little could it leverage from the brand equity as well as the product portfolio.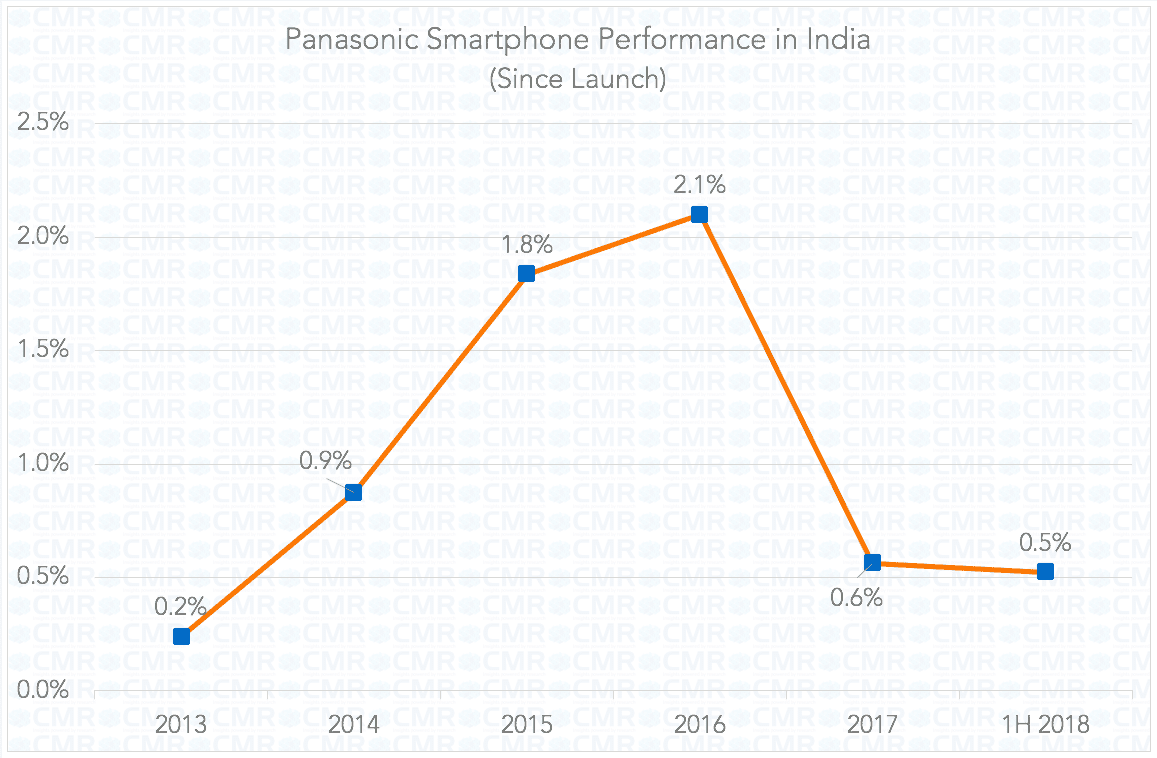 Among the major smartphone brands, it is one of those who are in a do or die situation in 2018, going by the numbers highlighted in the performance chart above. One of the key insights to understand here is that Xiaomi has adversely affected even international brands like Panasonic, unlike the common understanding that it has hit mostly the Indian brands.
Panasonic however is not letting go of the situation and has introspected where it's going wrong, beyond external factors like increasing competition and a tide that's currently favouring Chinese brands.
There is a fundamental positioning issue with Panasonic in smartphones and the company seems to have understood the issue. In other consumer electronics product categories like TVs, ACs, etc., Panasonic is not a mass market brand. It is a high-end brand in terms of pricing where its products are priced at par with those enjoying a premium image. For instance, Samsung in TVs and Daikin in ACs. Panasonic caters to the upper middle class and above SEC (Socio Economic Classification) categories of households who normally purchase Smartphones costing Rs 20,000 or more. Panasonic is completely absent in this segment of Smartphones. So existing users of other Panasonic products would not have even considered buying a Smartphone from them as there are so many compelling options available from brands like Samsung, OnePlus, Apple, Asus and others.
Panasonic had entered the market and always remained focussed on sub-Rs 15,000 smartphones market, while their potential users were never looking for Smartphones in this segment. This is why, the company has planned to focus at higher price bands so that it can leverage the brand equity and recognition it enjoys in this segment and also utilise the 300+ stores where its other products are sold.
Going up the ladder also means bringing a refreshed look along with the specifications and materials to match. The brand has already started addressing this and in their upcoming launches, we are going to see these changes. Panasonic may not be the first brand to bring such features and specifications, but at least it would maintain the basic hygiene expected in the higher-priced smartphone categories.
From a strategy refresh point of view, Panasonic seems to be on the right path. What remains to be seen is how well it executes the new strategy and tackles the rising number of challenger brands.
Faisal drives new initiates at CMR. Having over 13 years of research and consulting expertise in technology domain, he specifically covers Telecom, IP Technologies, Devices, Electronics, Applications and other emerging technologies.
Faisal completed his Master's degree in Business Administration, specializing in Marketing and Finance. He also holds a Bachelor's degree in Business Administration.