Technology is disruptive.  So, could be a new entrant competitor with latest technology.  But, there is a thin line between disruption and destruction.  Disruption should be for the good and if pursued very aggressively could lead to irreversible destruction.  Since the entry of RIL through Jio in the Indian telecom market place, the sector is witnessing one or the other distress. There is already consolidation taken place which sped up after Jio's launch.  A lot of job losses, revenues dipping for the entire industry and of course revenue loss to the government as the industry is not earning at its potential.
Now, it's the turn of the handset industry.  Below figure exhibits the growth of Reliance Retail's (LYF and JioPhone) revenues as against the stagnation of cumulative revenues of M-I-L-K brands, the big4 domestic handset brands.  The revenue got a spurt after the introduction of JioPhone, which itself created a hybrid category, essentially a featurephone with a few applications that sparkle a bit of smartness over it.  Ideally, the Featurephone/Smartphone classification does not hold any longer.  We either have a Digital Phone or Internet Phone, which could be Basic or Smart. So, all Smartphones are Digital Smart Phones or Smart Internet Phones, while 4G Featurephones, like JioPhone are Digital Basic Phones or Basic Internet Phones, as one may name them.
The launch of JioPhone 2 is going to make this category even stronger as it makes the phone more social and serves almost all basic communication needs – voice, text, images and videos.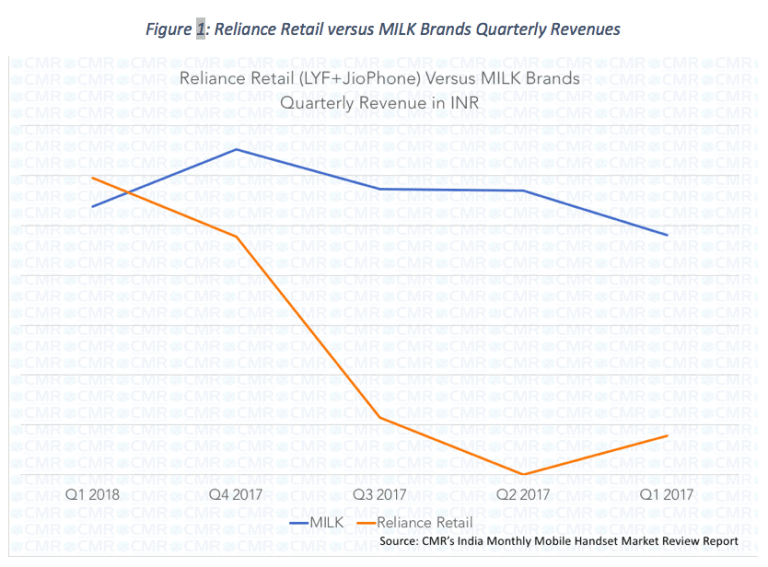 While, we are seeing domestic brands facing the 'Jio-tsunami' on the roads, does the above chart suggest that it has only stagnated their revenues? Also, why only Jio? Isn't Xiaomi also causing trouble to the M-I-L-K brands?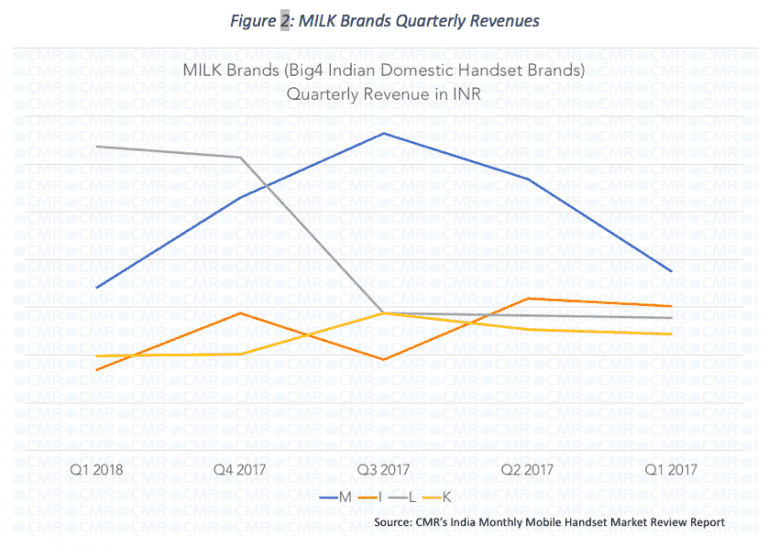 Figure 2 explains why the revenues appear stagnant when all the four M-I-L-K brands are evaluated collectively. This is primarily because of Lava been able to perform against the trend and capturing the segment that was collectively addressed by these four brands. Overall, things are not in order when analysing the performance of M-I-L-K brands taken together.
Jio is scaling up its subscriber base exactly from the segment that was being catered by these Indian brands. From the current 25 million, Jio aims to have over 100 million subscribers using JioPhone in a year's time, as was stated by Mr Mukesh Ambani in the recently concluded AGM. These top 4 Indian brands averaged 70% of their revenues from Featurephone business and remaining 30% comes from entry to affordable level Smartphone segments. This is where Jio is predominantly creating its space, hence impacting directly the revenue prospects of M-I-L-K brands. Smartphone brands like Xiaomi also have an impact on their revenues, but it is very limited as Xiaomi is in the affordable to mid segments where it is competing primarily with other Chinese brands as well as the Global Tier 1 brands like Samsung.
Jio has every right to do business, which is bound to impact the incumbents, whether operators or the handset makers. At the same time, it has money and the prudence to spend that money to make its business plan work. What is not happening is a collaborative action by the incumbent operators as well as handset makers beyond bundling of handsets and data/voice packs. What exactly they should collaborate for, would not be an easy question to seek an answer for. This is where both their technical as well as business acumen would be put to trial to really come out with some 'out of box' retaliatory strategy, which may aim at stabilising the market rather than working on how to regain what has been lost so far. From the operators' side, it would also require the state owned BSNL / MTNL to work along with the private operators on this. The intention should not be to polarise the market between Jio and Non-Jio camps, but to create value for the stakeholders – investors, customers, employees, partners and the government.
Faisal drives new initiates at CMR. Having over 13 years of research and consulting expertise in technology domain, he specifically covers Telecom, IP Technologies, Devices, Electronics, Applications and other emerging technologies.
Faisal completed his Master's degree in Business Administration, specializing in Marketing and Finance. He also holds a Bachelor's degree in Business Administration.