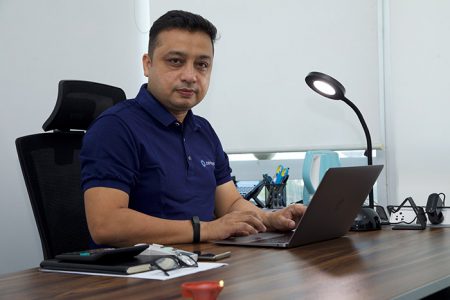 The pandemic has enforced extensive changes in education at every level, from early years to adult learning and career development. It has speeded up the adoption of digital technology in education. edtech start-ups can expect considerable growth as more people turn to digital education and solutions. EdTech is here to stay and the way students learn will never be the same. In a chat with CMR, Amit Singh, Managing Director for Zenlayer India shares how this pandemic had created new avenues for the edu-tech sector. Edited excerpts
What is your view on the roles and opportunities for edtech companies once we adopt regular life?
Global investment in the EdTech sector will keep rising. Before the pandemic, the EdTech sector wasn't very attractive for general investors. Increased demand for direct-to-consumer in EdTech will continue.  Web traffic to online education platforms may continue to swell. EdTech start-ups are currently helping schools and universities adapt and evolve. Schools may get dependent on the EdTech sector to provide quality education and to stay ahead in competition. With new audience -parents, consumer EdTech may have a great market in near future. Experts say EdTech companies will need to be strategic about what they offer to stay ahead in competition. It may not be needed at all times, but the platform needs to be built in and stay that way. That's a major and permanent change. Tools that are family-friendly will have an advantage in the market. Schools may be most interested in tools that easily facilitate connection between schools, students and families. Schools may be looking to invest in affordable and creative solutions, such as low-cost mobile hotspots or hardware that runs on cell signals. The tools and services in demand will be ones that comply with privacy and security regulations and integrate easily into systems that institutions already use.
Do you think that traditional teacher-student physical schools can be replaced? Despite so much tech advancement, many teachers are finding it difficult to teach students.
In the current scenario, pandemic has enhanced the medium of digital learning. And the quality of education is only going to get better and better with so many EdTech start-ups coming up. Initially most existing schools may be keen to continue with online teaching methods in addition to teachers in physical schools. Though the teacher-student physical schools may slowly get replaced in the next few years. But that may be more seen in higher education and career related courses.
Teachers have been learning as well. Pandemic made both teachers and students more tech-savvy. Existing tools being used for online learning/teaching may not be so friendly, and with no training teachers may have found it difficult in the initial phase of pandemic. The online teaching tools demand good network connectivity and especially with so many students and teachers logging in simultaneously with video/audios, there is strain on bandwidth. A need for good network connection that can take load of multiple users, low-cost mobile hotspots or hardware that runs on cell signals were identified as requisites for ease of teaching online and will continue to do so.
How Zenlayer provides its services to edu-tech institutions/ portals, and how Zenlayer plays an important role in enhancing the edutech services to consumers?
Today, technology's integration into education makes live video streaming technology and high-speed Internet an integral part of students' lives. Although online education has been around for more than a decade now, with students and professionals enrolling for higher education and weekend courses, its popularity has soared this year with its wide usage worldwide.
The sudden outbreak of the pandemic in 2020 caused lockdowns to be imposed, with schools and colleges being shut down. This unexpected turn of events made it challenging for the students and teachers, as the traditional classroom learning was no longer feasible. Several ed-tech platforms have thus emerged, both existing and new, which have provided the much-needed platform for online learning. An increasing number of smartphone users and growing internet connectivity are the main factors to drive the growth in online learning. But this unexpected surge in demand brought about a lot of challenges. Online education apps should always be available, responsive, and accessible from any device, anywhere, at any time. And
this is where CDN services stepped in to overcome the challenges faced.
What are the key advantages for the customers using your solutions?
CDNs accelerate website performance and offer many benefits for users and for the network infrastructure. Some of the operational, technological, and business benefits of using a CDN in edu-tech services are –
No downtimes -high availability and redundancy of service on multiple nodes all over the world
Highly Scalable – automatically scales up based on the traffic
Cost-efficient – offers infrastructure and IT cost savings, no need for additional expensive hardware
Unlimited server space – No worry about sizing up server space, irrespective of how many new members and learners are added
More secure and optimized – Increases security of the website and mobile application than the other configurations. Data integrity and privacy concerns are addressed.
Faster content load / response time – the content is delivered to the website by the nearest CDN server
Enhanced user experience – with faster loading of content and they can handle peak time loads
Reduction in the bandwidth cost – good CDN helps in reducing the hosting cost for the website
Reduction in data redundancy – Increases the availability of the content online, allows the website to handle heavy traffic and withstand hardware failure, enhancing user experience
Availability and scalability – because CDNs can be integrated with cloud models