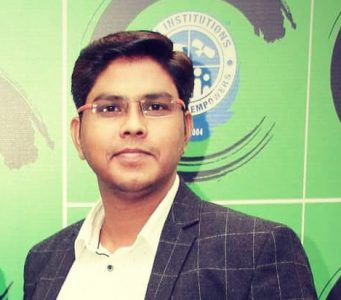 Mr. Vinod, a successful digital market entrepreneur and a tech legend, has done his Masters in Technology Management. He owns a company Webdoux, which started its operation in 2013. The company had been running successfully for the past 7 years and delivering the best of web designing and digital marketing solutions to various tech savvy clients across the globe. We interacted with him to understand his latest collaborative e-learning system. 
Q: How much impact did Covid have on your business, and how did you manage to run it successfully?
2020 has changed the world to new normal and we are now used to some weird yet some good practices. Moving to the 'new normal', one of our clients has come up with a requirement of integrating an online E-learning system. By that, it means a proper platform, more advanced than a regular E-Learning portal, and an easy access combined learning system integrating all the stakeholders in academics.
Q: How does this E-learning system operate?
Our team has come up with a web application for our online learning management system. This is an integrated E-Learning portal, with a number of unique logins, which can be created for any number of stakeholders like students, teachers, administrators, Co-instructors, etc. The web application is not a subscription model, hence unlimited usage of any content is an advantage. This can be used by any school, College or training academies to run their E-learning system online.
Q: How does this system differ from other E-learning portals? What are the special features in the system?
You can upload content in 7 formats like video, audio, pdf, ppt, facebook live etc to the web application, with secure features and discussion forums. With secure features like copying content, download, restricted sharing of content and more helps make the applications very unique only to enrolled users. The content posts to be posted in discussion forums will be moderated in terms of alert messages and post approval from respective administrators/moderators, content will be posted in the discussion forums. The application also allows selling courses, along with domestic and international payment gateway enabled. It also features repetitive classes, quiz modules, test templates, content drip sequence where students couldn't skip lessons. The content drip sequence is also customisable in terms of disabling the sequential content if the student has skipped or missed the current topic/content. There is also provision for time duration for a content to be active, for E.g. a chapter in video format can be made active for a week, so that students can repetitively view the content. The viewing frequency can also be controlled by the instructor. The quiz and the test modules can be created using different templates and the questions pattern.  Some unique features like zoom call integration, performance tracking, provision of providing E-Certificate can be customized according to requirement. In case of training academies, a proper E-Certificate can also be designed in the application.
Q: What are the technological features added to the system?
On the tech front, apart from customization, the application is responsive to different devices and other analytical tools like Google Analytics, and Facebook Pixels. In short, we could term this service as an integrated E-Learning with minimal human interactions. The entire process of academics is online now. The E-Learning web application is a one stop solution for an integrated learning management system. 
Currently the web application is live and has been successfully utilised by various clients.