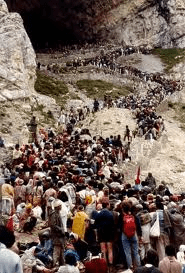 This year's Amarnath Yatra – the annual pilgrimage to pay obeisance at the Amarnath Cave (located at a height of 3,888 metres above mean sea level) where an ice shivling is formed naturally every year – has faced some tough times due to freak weather conditions. Overall, the Kashmir valley (where the Amarnath Cave is located) has witnessed intermittent rains and bad weather since the Yatra commenced on June 25. The Yatra itself involves a trek of approx 36 km over three days through some of the most picturesque meadows and high passes of the northern Himalayas.
But what is becoming a concern for the state and local administration is the number of deaths that have occurred in around 20 days of the pilgrimage. So far, as per government statistics, out of the 455,000 who visited the shrine, there have been 81 deaths due to heart attacks, etc. Eminent health experts of the country, like cardiologist Dr U Kaul, opined in one of his posts on Facebook that it is alarming to see more youth dying due to heart attacks as it tells us about the physical built of our youth, and the generally poor health due to increasingly sedentary lifestyles. As per the statistics issued, 58 of the 81 deaths were in the age group of 20-60 years.
As is routine in such situations, the government has decided to re-issue health advisories and impress upon pilgrims intending to visit the Amarnath Cave to undergo proper medical check-ups at base camp, before proceeding for the trek. While this is an 'okay' step it is not very smart and not likely to be very effective.
However, if technology is utilized properly, we can ensure a better check on the health conditions of individual pilgrims. While, even a proper medical examination might declare a person fit to trek up to the cave, but as he / she proceeds through the tough mountain terrain (winding up to the Mahagunas pass at a height of 4,600 metres above msl), the sudden and harsh climatic conditions and low levels of oxygen can result in any eventuality.
There are numerous technology interventions that could make real time monitoring of the pilgrims possible. A simple one could be a wearable health monitoring system. This device is a small wrist watch-like digital hardware that constantly monitors the vital health parameters (heart beat, pulse rate, blood pressure etc.) of the wearer. At the same time, the device can connect to a telecom network using data connections like GPRS and 3G and send the wearer's vital readings to a central server. If this system is installed for the Amarnath Yatra where every pilgrim or yatri is made to wear the device, doctors at the base camp can easily monitor their medical condition in real-time. Further, alarms can be set to trigger and inform paramedics on duty along the Yatra route, in case of abnormal readings from a particular patient's monitor. This will make the system proactive rather than having doctors monitor patients on a monitor 24 x 7. Using Google Earth and GPS technology, each yatri can be spotted on a map and if the alarm for a particular pilgrim triggers, paramedics monitoring the system in the control room, can inform the nearest medical camp.
I know that procurement and distribution of these wearable health monitoring systems would involve a highly organized logistics and management effort, particularly when we are talking about pilgrims in the range of half a million or more. This can be addressed by making sufficient number of devices available to cover batches of pilgrims making the Yatra every 4-5 days.
There could also be some network infrastructure issues, but BSNL, the state-owned telecoms operator, which owns towers along / near the Yatra route, can help to address this by deploying 'portable' towers for a duration of 2-3 months.
From a purely statistical point of view, although the death rate may be within acceptable norms, but the efforts of an enlightened administration should be to avoid unnecessary tragedies. The technology to do this is at hand. What's needed is a change in mindset to deliver governance with a humane touch and make the Yatra an example for governments and healthcare authorities across the world.
Faisal drives new initiates at CMR. Having over 13 years of research and consulting expertise in technology domain, he specifically covers Telecom, IP Technologies, Devices, Electronics, Applications and other emerging technologies.
Faisal completed his Master's degree in Business Administration, specializing in Marketing and Finance. He also holds a Bachelor's degree in Business Administration.