The October numbers released by TRAI do not have good news for Jio – the disruptor operator. Jio has increased 24% subscribers in October 2017 compared to September 2017, while the overall mobile broadband subscribers added during the period saw an increase of 81%. This means incumbents have been able to resurrect in the mobile broadband space. Though, just a small period to analyse, it could be an early warning indicator for Jio that things are not working in the right direction for them.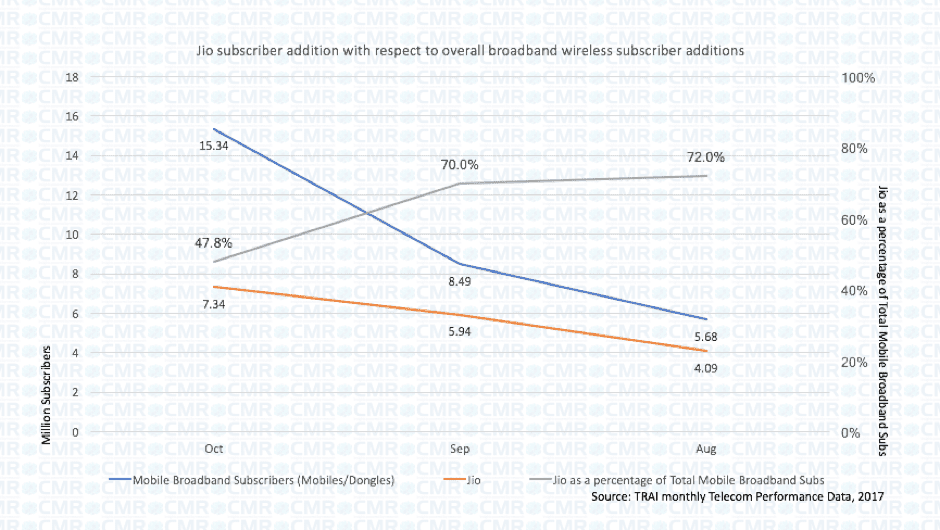 In the preceding two months of August and September, Jio subscriber addition was over 70% of the total monthly mobile broadband subscribers added, which has gone down to less than half 48% in October 2017. It also indicates that the sharp increase in the mobile broadband subscribers in October is not because of Jio after so many months, but this time the incumbents are credited with the addition.
The increase in the subscribers by incumbents indicates that their counter offers have started to show good results and they are able to add subscribers even in the 4G space, that is dominated by Jio otherwise. However, we shall have to observe the trend for a longer horizon to understand if this is the way forward. With the bundled Smartphone offers from incumbents, the results are expected to be further in their favour.
Looking from devices perspective, Xiaomi was the biggest driver of Smartphones in Jul-Sep'17 quarters and the increase in October new subscribers would be coming in largely from Xiaomi buyers. This also indicates that typical Jio users are not buying online and such customer segments prefer to go with the incumbents like airtel and Vodafone.
To have a long-term gain in the game, Jio will have to strategize to reorient themselves as being first preference rather as an affordable alternative. Also, it shall have to relook whether going for limited capability JioPhone was a good move, although its complete results won't have reflected in October 2017 numbers. In September and October 1.8 million and 2.5 million JioPhones were shipped respectively.
The Jio offer of Rs 1,000 discount on Xiaomi 5A would help it bring more of Xiaomi profile users on the network; however, looking at how critical it is becoming for Jio to have Xiaomi fans on the network, Jio shall have to further excite to have an overwhelming welcome.
Faisal drives new initiates at CMR. Having over 13 years of research and consulting expertise in technology domain, he specifically covers Telecom, IP Technologies, Devices, Electronics, Applications and other emerging technologies.
Faisal completed his Master's degree in Business Administration, specializing in Marketing and Finance. He also holds a Bachelor's degree in Business Administration.