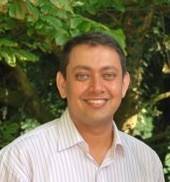 Dr. Satya Prakash Dash is currently the Strategic Alliances & Partnership Consultant to BIRAC, New Delhi and is responsible for providing strategic direction to BIRAC especially in collaborative projects. He also drives the entrepreneurship agenda at BIRAC. Previous to BIRAC, he was a Senior Strategy consultant to IIM-B & IISc in understanding the ecosystem's needs for a medical-technology platform and authored an internal report on creation of a medical device incubator. Prior to this, he was the Chief Operating Officer of the nodal biotechnology industry organisation of India, Association of Biotechnology Led Enterprises (ABLE). As the operational head of ABLE his responsibilities included leading advocacy efforts to represent the interests of the Indian biotechnology industry to the Indian Government, investors and academia through continued engagement with all the stakeholders of the sector and via targeted policy recommendations. While at ABLE, he authored a high level strategic blueprint of the biotechnology sector in India titled "Indian Biotechnology: The Roadmap to Next Decade & Beyond". Previous to ABLE, he was at the University of Cambridge as a technology policy academic. His current interests include helping in national capacity building in the Indian biotechnology sector by fostering international and national collaborative linkages. He holds triple masters from Cambridge (UK), Leicester (UK) & Sambalpur (Orissa) and a PhD from University of East Anglia, UK. He is a recipient of the JNCASR Summer Fellowship India, British Chevening Scholarship UK, Overseas Research Scholarship UK, MBL Pioneers Fund Scholarship & C. Lalor Burdick Scholarship and was offered a Cambridge-Commonwealth Scholarship

Prabhu Ram is General Manager, Healthcare Research and Advisory Practice at CMR based out of Gurgaon (near New Delhi). In this capacity he is responsible for overall strategy, research and advisory for healthcare enterprises. Prabhu provides expertise and insights from business, technology and intellectual property (IP) perspectives for client competitive advantage. His team engages in multiple multi-year partnership projects with healthcare providers worldwide.
Prabhu brings to this role more than 11 years of broad-range experience in IP and innovation management and strategy consulting in healthcare and pharmaceuticals, with vast experience from work in more than 10 country markets. He has helped enterprises to develop and implement IP strategies for commercializing life-improving healthcare inventions.
Prior to joining CMR, Prabhu was Senior Technology Manager with Sathguru Management Consultants. His focus was on new IP ventures, IP management, technology transfers and strategy consulting in healthcare and pharmaceuticals for the public and private sector in Asia. He managed IP initiatives for next-generation innovations from over twenty universities worldwide.
Prabhu holds a Master's degree in Life Sciences from Calicut University, Kerala state and a Master's degree in Information Science and Intellectual Property from the National Institute for Science Communication and Information Resources (CSIR India). Prabhu has also completed the 3TP executive management program from the Indian Institute of Management, Ahmedabad.
Prabhu is an active member at the Association of University Technology Managers (AUTM). He is an invited speaker and a frequently quoted author in intellectual property matters, technology transfers, and on new technologies.