Storing information in the public cloud from a growing market of vendors is a viable alternative to on-premise, traditional storage options for some use cases. The emergence of cloud-based application and computing services continues to have a profound impact on the storage industry. Companies building cloud environments are emerging as major consumers of storage systems, and their demands are affecting storage hardware and software development efforts. Many storage systems and software companies are launching their own cloud-based storage, data protection, and archiving services.

But cloud-based storage providers vary widely in their ability to meet the requirements of enterprise IT, which is why customers should rigorously plan and vet vendors before first engaging in a pilot and then deciding if mission-critical data should be moved into the cloud-based storage service.

Customers today have a lot of issues in managing tape backup as it includes investments in different technologies and transportation of tape to an offsite. The Cloud Based Back up model enables customers to simplify the whole process of managing the Tapes. It gives them the following benefits
Significantly reduction in storage and data protection costs
Achieve instant data recovery while reducing risk
Seamlessly integrate with leading backup and archiving applications
Eliminate the management burden of tape based systems
Slow storage growth by archiving data to the cloud
Storage trends for 2014
A mix of natural disasters, political upheaval and financial crisis in 2013 has prompted companies to plan for 2014 against a backdrop of economic turmoil and great uncertainty. However, in certain areas of business, there are still some absolute certainties. One such area is that of data storage and storage infrastructure, for which demand will undoubtedly intensify in the year ahead, continuing the trend in recent years of exponential growth.
Storage efficiency: There will be a greater focus on storage efficiency technologies such as storage virtualization, dynamic or thin provisioning.

 
Consolidation to convergence: Consolidation will give way to convergence. Over the past few years IT has focused on consolidation and much of the low-hanging fruit has now been consolidated. In order to gain further cost savings, the focus will be on convergence of server, storage, networks, and applications.

 
Big Data: The explosion of unstructured data and mobile applications will generate a huge opportunity for the creation of business value, competitive advantage, and decision support if this data can be managed and accessed efficiently.

 
Storage scaling: Server and desktop virtualization will increase the need for enterprises to scale up storage systems, non-disruptively as physical server demands increase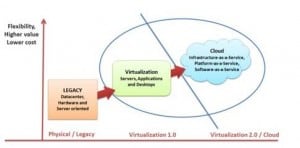 Data center infrastructure shifts are often both dramatic and unpredictable until they are well under way. Virtualization and cloud computing are together redesigning the landscape of the data center. This is not a zero sum game, however. Not all data centers will shoot their data into the cloud. The client/server architecture followed and eventually eclipsed the mainframe, and it is not hard to imagine cloud doing the same thing.  Perhaps the key proof-point of the winds of change though is the infrastructure that is building up around cloud. Virtualization vendors are hitching their virtualization wagon firmly to the cloud. One thing to bear in mind, however, is that although virtualization and cloud are often tied together, they are not necessarily fused.
HP-Riverbed Cloud Storage Solution:
Riverbed's White Water Solution integrates with the existing back up software of the customer , stores and  transmits the data securely to a public cloud such as HP cloud Services where the customer can buy storage on a opex model. HP technology Consulting will help build the solution end to end from architecture, design and implementation for the customers.
[Download HP-Riverbed Whitewater Brochure ]