Politics and the mobile handset industry in India seem to be following the same pattern.  In politics we saw the emergence of a third front that has otherwise been dominated by two parties or groups or ideologies in the early 1990s, and that is still emerging to some extent.
However, the growth of the 'third front' in the India mobile handsets industry has been quick and rapid.  Up to 2007 or even early 2008, the mobile handsets market in India was dominated by one brand, that is, Nokia, with traces of Samsung and a few other multinational brands like Sony-Ericsson etc. But, as smartphones became the order of the day, a number of brands emerged with home grown brands as well as those coming in from global manufacturing hubs like China and Taiwan.
As we stand today, the mobile handsets industry in India is a three-dimensional market where three distinct blocks of brands are in operation. These are Multinational 'Tier 1' brands like Samsung, Apple, Nokia (Microsoft), Sony, LG, HTC, Blackberry etc. The other segment is of home grown brands like Micromax, Lava, Karbonn, Spice, iBall, Intex etc.  The third segment is of China/Taiwan OEMs and other brands like Lenovo, Huawei, ZTE, Gionee, Asus, Xiaomi, Oppo and so on. This third segment is what I refer to as the 'Third Front' of the India Mobile Handsets market.
Now let's take a closer look at these 'Third Front' brands. It is a mix of China brands and OEMs. Their entry into the India market and successfully establishing themselves at a juncture at a time when the home grown brands are giving a tough time even to MNC players like Samsung, Nokia etc. tells us a lot about the business model that home-grown India brands need to adopt to sustain their business operations in the long term.  What further reaffirms my point of view is that even OEMs find this market attractive and are able to do well. OEMs usually don't have great marketing skills and establishing a presence in a highly competitive B2C environment, that too in a foreign market is never an easy task.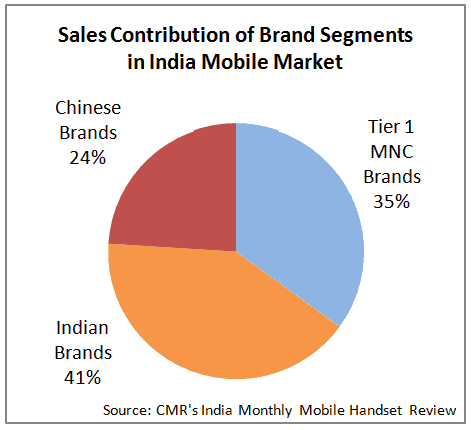 Looking purely at the numbers, since January 2013 (the period that saw direct entry of Chinese brands/OEMs) this third category of China brands/OEMs has been able to garner a sizable chunk of the total pie.  As the data from CMR's India Monthly Mobile Handsets Market Review suggests, while the contribution of home-grown Indian brands averaged 41% of total smartphone shipments, China brands/OEMs' share stood at 24%, while MNC 'Tier 1' brands contributed the remaining 35%. What is more interesting is that among the China segment, the contribution of OEMs is increasing QoQ.  This is affecting the shares of established China brands like Lenovo, Huawei and MNC Tier 1 brands like Samsung, Nokia, HTC etc. Growth of the China segment is not affecting the Indian home-grown brands as one can still see them growing nicely QoQ in terms of aggregate contribution to total India smartphone shipments. The data suggests that the emergence and possibly growth of these China brands and OEMs is not a worry to Indian home-grown brands; in fact they are helping the latter in their fight for market share versus the MNC Tier 1 brands.
But, in my view, this is only a short term phenomenon. As larger volumes of the India handsets market shift towards lower price points, this is the segment where competition will be fierce, bringing the India home-grown mobile handset brands in direct competition with the 'third front' players. That is the time when the USP of India brands will come to their rescue and act as barriers to the further growth of shipments of China mobile handset brands/OEMs.
Unfortunately, Indian home-grown brands have only been able to gain on two fronts apart from market share, so far. One is the setting up of a distribution and service network and the other is the brand value. There is no third aspect that would work for them against the third front players. This should be a cause for worry as the success of the China brands/OEMs suggests that perhaps these two aspects don't matter beyond a point, and cannot be relied on as strengths to bank upon by Indian home-grown brands. Had this been the case, establishing and then gaining some market attention would have been very difficult for the third front China brands in the India market.
In this scenario, what should work for an Indian mobile handsets company is, of course, the product that comes out of R&D and price points, if that can be fixed at competitive levels, based on an efficient manufacturing supply chain. Traditionally, both these are weak areas for Indian brands. Indian mobile handset players don't spend on R&D at all, in order to create products that give them distinctive, long term advantage. Whatever successes that Indian home-grown mobile handset brands have had so far, have more or less been on the pricing front. These attractive price points have been largely a result of bulk purchases and well-honed negotiation skills with the OEMs in China and Taiwan.
To re-emphasise the point, China brands and OEMs are relatively heavy on their R&D spends and can bring out disruptive offerings relative to their Indian 'counterparts'. For Indian home-grown brands to be really able to sustain and maintain their dominance on the smartphones market, adequate investments in R&D become an essential requirement that can work in their favour in the medium term. Achieving economies of scale in manufacturing operations is a distant goal that will require a sustained effort to develop a healthy ecosystem. Indian home-grown brands need to be proactive as the competition has already established a good foothold in the domestic market.
Spending on R&D could yield Indian home-grown mobile handset players ownership of Intellectual Property that is distinct and provides a legal safeguard for their innovations. This would help Indian brands to develop products that are unique and useful for Indian consumers, attract higher value buyers and improve 'sales-worthiness' compared to competition.
Thus, the emergence of a third front is not necessarily an unwelcome sign. It is good to have more and more options in the hands of the consumer. In this respect, these brands have played a critical role in achieving higher levels of digitalisation across India by bringing to market 'high on features, low on price' mobile devices. But their growth has not been at the cost of Indian home grown brands, which have risen from mere trading entities to reputed electronics brands. These home-grown players have all the capabilities of scaling up to the stature of the Microsofts or Samsungs or Apples of the world but, it is imperative for them to mature their business processes and invest adequately in R&D and innovations.
Faisal drives new initiates at CMR. Having over 13 years of research and consulting expertise in technology domain, he specifically covers Telecom, IP Technologies, Devices, Electronics, Applications and other emerging technologies.
Faisal completed his Master's degree in Business Administration, specializing in Marketing and Finance. He also holds a Bachelor's degree in Business Administration.