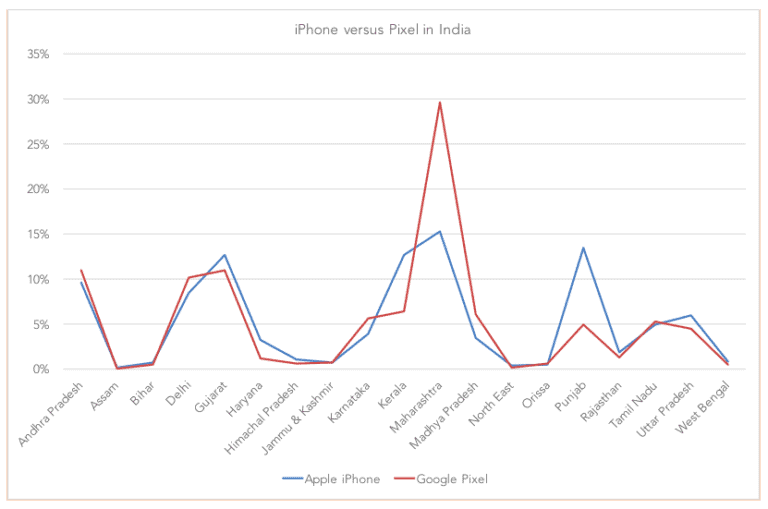 Google had launched Pixel with all fanfare to help Android get into the premium category, where only Apple is a strong brand. Apple's strong position in the premium category would mean death of Android in this category that could also hamper its IoT ambitions. Reason, IoT in consumers will first pick up in the premium user category with Smartphone as the pivotal device.
Pixel by Google entered into a domain that is still comfortably dominated by Apple, where the Apple cult goes only for Apple. Though the pace has gone a little slow as recently for the users not excited to the extent that compels them to go for an upgrade. So, entering this segment is not just enough. Google ought to really go out of box to get unconventional and path a different success story for Pixel in India.
There is no denial that the premium segment of Smartphones in India is driven by markets including Delhi (NCR), Gujarat, Andhra Pradesh, Kerala, Maharashtra and Punjab. That's where approximately 75% of premium Smartphone market is, and to align Google also had similar opportunity as was there for Apple. This is what the data also tells us. Apple doing better in a few states like Gujarat, Kerala and Punjab also has the reason of concentration of NRIs and NRI connects in these states.
The point here in this Mobilytiks insight is that Google has done nothing different to promote Pixel in India and just followed the Apple way. This would definitely not work as Apple has a far better pull than Google for Pixel. So just replicating what a strong player has done in its 'exclusive' territory is not a rewarding strategy.
Google has to look at how they can position Pixel in such a way that they can restructure the premium Smartphone composition of Indian market. For instance, can it become the default choice of premium Smartphone opportunity in Tier 2 cities and towns? Or, can it enter into the market with an IoT proposition for connected home with Pixel as the hub device?
As prescribed by Mobilytiks chart given above, Google could perhaps look at the next big premium Smartphone markets of Tamil Nadu, Karnataka, Madhya Pradesh and Uttar Pradesh and carry out very focused marketing and branding activities to engage with potential buyers. Of course, Madhya Pradesh and Uttar Pradesh would figure for sheer the size of market opportunity, while the socio-economic profile might not suggest a very big opportunity for the premium category.
Getting a strong foothold in the premium category is very critical for Google from two dimensions – exhibiting the hardware capabilities of ultimate level and setting the pitch for Android as an ecosystem in the IoT scheme of things. Hence, there has to be a very creative approach applied for making Pixel a success in India. Following the well-entrenched player Apple would not yield same results for Google. That's where they have to take a diversion and restructure the market creating an opportunity, which strongly believes in Pixel.
Faisal drives new initiates at CMR. Having over 13 years of research and consulting expertise in technology domain, he specifically covers Telecom, IP Technologies, Devices, Electronics, Applications and other emerging technologies.
Faisal completed his Master's degree in Business Administration, specializing in Marketing and Finance. He also holds a Bachelor's degree in Business Administration.