Now that the US$ 2.9 billion acquisition of Motorola Mobility is complete, its time for Lenovo to leverage and improve its market standing in the mobile phones business.
In India, Lenovo stood at 11th rank during 1H CY 2014 (as per the results of CMR's India Monthly Mobile Handsets Market Review) in terms of smartphone brand unit shipments, while Motorola stood at 6th rank. So, certainly with the acquisition of Motorola's portfolio, the overall market standing of the merged entity goes up automatically.
In a nutshell, Lenovo moves to rank 5th in the India Smartphones market. This not only means a better market standing for Lenovo but it also brings the company into the elite 'Top 10' list. In fact, the 'big leap forward' for Lenovo is that it goes up into the 'Top 5' list of smartphone vendors in one of the world's most promising markets.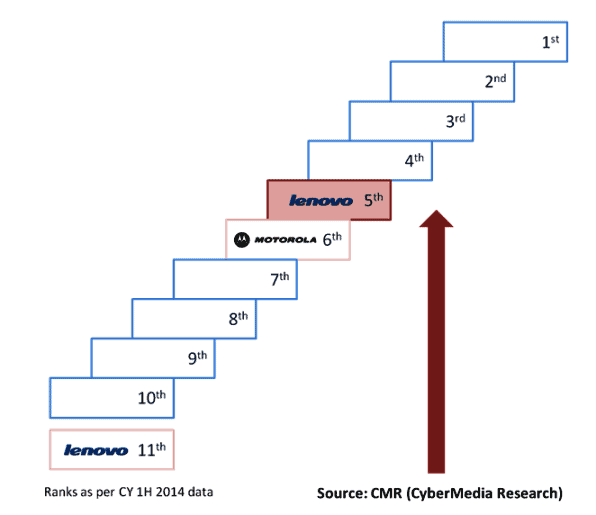 The larger question is whether the strength of the combined Motorola and Lenovo portfolio of smartphones is something that the combined entity can leverage upon or, it would remain a one-time 'quantum jump'. From this point of view, I present my analysis here:
The below figure shows the price-band wise contribution of sales for smartphones across brands in India. Three bands – INR 6,001-8,000, INR 4,001-6,000 and INR 10,001-15,000 lead in terms of sales contribution (unit shipments) in that order, and cumulatively account for more than half of the total sales.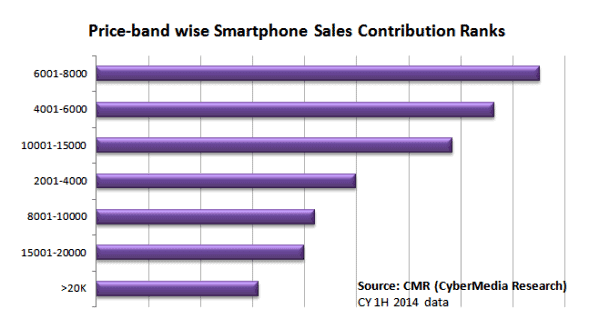 Let us now look at how the sales contributions looked like based on Lenovo's portfolio of smartphones only and how they shape up after acquiring Motorola's portfolio. This is depicted in the below chart:
Therefore, it is evident that the acquisition strengthens the sales contribution in two major price-bands of INR 6,001-8000 and INR 10,001-15,000, but the third important band of INR 4,001-6,000 remains unchanged. This implies that Lenovo, after the Motorola acquisition must seriously pursue strengthening their product portfolio by launching new smartphones in the 'entry level' price-band of INR 4,001-6,000. This is not going to be easy at all. Operating at this price point in a smartphone market in India has never been easy. But, for Lenovo to strengthen its position in the overall smartphone market in India, it has to adequately have products in these top three price-bands. This will strengthen the position of the combined entity and increase its share of market organically over a period of time.
Traditionally, Lenovo has been strong in the price bands of INR 4,001-6,000 and INR 8,001-10,000 but with its contribution increasing substantially by 240% after accounting for Motorola smartphone sales, the contribution will skew towards price bands of INR 10,001-15,000 and INR 6,001-8,000. This is a good development, as already pointed above. However, post acquisition of Motorola Mobility business, to gain higher market shares in India, Lenovo must adequately address the INR 4,001-6,000 segment as well and increase this segment's contribution to overall sales (unit shipments). The acquisition should not result in the dilution of Lenovo's standing in the 'entry-level' smartphone price band but, should rather bring in more value to this category that comprises mainly 'first-time smartphone' users.
Faisal drives new initiates at CMR. Having over 13 years of research and consulting expertise in technology domain, he specifically covers Telecom, IP Technologies, Devices, Electronics, Applications and other emerging technologies.
Faisal completed his Master's degree in Business Administration, specializing in Marketing and Finance. He also holds a Bachelor's degree in Business Administration.