Handset maker Micromax is going in the opposite direction as against the 11 other 4G smartphone competitors
Micromax, once known for its innovation and time to market has been a bit lagging in terms of its responsiveness to market changes. For instance it surfaced with its first 4G handset in the Indian market in the fourth quarter of CY 2014, while others had mostly started shipping their handsets in the third quarter itself, prominent being Xiaomi, OnePlus and Vivo.
Now, not only by entering late, it gives a sense of judging the market wrongly, its growth rate in the unit shipments is also inconsistent to the market trend.
Presently there are 12 brands offering their 4G handset in India including Micromax. Samsung leads this space followed by Xiaomi and Apple in that order. Looking at the above chart derived from the quarter on quarter unit shipments of all the 4G handset brands in India, there are a lot of similarities that other brands exhibit, except Micromax.
First, as mentioned above, all the major brands started getting serious about the 4G handsets in the third quarter of CY 2013 itself. Second, barring the third quarter of CY 2014, all other brands are growing cautiously with the increase in the unit shipments and most of them fall within the same range of growth in unit shipments. However, just looking at the Micromax, it is a huge growth of 15857% which is difficult to manage for any vendor, however, strong it may be as a brand supported by a robust selling and distribution network.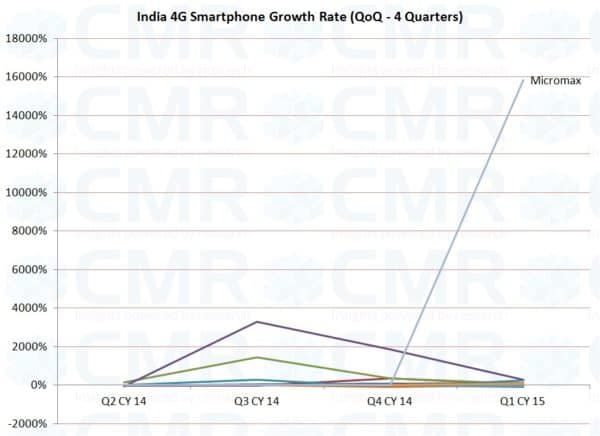 With the company already facing a negative growth in terms of unit shipments for Smartphones, fluctuating the inventories at such abnormal levels is only going to further cause trouble to the sales and marketing team at Micromax. As a reference data point, Micromax saw a decline of over 17% in its overall Smartphone shipments in Q1 CY 2015 as compared to Q4 CY 2014. So, in spite of the company having a whopping increase in its 4G shipments during the same period, the overall category of Smartphones did see a decline in growth. This talks a lot about the performance.
Micromax was emerging as a strong contender for being in real sense a 'Make in India' brand, but with the change in its business practices and philosophy, which may not be explicit, but implied through some business decisions they are taking, it definitely does not add up to a great picture.
Even, its decision of going public which got stalled at least twice in recent times, as evident by the market buzz that was getting created and later on nothing in action, indicates that there is some great need to revisit the strategy and identify the core values that helped Micromax establish its brand, image and position.
For a company like Micromax, India as a market is at a defining moment. While, the 4G throws up an enormous opportunity, the focus on ESDM calls for value added manufacturing within the country and there is perhaps no other brand apt for this situation other than Micromax.
It is important that the company really gets in sync with the market indicators and continues to disrupt the market through its product, pricing and marketing rather than taking an entirely wrong path than its competitors as well as the industry as a whole.
Let's hope Micromax really re-emerges itself as the brand known for affordable innovation that was completely in tandem with the socio-economic profile of the country.
First published in ET Telecom on August 11, 2015
Faisal drives new initiates at CMR. Having over 13 years of research and consulting expertise in technology domain, he specifically covers Telecom, IP Technologies, Devices, Electronics, Applications and other emerging technologies.
Faisal completed his Master's degree in Business Administration, specializing in Marketing and Finance. He also holds a Bachelor's degree in Business Administration.