Almost half of the premium segment Smartphones still being imported is worth Rs 8,000 crore
Mobile phones are the anchoring devices enabling 'Make in India' in the electronics domain. It is very imperative that the trend is upward in both volume as well as value.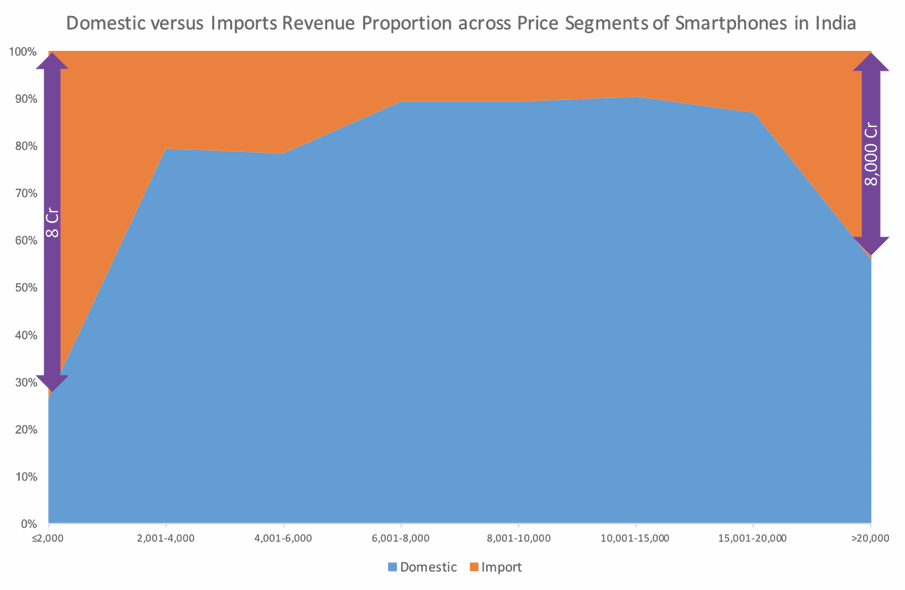 Though, the same is happening; however, almost half of the premium segment Smartphones still being imported is resulting in imports worth `8,000 crore in this segment of Smartphones only.
Another segment, of just entry level Smartphones priced just below `2,000 are also predominantly being imported that translates to just `8 Crore of revenue annually. So, the initial focus should be around increasing the domestic contribution in the premium category of Smartphones to make the overall industry grow in size domestically.
Also, since the volumes in the premium category aren't too high; at an average, just 6-7% of the total Smartphones in a year, which translate to approximately 10 crore handsets pricing above `20,000. This is a low volume high value category that can push 'Make in India' to greater heights.
However, the matter of concern is–increasing disproportionate value to volume ratio in the premium category, especially with the success of iPhones and ultra-premium smartphones from Samsung and Google.
With such Smartphones being definitely imported for some more years into India, it won't be surprising to see the proportion of premium category further skewing towards imports.
As the policies defining the framework for 'Make in India' are likely to go for a refresh, it should be a priority for the government to encourage premium Smartphone manufacturing in India.
But, that would not be an easy thing to achieve. A lot of the ecosystem would be required to build giving not only confidence but also facilitating the potential OEMs to manufacture the high-class hardware, including Smartphones. Once the equilibrium between value and volume of the industry is achieved it will stabilise and automatically look for next growth of opportunities.
Faisal drives new initiates at CMR. Having over 13 years of research and consulting expertise in technology domain, he specifically covers Telecom, IP Technologies, Devices, Electronics, Applications and other emerging technologies.
Faisal completed his Master's degree in Business Administration, specializing in Marketing and Finance. He also holds a Bachelor's degree in Business Administration.