OnePlus emerged as the only young brand in top 5 in High-end Smartphones segment (Rs 20K+) with 6.1% market share. In entry level High-end segment (Rs 20-30k), it ranked 4th with 12.6% share.
Despite shrinking contribution of Premium Segment, OnePlus is steadily growing and consolidating its position in this segment making it future ready.
In our recently announced report on High-End Smartphones in India, OnePlus emerged as the only young brand figuring in top 5.  The brand has seen impressive growth since inception despite its all 'complex' business model.  Its invitation only and online only strategy definitely confined its reach and addressable market. But, despite of that the brand managed to earn 6.1% market share in the high-end (Smartphones priced >INR 20,000) Smartphone segment.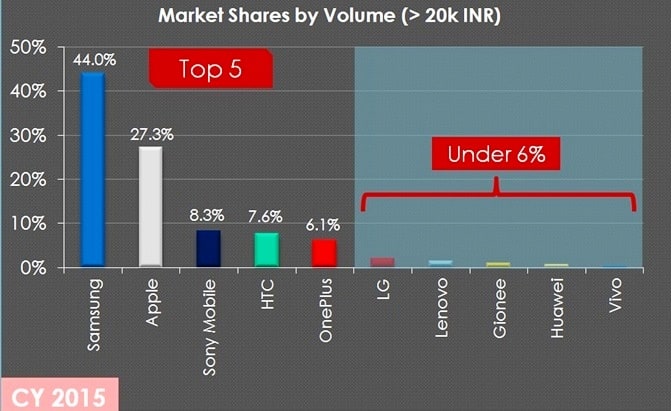 What is interesting to note is that other than Samsung and Apple, which dominate this segment and have over 71% of the market, OnePlus has been able to reach to the 'stature' close to that of other incumbents in the top 5 – Sony Mobile and HTC and is far ahead of rest of the brands.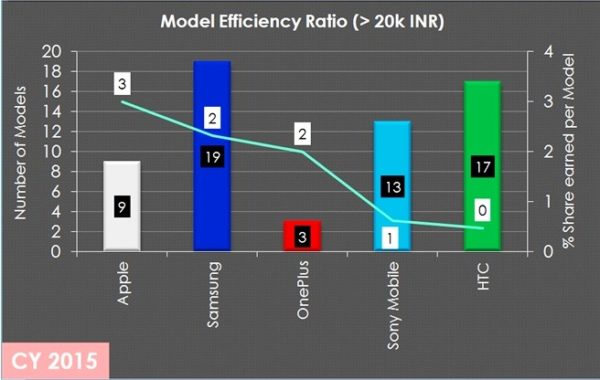 Analysing the Model Efficiency Ratio (i.e., percentage of market share gained per model available) of top 5 brands in this segment, OnePlus ranks 3rd just after Apple and Samsung.  This is an important measure signifying the brand loyalty enjoyed and despite bread of options available in the competitor's basket, a prospective buyer sticks with the brand.  Here, we see another similarity between Apple and OnePlus which is of launching one or at max two flagship models in a calendar year and still having high Model Efficiency Ratio.  This only reaffirms very high brand loyalty in case of these two brands.
Product wise also, OnePlus has been taking leap jumps in terms of overall improvisation.  I had done a review of their previous devices (OnePlus One, OnePlus X) and found remarkable levels of improvement in the overall looks, feel and experience. This is another well worked strategy adopted by the brand where we experience a real noticeable difference in subsequent launches.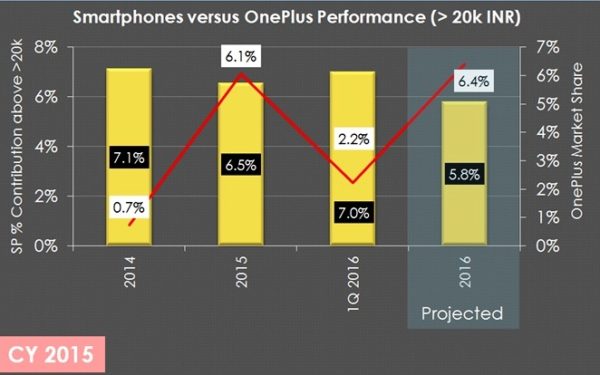 While in 2014, around 5.5 million Smartphones were shipped in above INR 20,000 segment, this was at 6.3 million in 2015 and it pegged to reach 7.5 million in 2016. This segment has grown at an annual average rate of 17% since 2014, and it expected to grow 19% in 2016. Though we are seeing decline in percentage contribution of this segment to the overall Smartphones, this is primarily because of the fact that predominant volumes are still in the entry level segment of Smartphones, which is less than INR 10,000. However, in 1Q 2016, we saw this changing for the first time, where maximum contribution of 22% to the overall Smartphone shipments came from INR 10000-15000 price band. If this becomes a long horizon trend, which seems to be so, the high-end segment of Smartphones is going to only strengthen.
The case of OnePlus for 2016 becomes only stronger. While the percentage contribution of greater than 20k segment declines YoY and may continue to so for a couple of more years, OnePlus is steadily increasing its market share. In its year of launch in 2014, it garnered just 0.7% which jumped to 6.1% in 2015 and we expect this to reach 6.4% by the end of year 2016. This growth of OnePlus will essentially be based on two pivots of the success of OnePlus 3 and the offline expansion it has just begun.
As the Indian Smartphone market continues its pitch for transition, OnePlus not only is emerging as a strong player in the high-end Smartphones category, it is also perhaps setting the trend for others to follow by carving out their niches and becoming strong there. Rather than playing all along the spectrum of segments, it is good for emerging players to follow the OnePlus path and not only emerge strong but also become complimenting partners in the Indian Smartphone market. Otherwise, I fear we may see the operators' story being replicated here and in a few years from now, be talking about mergers and acquisitions apart from end of brands. Faisal drives new initiates at CMR. Having over 13 years of research and consulting expertise in technology domain, he specifically covers Telecom, IP Technologies, Devices, Electronics, Applications and other emerging technologies.
Faisal completed his Master's degree in Business Administration, specializing in Marketing and Finance. He also holds a Bachelor's degree in Business Administration.