OnePlus is making all the right noises in this hyper competitive Indian Smartphone market. Starting from OnePlusOne to OnePlusX, its journey has been an impressive one. Though from market standing, it is one among those lot many <1% club of brands, but it is steadily creating its space in the niche it operates in.
Not just from the point of view of how it is making its presence felt, but also from the product quality and finesse perspectives, we can see some remarkable changes. Having reviewed its OnePlusOne as well as OnePlusX, we can figure out an upgradation in its hardware quality and the overall presentation.  The only area where it needs to do more is customizing the live device.
Being on OxygenOS, one can hardly find any differentiation from the stock android.  So, the area where OnePlus needs to work is bringing in substantial difference in the look and feel of the device from software perspectives.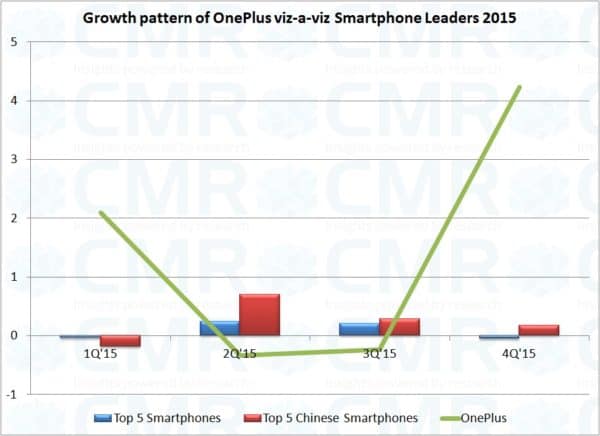 From growth perspective, although OnePlus has witnessed negative growth for second and third quarters of 2015, primarily due to decline in the online selling trend, in the fourth quarter it bucked the trend with some impressive numbers, quite contrary to the performance of the top five Smartphone leaders – including the global brands. The fourth quarter growth could be attributed to OnePlusX, which constituted 50% of the total shipments in 4Q CY'15 for the company.
With OnePlusX, one can duly understand how the brand is building itself as a mid-tier premium Smartphone option for the Smartphone upgraders as the new subscriber base growth comes to a standstill and the migration from Feature phone to Smartphone also gets skewed towards the very low-priced Smartphones.
While, I am sure the brand will continue to woo the customers with very exciting designs and premium feel hardware, but on the other hand, it has to work on bringing in real value from the OxygenOS for a Smartphone user, who upgrades to a mid-tier premium segment in search of not just gloss and shine for a premium look but also wants to experience something more than the average Android Smartphone user. And this should come from the custom OS level and not just through UIs, where the most of the play is with wallpapers and themes.
One can only conclude that the future models of OnePlus are going to be even richer in experience, which could be drawn from its journey from OnePlusOne to OnePlusX. It's high time to infuse that richness in its live screen aspect as well!
Faisal drives new initiates at CMR. Having over 13 years of research and consulting expertise in technology domain, he specifically covers Telecom, IP Technologies, Devices, Electronics, Applications and other emerging technologies.
Faisal completed his Master's degree in Business Administration, specializing in Marketing and Finance. He also holds a Bachelor's degree in Business Administration.