In 4Q 2017 (OND), Xiaomi led sales in Maharashtra which contributes 14% to the Smartphone sales in India
Xiaomi displacing the longstanding Smartphone leader Samsung in the OND quarter of 2017 is no new revelation. However, where exactly Xiaomi hit the market leader needs to be known?
In the Oct-Dec quarter of 2017, Xiaomi outshined Samsung in selling Smartphones in Maharashtra which alone amounted to 13.7% of the sales during the quarter. In the state, Xiaomi sold 31.2% of the Smartphones during the period as compared to Samsung which sold 15.3%. The Xiaomi sales were led by Redmi Note 4 model in the state.
Xiaomi opened two Mi Homes in the state during the months of October and November 2017. This strengthened its presence and access in the state. In January 2018, it opened its third Mi Home in the state in Thane.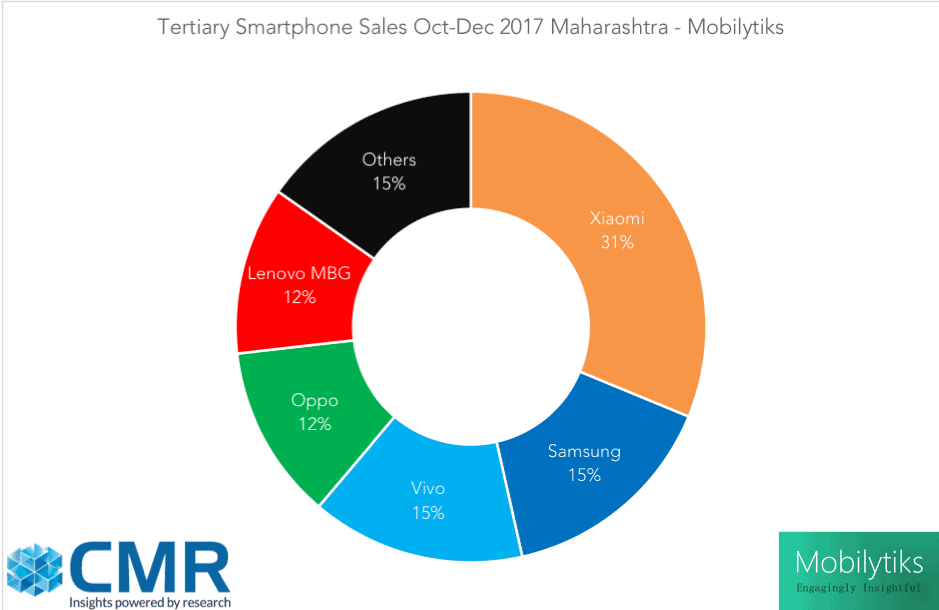 Vivo, Oppo and Lenovo (including Motorola) were the other three players in the top 5 Smartphone sellers for Maharashtra in 4Q, 2017.  Together top 5 sold more than 84% of the Smartphones.
With net subscriber addition during the quarter being negative for Maharashtra; it registered decrease of 362,420 subscribers, the Smartphone sales were primarily replacement or upgrade.  The decrease was due to R-Com and Aircel subscriber reduction during 4Q 2017 in the state.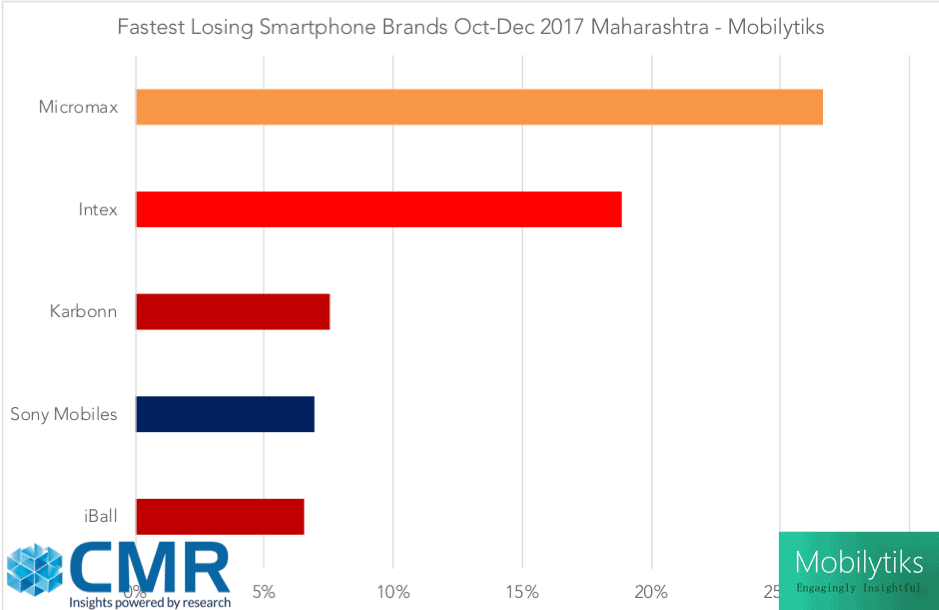 The sales that were led by Xiaomi were primarily replacements and upgrades where users shunned their existing Smartphones. Micromax (including Yu) amounted to over 26% of the Smartphones that were discontinued by users during the quarter. Intex, Karbonn, Sony Mobiles and iBall were the other brands in the top 5 losers. Collectively top 5 losers amounted to 66.5% of the Smartphones that were discontinued by users in Maharashtra during the period.
This switch from Indian brands to Chinese and global Tier I brand like Samsung is primarily driven by users upgrading for 4G Smartphones where the Indian brands haven't been able to establish a foothold.
Faisal drives new initiates at CMR. Having over 13 years of research and consulting expertise in technology domain, he specifically covers Telecom, IP Technologies, Devices, Electronics, Applications and other emerging technologies.
Faisal completed his Master's degree in Business Administration, specializing in Marketing and Finance. He also holds a Bachelor's degree in Business Administration.