Needs to build a strong Appgets portfolio to leverage the wide installed base in India
Samsung, of recently has started witnessing a bit of turbulence at the hands of challengers especially Xiaomi.  As per CMR's India Mobile Monthly Handset Review report, in the 3Q'17 (Jul-Sep) Xiaomi was at par with Samsung in Smartphone shipments, while in 4Q'17 (Oct-Dec), Xiaomi took lead and became the distinct No 1 for the period.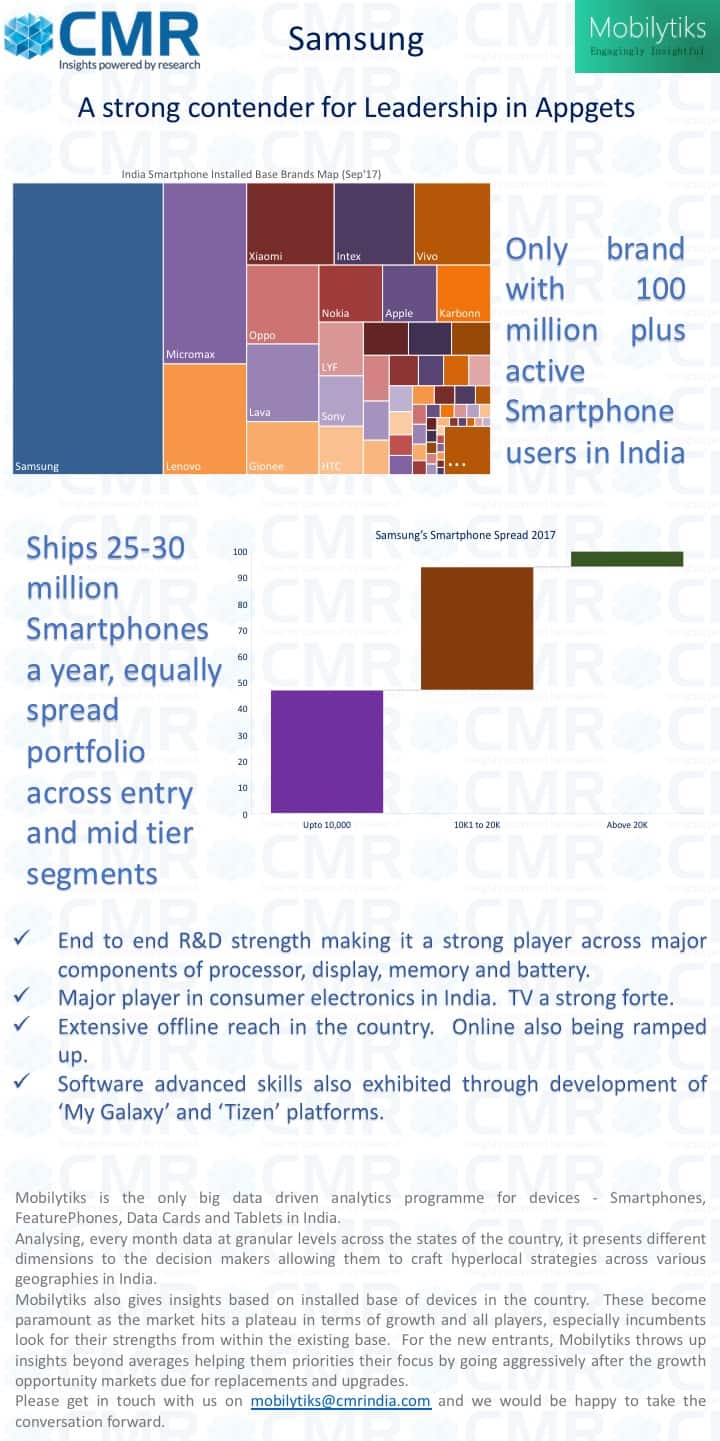 As of September 2017, Samsung has 112 to 115 million Smartphone users in India making it the only brand in India which has over 100 million active users. The next in the row, Micromax is distant far at estimated 40 million. Like other Smartphone makers, Samsung must be monetizing this base through low ticket strategies like mobile payments, advertising, etc., where the average revenue per user isn't substantial. This can only be an add-on revenue.
Samsung is uniquely positioned with this massive installed base in India to kick start the era of Connected Smart homes. It has end-to-end strengths of not only being the trend-setter but also becoming leader in this space. The potential users of Appgets are going to be across all segments of socio-economic background. With Samsung evenly spread across the segments of entry level as well as the medium range of Smartphones, it already has a base of users available in its ecosystem. At the same time, having around 6% in Smartphones of more than Rs 20,000 also gives it a sufficient base in the higher segments.
Among the Appgets, Samsung has only Samsung Gear to offer. Smartwatch and fitness gear has not seen huge acceptance among users, hence, it has limited success for Samsung as well. However, with recent successes in the Appgets category, like of Echo, it seems these are being preferred in a home use case rather than of individuals. Samsung, has also to align its Appgets strategy accordingly.
CMR estimates suggest that 95% of the Samsung Smartphone sales cater to replacement / upgrade market. It gives the brand a unique opportunity to serve 24-28 million existing Smartphone users who are looking for a better experience. If this is 'delighted' with an Appget, it should give Samsung an early mover's advantage to serve a substantial target base.
Samsung is again a trusted brand across a wide category of consumer electronics. It has a strong portfolio in Television and has also built its dominance in the premium TV category including SmartTV. With a wide array of Appgets, Samsung can further strengthen itself in the home electronics segment as the consumer marches towards the journey of a Connected home.
The very nature of Appgets shall have two sets of potential users. One is an evolved user exactly knowing where the Appget fits and another set of early adaptors shall only buy after a bit of experiencing and education. While evolved users could straight away buy online, the other set needs to know the device offline. Samsung, has one of best physical distribution network in India. Using its exclusive range of stores and through partners, it could quickly skim the early adaptors across the country. Online has a been relatively weak for the brand, but, with a couple of recent announcements it is ramping that up as well.
Finally, market strength is of no use if not put to use. This can be only done through constantly being innovative by investing in research and development. Often, product companies have to collaborate with a number of partners to work on any such new product category. Here also, Samsung has an edge. It has over the years grown very strong in the component ecosystem as well, be it display, memory, batteries or processor.
Samsung has end-to-end delivery platform to innovate and introduce this new exciting product category of Appgets that helps Smartphone players evolve as Smartphone+ (Plus) brands and flow with the user expectations in a connected world.
Faisal drives new initiates at CMR. Having over 13 years of research and consulting expertise in technology domain, he specifically covers Telecom, IP Technologies, Devices, Electronics, Applications and other emerging technologies.
Faisal completed his Master's degree in Business Administration, specializing in Marketing and Finance. He also holds a Bachelor's degree in Business Administration.