Last week, Smartron unveiled its convertible laptop, which marks the formal launch of this new entrant in the India electronics manufacturing space.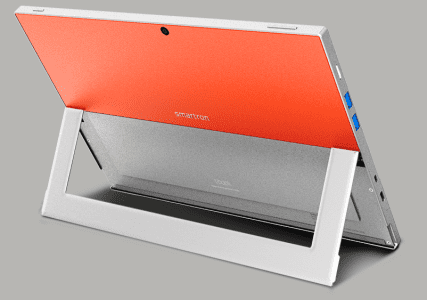 Well, it would be premature to comment on its products and how fruitful 'T' or 'Tendulkar' initials will be for the company. Also, how Sachin Tendulkar's second innings as investor would be.
But, definitely, I see this company as a promising one, which could become the centre-piece of 'Make in India' initiative, in fact in a very short span of time.
Not because, it is eyeing $25 million funding in the next quarter as reported in an ET story, but because of a number of other reasons.
The first reason—why I see it as a company which stands out in the crowd in the start-up space of electronics in India as well as in the overall 'Make in India' umbrella, is that it definitely seems to have zeroed in on the goals, the vision to be pursued. It is not expected to have a shifting goal strategy, which, to me, has been a major issue with the Indian brands.
To really become BIG, one has to have that vision and the roadmap. Look at Smartron, it is addressing the entire value chain–devices, services and enablers, among others.
Besides, it also understands the role it needs to play in the IoT space, the next most happening thing.
The second thing is that it really believes in 'affordable' and not 'cheap' devices.
Today, we see a plethora of Indian brands, especially in devices space, who have invested a lot of time to reach the fine-tuned level of quality, while keeping prices at a sweet spot for the Indian market.
But even now, many of them show inconsistencies on the quality part.
Sometimes, a model doesn't work or even a complete series turns out to be a disappointment as it is compromised with respect to quality.
On a 'soft review' and comparison of the specifications, I can hardly find out any laxity in Smartron's 2-in-1, compared to say, Surface of Microsoft.
Third, of course is the price. It is giving me a 2-in-1 high specs device exactly at the same price band of a 4-inch iPhone SE.
The cheapest Surface, the other option in this product category, is for Rs 58,000 and then I have to shell out another Rs 12,000 for the keyboard.
So, that means what I could get at Rs 70,000 is available at Rs 39,999 now. The market sees a huge opportunity at this price point, which would also help in fattening the market size of this product category.
The fourth essential thing, but missing in most of the Indian brands–where I see Smartron outshining is the appeal and the element of 'smartness' in the device.
The look and feel gives the premium feeling and the brand building is being nicely executed.
With these four strengths–understanding the technology and evolution of technology, quality with affordability, pricing for the India market and the X factor in appearance, this brand will surely position itself as a disruptor in the space.
With such a belief and conviction, Smartron has exhibited that it has the potential to be one of the successful and promising brands of the India electronics space, and that too, while manufacturing in India.
This is what, we need today. We need stars to light up this manufacturing space and it seems Smartron has set the trend very well.
Faisal drives new initiates at CMR. Having over 13 years of research and consulting expertise in technology domain, he specifically covers Telecom, IP Technologies, Devices, Electronics, Applications and other emerging technologies.
Faisal completed his Master's degree in Business Administration, specializing in Marketing and Finance. He also holds a Bachelor's degree in Business Administration.